If you're looking to replace a garage door for the first time in many years, be prepared for a great surprise when it comes to being introduced to all of the industry's latest technological advancements.
Never before have garage doors been as safe, easy and efficient to operate, more durable, better looking, or more capable of electronic connectivity with rest of the home. Be sure to contact Banko Overhead Doors when you're interested in replacing that old garage door with one that will increase your home's functionality, safety and value. Let us help you put these meaningful new garage door technologies to work for you.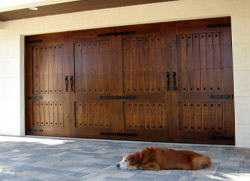 A recent article in Professional Door Dealer magazine outlined many of the key garage door improvements that have occurred over the past few years, including:
Expanded Material Choices: customers are no longer limited to just a traditional wood door when trying achieve a stylish and sophisticated look, as doors are now available in a range of fiberglass and steel, allowing for a variety of rich colors and stains, large windows and decorative hardware.
Insulation Enhancements: better-insulated garage doors help regulate garage temperature, as well as increases the door's strength and durability, while reducing outside noise.
Quieter Operation: belt-driven garage door openers help ensure much quieter functioning via smooth-start and soft-stop operation, helping substantially reduce the noise that is created by opening and closing.
Battery Backup: power outages no longer pose a problem during periods of severe weather and power outages, as a class of garage door openers equipped with more efficient battery backup allow the garage door to remain fully functional when power to the house is out.
Smartphone Interactivity: an array of products allow for a homeowner to seamlessly integrate lighting and other devices in their homes, through the garage door opener, which in turn is controlled from a smart phone or outside computer.