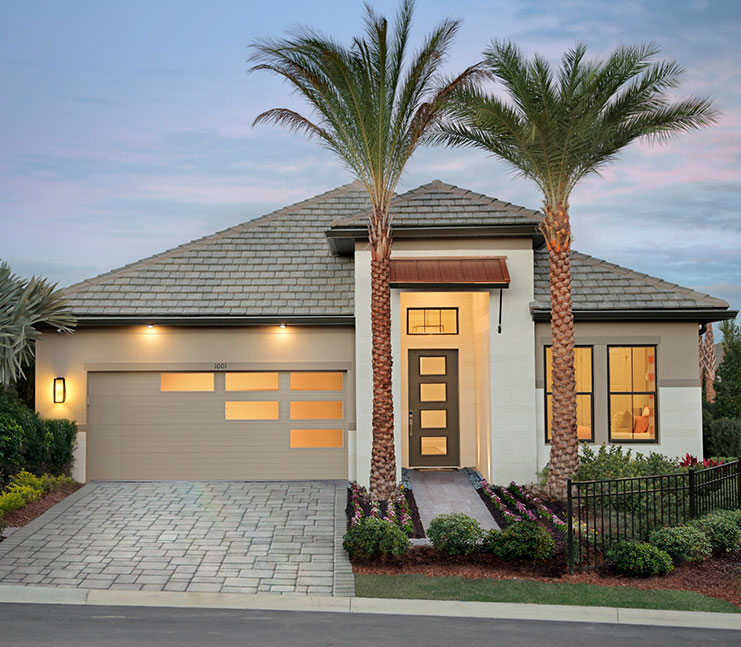 An eye-catching, functional home depends on a sturdy and dependable garage door. At Banko Overhead Doors, we blend style and heavy-duty performance into exceptional garage door solutions. We have the widest selection of classic and modern steel garage doors from Clopay® and other leading garage door manufacturers. Our steel garage doors feature attractive and bold designs with improved steel and insulated materials for outstanding performance.
Clopay sets the standard for durable, beautiful steel garage doors with their diverse selection of residential doors including the following collections:
With Clopay steel garage doors, you can benefit from improved and layered steel construction options, a dynamic base and customizable styles and colors. Create a stunning yet functional garage door that fits your budget, improves your comfort and convenience and complements your home.
Quality, Durable Construction Materials For Lasting Results
When you choose steel garage doors for your home or business, you can rest assured that you'll receive a product that will stand the test of time. Featuring exceptional durability, these garage doors will retain a like-new look as the years pass with minimal maintenance and surface upkeep, while continuing to perform at a high level with openings and closings that are smooth and reliable. Banko Overhead Doors has a wide selection of steel doors available that will be an ideal fit whether you have a home in or a business in West Central Florida.
Our steel garage doors can be tailored to meet your household's specific needs and long-term performance expectations. At Banko Overhead Door, our garage door design and installation professionals work with you and provide detailed information about your options, including layered steel materials, insulation and hurricane rated manufacturing upgrades to withstand high wind speeds and flying debris.
Our steel garage doors are also available with built-in insulation. These insulated doors feature high R-values, meaning they are very effective at blocking heat transfer, leading to more stable home temperatures and resulting in energy conservation. These doors are a great fit for homeowners and business owners looking to save some money by reducing energy bills.
Banko Overhead Doors — Your Local Source For Exceptional Steel Garage Doors
With a steel garage door from Banko Overhead Doors, you get attractive finishes for better security, durability and performance. For more information on our products and services, schedule a free estimate today or call 877.902.2656 to speak to an installation expert.
At Banko, we proudly install garage doors throughout the Tampa Bay area including Pinellas, Pasco, Hernandez, Manatee, Sarasota and Polk Counties, providing the highest level of customer service in the industry.
Reviews
Mark was very knowledgeable and professional.
Will recommend your company to others.
Janet Mummey

,

San Antonio, FL
I found that the two men David and his assistant who came to my house were very experienced. Once I told David what was happening with my garage door, he knew exactly what the problem was and how to solve it. Both men went right to work. They work fast and accurate. Job well done
Jeff

,
Outstanding in every phase of customer service. Chad was knowledgeable, personable and went above and beyond to assure we were satisfied. We want service annually and will let all our neighbors know about your company and Chad. Thank you.
Robert Broderdorf

,

Venice, FL
Mark was professional and right on task.
Most importantly-he came to our home as scheduled.
Paul Kovac

,

Land O'Lakes, FL
Called in the morning, and they were able to come out the same day. Dan was very professional and replaced our opener quickly. Cost seemed fair to me. Would definitely recommend this company.
Jan Hendrix

,

Tampa, FL
The repair was quick and affordable.
Shelby Horton

,

Tampa, FL
Just had two new openers installed and it went great. Dan did excellent work installing, helping me set up the WIFI features and showing me how they work.
John Montagna

,

West Chase, FL
Can't say enough good things about my experience. Totally expected that it would take several days to schedule the repair. I made a request after hours on May 4 and the repair was completed by 2 pm on the 5th. The technician was very friendly and more than capable.
Jack Harmon

,

Longboat Key, FL
I was able to schedule an appointment for the morning after I called. Mike was the service technician who came to my home. He was prompt, personable and professional. The repair only took about 25 minutes. I recommend Banko Overhead Doors without reservation.
Andrew MacGill

,

Tampa, FL
Last Fri. we had an exceptional experience with Banko. Right from the call to the office to get a quote for a garage door opener. To the great service by Dan who installed the system, programmed the new one to the other one in the next day. He installed an outside keypad, inside pad, belt drive that is so quiet that you can hardly hear the door closing. He finished by programming 2 cars to 2 different doors and our cell phones.
Plus the security camera and safety beam. All in 2hrs. We are totally please with Banko.
Audrey Barnfather

,

Cheval, FL
The technician was very professional and informative. He arrived inspected the the door and all it's parts made some adjustments and did not try selling me things I did not need.
Frank S

,

Bloomingdale, FL
If your looking for a Professional garage door company look no further. Banko was very helpful from the moment I called requesting a price quote. The Technician was at my home the same day and the job was performed perfectly. In most cases you would pay more for great service. Not with Banko! They were less expensive than all of the other quotes I received and acted like they wanted to earn my business. I can't say the same about their competition.
Josh Person

,

Seminole, FL