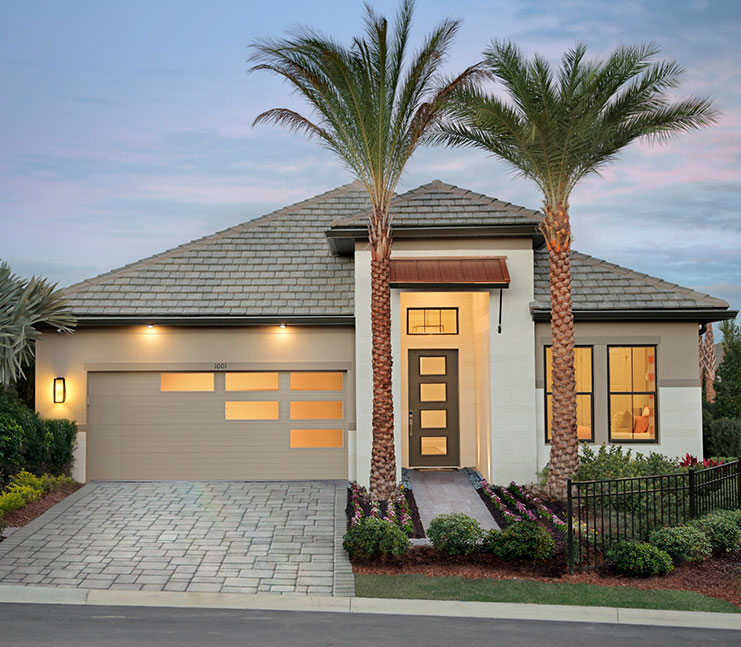 An eye-catching, functional home depends on a sturdy and dependable garage door. At Banko Overhead Doors, we blend style and heavy-duty performance into exceptional garage door solutions. We have the widest selection of classic and modern steel garage doors from Clopay® and other leading garage door manufacturers. Our steel garage doors feature attractive and bold designs with improved steel and insulated materials for outstanding performance.
Clopay sets the standard for durable, beautiful steel garage doors with their diverse selection of residential doors including the following collections:
With Clopay steel garage doors, you can benefit from improved and layered steel construction options, a dynamic base and customizable styles and colors. Create a stunning yet functional garage door that fits your budget, improves your comfort and convenience and complements your home.
Quality, Durable Construction Materials For Lasting Results
When you choose steel garage doors for your home or business, you can rest assured that you'll receive a product that will stand the test of time. Featuring exceptional durability, these garage doors will retain a like-new look as the years pass with minimal maintenance and surface upkeep, while continuing to perform at a high level with openings and closings that are smooth and reliable. Banko Overhead Doors has a wide selection of steel doors available that will be an ideal fit whether you have a home in or a business in West Central Florida.
Our steel garage doors can be tailored to meet your household's specific needs and long-term performance expectations. At Banko Overhead Door, our garage door design and installation professionals work with you and provide detailed information about your options, including layered steel materials, insulation and hurricane rated manufacturing upgrades to withstand high wind speeds and flying debris.
Our steel garage doors are also available with built-in insulation. These insulated doors feature high R-values, meaning they are very effective at blocking heat transfer, leading to more stable home temperatures and resulting in energy conservation. These doors are a great fit for homeowners and business owners looking to save some money by reducing energy bills.
Banko Overhead Doors — Your Local Source For Exceptional Steel Garage Doors
With a steel garage door from Banko Overhead Doors, you get attractive finishes for better security, durability and performance. For more information on our products and services, schedule a free estimate today or call 877.902.2656 to speak to an installation expert.
At Banko, we proudly install garage doors throughout the Tampa Bay area including Pinellas, Pasco, Hernandez, Manatee, Sarasota and Polk Counties, providing the highest level of customer service in the industry.
Reviews
Great service plus very nice and answered my questions .
Jennifer Darville

,

Trinity, FL
The technician was on time ,found the problem and fixed it, then performed a quality control maintenance procedure on garage door (tightening chain oiling all points etc.) THANK YOU BANKO.
Frederick Betz

,

Riverview, FL
The tech that came out was professional and very courteous. Answered all questions that I had. Will recommend to anyone.
Steve Soto

,

Lakeland, FL
We have been using Banko for all our garage door needs. We have 4 garage doors and they installed all of them and keep them working like new!
Antoinette Muniz

,

Tampa, FL
I'm generally a skeptic with all service providers. I checked others and Banko is the best for service and price. Replacing my garage door was on schedule and professionally done. What really impressed me the most was the honesty of the technician. He noticed a small defect in a panel and pointed it out to me. He said that is unacceptable and I'll be back next week with a new panel. True to his word, he came back next week, replaced it and my door is perfect. I couldn't be happier. I recommended Banko to my neighbors.
Frank Wroblewski

,

Venice, FL
5 star rating well deserved. Rapid response, punctual arrival time, quality workmanship, knowledgeable technician. Cost unsure nothing to compare it with.
Tim Creedon

,

Venice, FL
Great service and right on time , thank you for the great service
Ivone Wagner

,

Dundee, FL
It was wonderful! The technician took his time to explain how to oil my garage door so it didn't make noise. The appointment was made in a timely manner too. Everyone I encountered through customer service to the technician gave customer service performed wonderfully!
Jennifer Baamonde

,

Brandon, FL
They were quick to respond and fixed the problem same day.
Jackie Daniels

,

Tampa, FL
Great service and great people. We got the new LiftMaster Secure View w the Belt drive and wishing we pulled the trigger sooner. Love how quiet it is (bedroom above the garage) and the Amazon my Q feature – delivery person opens the garage, drops our packages, and closes the garage. Highly recommend Banko!
Dave DeVaney

,

Tampa, FL
Professional, fair and timely.
Stacie Springer

,

Tampa, FL
Excellent! Their customer service was attentive and so very organized! They always went one step above! Our doors were installed quickly and not do they look awesome but they work beautifully! Highly recommend them! They are not the cheapest nor the most expensive. But their services alone makes you feel like you've spent a million bucks! A+++
Johanne Caglianone

,

Tampa, FL