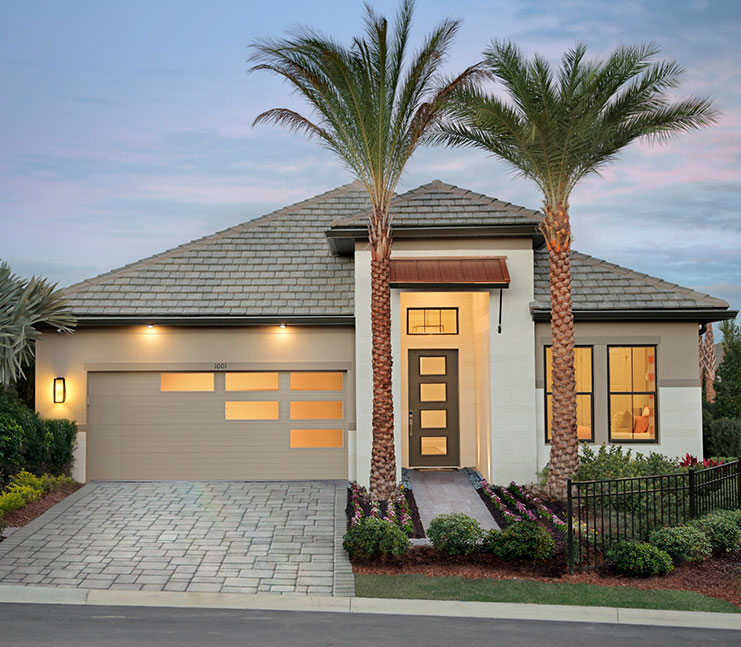 An eye-catching, functional home depends on a sturdy and dependable garage door. At Banko Overhead Doors, we blend style and heavy-duty performance into exceptional garage door solutions. We have the widest selection of classic and modern steel garage doors from Clopay® and other leading garage door manufacturers. Our steel garage doors feature attractive and bold designs with improved steel and insulated materials for outstanding performance.
Clopay sets the standard for durable, beautiful steel garage doors with their diverse selection of residential doors including the following collections:
With Clopay steel garage doors, you can benefit from improved and layered steel construction options, a dynamic base and customizable styles and colors. Create a stunning yet functional garage door that fits your budget, improves your comfort and convenience and complements your home.
Quality, Durable Construction Materials For Lasting Results
When you choose steel garage doors for your home or business, you can rest assured that you'll receive a product that will stand the test of time. Featuring exceptional durability, these garage doors will retain a like-new look as the years pass with minimal maintenance and surface upkeep, while continuing to perform at a high level with openings and closings that are smooth and reliable. Banko Overhead Doors has a wide selection of steel doors available that will be an ideal fit whether you have a home in or a business in West Central Florida.
Our steel garage doors can be tailored to meet your household's specific needs and long-term performance expectations. At Banko Overhead Door, our garage door design and installation professionals work with you and provide detailed information about your options, including layered steel materials, insulation and hurricane rated manufacturing upgrades to withstand high wind speeds and flying debris.
Our steel garage doors are also available with built-in insulation. These insulated doors feature high R-values, meaning they are very effective at blocking heat transfer, leading to more stable home temperatures and resulting in energy conservation. These doors are a great fit for homeowners and business owners looking to save some money by reducing energy bills.
Banko Overhead Doors — Your Local Source For Exceptional Steel Garage Doors
With a steel garage door from Banko Overhead Doors, you get attractive finishes for better security, durability and performance. For more information on our products and services, schedule a free estimate today or call 877.902.2656 to speak to an installation expert.
At Banko, we proudly install garage doors throughout the Tampa Bay area including Pinellas, Pasco, Hernandez, Manatee, Sarasota and Polk Counties, providing the highest level of customer service in the industry.
Reviews
Quick, Easy, Friendly, and I was shocked by how affordable it was to get my garage fixed
Lacey Monks

,

Tampa, FL
Excellent.
Herb Clark

,

Tampa, FL
My technician was great. There was a problem that could have easily been rectified before his arrival but I didn't catch it in time. He was very sympathic as to what occurred and still provided me good customer service.
Glenn Steffy

,

Lakeland, FL
Had a wonderful experience with a maintenance appointment. Easy to schedule, quick appt time and great service! Garage door is working better and operating quietly. Thanks so much!
Dena Maxwell Harris

,

Port Richey, FL
My family has been served by you guys since 1993, always quality work and honest. Thank you all for always giving great service.
Fitz Simon Sanchez

,

Land O'Lakes, FL
Gene came out to give me an estimate on a repair and new opener which I agreed to same day and it was scheduled two days later! Gene is very friendly and personable, honest, followed Covid protocols and he is extremely knowledgeable. He also called me to give me estimates of his arrival times!! What a pleasure to work with you Gene, thanks so much for everything!
Jeananne Seward

,

Riverview, FL
I am extremely happy with the service I received from Garage Door ASAP. Adam and zei were very courteous and professional when they were here. They certainly knew what they were doing. I highly recommend this Company and especially Adam. and Zei when you need garage your door repaired.
Dennis Weaver

,

Orlando, FL
BANKO, is a very professional firm. I enjoyed doing business with them. They arrived promptly, did the work, replacing an old opener, checked the tracks, aligned them, and then cleaned up. All in two hours, very efficient. I highly recommend them, for your repairs, or replacements.
Harry Rensel

,

Bradenton Beach, FL
Thank you for sending Mr West very pleased and very pleasant to deal with , he explained and do his work thank you
Maria Cisneros

,

Land O'Lakes, FL
Excellent service!
Naveen G

,

Tampa, FL
Totally satisfied. Highly recommend. Serviceman was very helpful.
A B

,

Land O'Lakes, FL
We have utilized Banko for warranty service and for a 1-year tuneup / maintenance, and both experiences were great. Scheduling was easy and convenient, the tech was on time and professional, and the value provided was high. We will definitely use Banko for all our overhead needs going forward. Thank you!
John Crosby

,

Tampa, FL