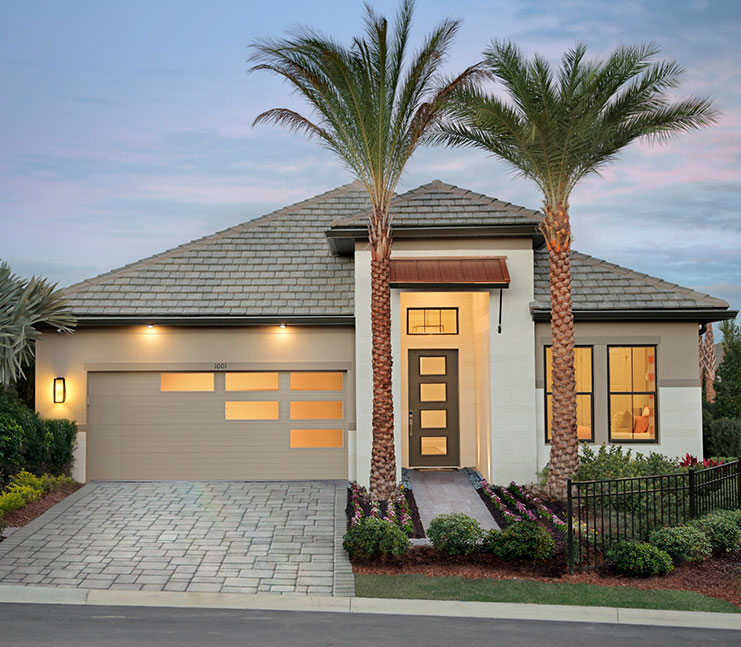 An eye-catching, functional home depends on a sturdy and dependable garage door. At Banko Overhead Doors, we blend style and heavy-duty performance into exceptional garage door solutions. We have the widest selection of classic and modern steel garage doors from Clopay® and other leading garage door manufacturers. Our steel garage doors feature attractive and bold designs with improved steel and insulated materials for outstanding performance.
Clopay sets the standard for durable, beautiful steel garage doors with their diverse selection of residential doors including the following collections:
With Clopay steel garage doors, you can benefit from improved and layered steel construction options, a dynamic base and customizable styles and colors. Create a stunning yet functional garage door that fits your budget, improves your comfort and convenience and complements your home.
Quality, Durable Construction Materials For Lasting Results
When you choose steel garage doors for your home or business, you can rest assured that you'll receive a product that will stand the test of time. Featuring exceptional durability, these garage doors will retain a like-new look as the years pass with minimal maintenance and surface upkeep, while continuing to perform at a high level with openings and closings that are smooth and reliable. Banko Overhead Doors has a wide selection of steel doors available that will be an ideal fit whether you have a home in or a business in West Central Florida.
Our steel garage doors can be tailored to meet your household's specific needs and long-term performance expectations. At Banko Overhead Door, our garage door design and installation professionals work with you and provide detailed information about your options, including layered steel materials, insulation and hurricane rated manufacturing upgrades to withstand high wind speeds and flying debris.
Our steel garage doors are also available with built-in insulation. These insulated doors feature high R-values, meaning they are very effective at blocking heat transfer, leading to more stable home temperatures and resulting in energy conservation. These doors are a great fit for homeowners and business owners looking to save some money by reducing energy bills.
Banko Overhead Doors — Your Local Source For Exceptional Steel Garage Doors
With a steel garage door from Banko Overhead Doors, you get attractive finishes for better security, durability and performance. For more information on our products and services, schedule a free estimate today or call 877.902.2656 to speak to an installation expert.
At Banko, we proudly install garage doors throughout the Tampa Bay area including Pinellas, Pasco, Hernandez, Manatee, Sarasota and Polk Counties, providing the highest level of customer service in the industry.
Reviews
The serviceman was very informative in explaining all the options — including possible replacement of springs. Upon inspection he said that our springs are in good shape and do not need replacement. His explanation was appreciated in taking into account as to what we should do.
Jagdish Patel

,

Town N' Country, FL
Company is fast, efficient and very easy to deal with. Service man was fast and very good. Great company.
Rod Mick

,

Hudson, FL
Dave provided superb service. He was prompt, thorough and very courteous. All was completed successfully, and explained to us in detail. I would be delighted to have Dave provide service at any time, and would recommend him enthusiastically to friends and/or family.
Rodger Brayden

,

Parrish, FL
Excellent
Robert Wright

,

Dover, FL
Timely, professional, and experienced
Bob Jones

,

Tampa, FL
Couldn't be happier, it is not my first encounter with Mr. Jefferson, he was very professional, and he knew exactly what he was doing to comfort us with this experience. If have any problems in the future. I will definitely ask for him Bob Padron
Robert Padron

,

Tampa, FL
Great job. Fast and courteous.
Ken Willig

,

West Chase, FL
Called Wednesday afternoon about a broken spring on our garage door. Banko sent Dan out the next day and he did an excellent job. We've had Dan here before, installing a new opener and he is always professional, knowledgeable, friendly and thorough. Been loyal banko customers for 10 years and will continue to be in the future.
Erika Karaoulanis

,

Land O'Lakes, FL
Outstanding service!!!!
The technician was timely, friendly, knowledgeable and professional. He fix my broken garage door springs within 25 minutes at a great price which included a 3- year warranty.
David Cameron

,

Apollo Beach, FL
Good experience. The technician was nice and with courtesy. The charge was too high.
Francisca Rodriguez-Trinidad

,

Tampa, FL
Exceptional. Technician Dave took his time to identify the problem and made the necessary repair. Highly courteous, highly professional and highly skilled. Thank you
David Lieberman

,

Bradenton, FL
I'm very pleased with the tech,was very pleased with how he explained the situation and very good.
George Wheeler

,

Lakeland, FL