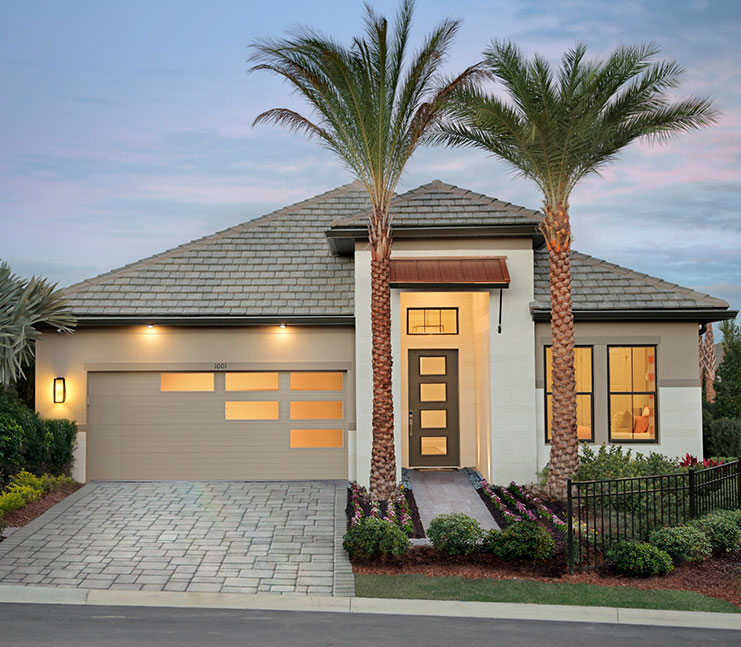 An eye-catching, functional home depends on a sturdy and dependable garage door. At Banko Overhead Doors, we blend style and heavy-duty performance into exceptional garage door solutions. We have the widest selection of classic and modern steel garage doors from Clopay® and other leading garage door manufacturers. Our steel garage doors feature attractive and bold designs with improved steel and insulated materials for outstanding performance.
Clopay sets the standard for durable, beautiful steel garage doors with their diverse selection of residential doors including the following collections:
With Clopay steel garage doors, you can benefit from improved and layered steel construction options, a dynamic base and customizable styles and colors. Create a stunning yet functional garage door that fits your budget, improves your comfort and convenience and complements your home.
Quality, Durable Construction Materials For Lasting Results
When you choose steel garage doors for your home or business, you can rest assured that you'll receive a product that will stand the test of time. Featuring exceptional durability, these garage doors will retain a like-new look as the years pass with minimal maintenance and surface upkeep, while continuing to perform at a high level with openings and closings that are smooth and reliable. Banko Overhead Doors has a wide selection of steel doors available that will be an ideal fit whether you have a home in or a business in West Central Florida.
Our steel garage doors can be tailored to meet your household's specific needs and long-term performance expectations. At Banko Overhead Door, our garage door design and installation professionals work with you and provide detailed information about your options, including layered steel materials, insulation and hurricane rated manufacturing upgrades to withstand high wind speeds and flying debris.
Our steel garage doors are also available with built-in insulation. These insulated doors feature high R-values, meaning they are very effective at blocking heat transfer, leading to more stable home temperatures and resulting in energy conservation. These doors are a great fit for homeowners and business owners looking to save some money by reducing energy bills.
Banko Overhead Doors — Your Local Source For Exceptional Steel Garage Doors
With a steel garage door from Banko Overhead Doors, you get attractive finishes for better security, durability and performance. For more information on our products and services, schedule a free estimate today or call 877.902.2656 to speak to an installation expert.
At Banko, we proudly install garage doors throughout the Tampa Bay area including Pinellas, Pasco, Hernandez, Manatee, Sarasota and Polk Counties, providing the highest level of customer service in the industry.
Additional Resources on Garage Doors:
Reviews
Outstanding. Gene and Tom were professional, timely and did a great job—Thank You. My location is Wimauma, FL., but your system would not let me put that in, so I just picked one that worked
Dennis Lombardi

,

Ridge Manor, FL
Had a broken cable and springs replaced. Paul arrived in the service window and got right to work. Finished the job quickly and provided some maintenance tips to keep my door moving smoothly!
Excellent service Paul! Thank you.
Mike Caldwell

,

Venice, FL
The tech was great, very efficient and professional.
Mo sallout

,

Tampa, FL
Banko is great! From the moment you call, Virginia is so helpful in getting you set up and scheduled and Mike the service technician is great! They keep you updated on appointment times, actually Mike called and said he could be early if it was ok! Wow! Great service! Thanks Banko!
Mike Antinori

,

Tampa, FL
Juan was absolutely fantastic! He gave me all my options and made sure I knew all the costs associated with my repair. He was quick and extremely courteous, I would definitely suggest this company and Juan to anyone with garage door repair needs!
Lyndsey Struthers

,

Tampa, FL
Overnight service, on time with a window. Technician was well prepared, knowledgeable and appropriate, a pleasure to work with. I am so pleased with the installation, had no idea how far these devices have come in the 40 years since I installed my own. Your company and your tech are highly recommended.
Roger Smith

,

Port Richey, FL
best service ever ! great quality work ! Johnny was very professional and courteous . He is skilled and experienced to tackle any job ! Would recommend !
Liviu Leordean

,

Tampa, FL
Great Service
Roger Smith

,

Port Richey, FL
Same day service and in fact within the hour. Excellent, professional and efficient technician. Part that was defective was onsite and everything was fixed within 30 mins of appt start time. Recommend 100%
Jennifer Teeters

,

Tampa, FL
THE SERVICE TECH WAS EXCELLENT. HE INSTALLED 2 NEW SPRINGS AND WAS VERY EFFICIENT AND PROFESSIONAL IN HIS WORK. I would highly recommend him and the company and would use them again for any garage work needed in the future.
RALPH WIRSCHING

,

Spring Hill, FL
Zach was great!
Geri Erickson

,

Venice, FL
I am a customer for life. We have only had to use Banko a few times but every encounter is a professional one. From scheduling the appointment to repairing our door, they are focused on customer service. The gentleman who replaced our spring today was on time, called ahead and got the job done very efficiently. He answered all my questions and concerns. Highly recommend Banko for all your garage door needs!
Katie Dumala

,

Temple Terrace, FL