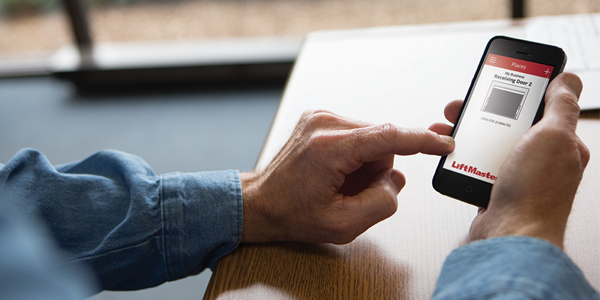 Solutions just for Business Owners
Business owners work long hours and Banko can help you to not lose any extra hours to the day. One solution is to have automation that allows you to open and close your garage door for the cleaning crew or personnel working overtime without leaving the dinner table.
LiftMaster's Business Solutions are integrated packages, assuring seamless integration of a motorized commercial door system. The combination of advanced technology, features and accessories provided by LiftMaster®, simplifies the process of determining the best solution to meet the needs of your business.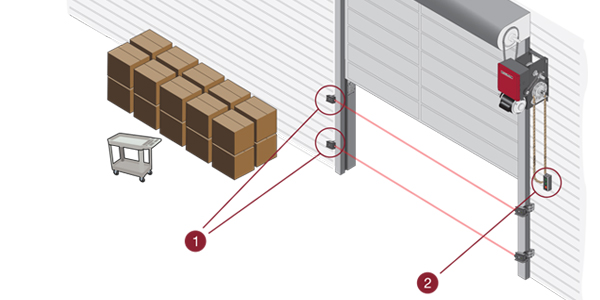 Features
1. Safety Sensors
Stop the door from closing if an obstruction is detected, protecting personnel, vehicles, aerial ladders and other high apparatus obstructions.
2. 3-Button Station with Maintenance Alert System
Lets you open, close and stop the door quickly. An indicator light lets you know when it's time for routine maintenance.
A strip mall owner in Clearwater, Florida, working to meet the demands of managing multiple stores including monitoring delivery and pick up locations, was thrilled with the convenience and control that LiftMaster's myQ® Technology delivered.
"myQ® Technology makes daily commercial business operations so much easier. Having automated systems that sends me alerts when the doors to my stores are opened or closed. I can provide access to my employees even when I am away, which provides me peace of mind allowing more time for me to focus on successfully growing my business."
Why Automate Your Commercial Doors?
Reduces the opportunity to damage customer vehicles by providing control and safe operation of commercial doors.
Assures commercial doors cannot be manually opened from the outside by someone trying to gain access to commit theft.
Increases the life expectancy of the door and reduces service costs associated with ensuring proper operation of commercial doors. Commercial door operators open and lose in a controlled manner eliminating the potential for doors to raise too quickly or slam when being closed.
Reduces the opportunity for a soft tissue injury to occur when opening or closing a commercial door manually, preventing workplace injury claims, loss of time and potential increased insurance premiums.
There are hundreds of additional accessories to choose from for your business. Contact a Banko connectivity specialist on how to automate your business.
Download Brochure Contact Banko Now
Reviews
Today Mr. David J came to our home to service our garage door. We were replacing both springs for our garage. He was very professional and he took the time to explain the process to me. I really appreciate his kindness and patience with me. He was able to do the job very quickly and before leaving he made sure he showed that everything was working properly. Thank you Mr. David J!
Mikerra Revange

,

Palmetto, FL
Dave was very knowledgeable and a true professional. We will be recommending your company to all our neighbors.
Thank you.
Frank Gonzalez

,

Riverview, FL
Called that was on the way , which was very helpful. Was right on time Explained exactly what was needed to be fixed and everything is working great !!
Thank you for follow up email also !
Lori Brazis

,

Tampa, FL
Banko is always so prompt, efficient, friendly and affordable! I will continue using them for any garage door needs, and highly recommend them!
Nicole Gaus

,

Riverview, FL
Dave was right on time and serviced both doors. He provided a clear explanation of the problems and fixed both doors. He also gave me some suggestions on preventative maintenance in the future. Could not be more pleased with this service.
James Durling

,

Riverview, FL
Having this vendor come to my home was a great experience. The technician was very professional, courteous, and very patient with my questions. Will definitely call them again for the next service.
Sherry C.

,

Brandon, FL
Banko is very responsive with warranties, communication regarding scheduling is top notch, installer are pleasant and perform suburb work.
Richard Gilley

,

Palmetto, FL
The service person that came was very knowledgeable, pleasant and efficient.
Linda Sletten

,

Tampa, FL
Banko has been my garage door company for 10 years. Today Michael fixed the cable assemblies that were on the original install of 21 years ago. He knew exactly what the problem was and was able to fix it to my complete satisfaction. Thank you, Michael.
David Bundschuh

,

Tampa, FL
What great service. I called in the morning and my broken torsion spring was repaired the same day. They were the original installers of my garage door, and they had complete records of the installation from 11 years ago. They gave me an estimate of the repair cost on the phone and the actual bill was exactly what they estimated. No surprises.
Michael Schwarz

,

Bradenton, FL
If anyone asked me who I would use for garage doors, I would scream from mountain tops BANKO BANKO BANKO!!! Heather is an amazing asset to the team, both there's and ours!
Austin David

,

Apollo Beach, FL
David the technician came this morning and adjusted the springs on my garage door and lubricated the entire garage door. He was an excellent and knowledgeable technician and new exactly what to do. I would highly recommend Banko to all my friends !!!
Steve DiNottia

,

Apollo Beach, FL