You may have given some thought to replacing your garage door, but you have probably given less thought to when to replace a garage door opener. It's important not to neglect this, especially if you open and close your garage door multiple times a day.
So, when is it time to replace your garage door opener? How long do garage door openers last, and what are some reasons to replace one? Keep reading to find out.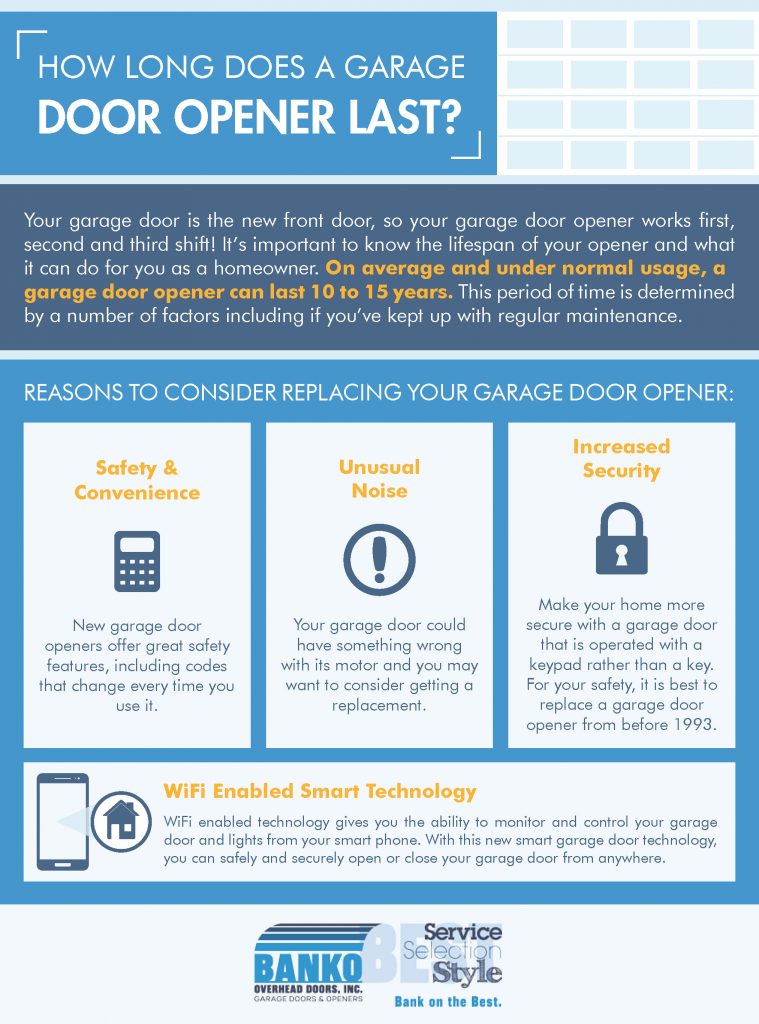 When to Replace Your Garage Door Opener
Most garage door openers last an average of around 10 to 15 years. Whether your specific garage door opener lifespan is longer or shorter than this will depend on several factors, including frequency of use and regular garage door maintenance.
If you're approaching that 15-year threshold, though — especially if your garage door isn't opening and closing smoothly — you may want to look into a replacement. If you're getting a brand-new garage door due to age, it might be a good time to replace the garage door opener too if you've had them for roughly the same amount of time.
Upgrading Your Garage Door Opener
Even if your garage door opener is working and isn't 15 years old, there are good reasons to consider replacing your garage door opener.
One is if your garage door opener is making a lot of noise. This could be because there's something wrong with the motor, which is definitely a cause for replacement. But even if it's just a generally loud garage door opener, you may want to replace the chain drive with a belt drive opener for quieter operation.
You also may want to upgrade for the amazing safety and convenience features that new garage door openers offer. For example, old garage door openers work with a fixed code that you transmit to the system to open it. These codes were extremely easy for criminals to hack, so if you have one, you'll want to upgrade to the new rolling system where the code changes every time you use it.
If your garage door is key-operated rather than opened with a keypad, a new garage door opener will help make your garage and home more secure.
Another outstanding feature with many modern garage door openers you may want to take advantage of is the myQ system. myQ is smart garage door technology that allows you to control your garage door with an app on your phone. If safety and convenience is what you're after, myQ is unparalleled. You can open and close your garage door remotely from anywhere you can get a wireless signal with the app and even receive alerts every time the door opens or closes. Once you have this system, you'll probably wonder how you ever lived without it.
Contact Banko Overhead Doors in West Central Florida for Your New Garage Door Opener Now
Banko Overhead Doors has an amazing selection of quality LiftMaster® garage door openers just waiting for you. LiftMaster is a trusted brand in garage door openers nationwide. These high-quality garage door openers come with rolling codes, myQ smart door technology and many other great features.
For an estimate on your new garage door opener and installation, contact Banko Overhead Doors now.
---
Additional Resources on Garage Door Openers:
---