Below, you'll find all the answers to common garage door questions, from garage door maintenance FAQs to repair services from Banko Overhead Doors. Each section covers a different set of questions, so you can easily navigate to the information you need.
Garage Door Service and Repair FAQs
Whether you're getting a new garage door or need repair services for your current door, Banko can help answer some of the questions you may have about the process. Take a look at the following FAQs about garage door repairs and maintenance.
1. How Do I Insulate My Garage Door?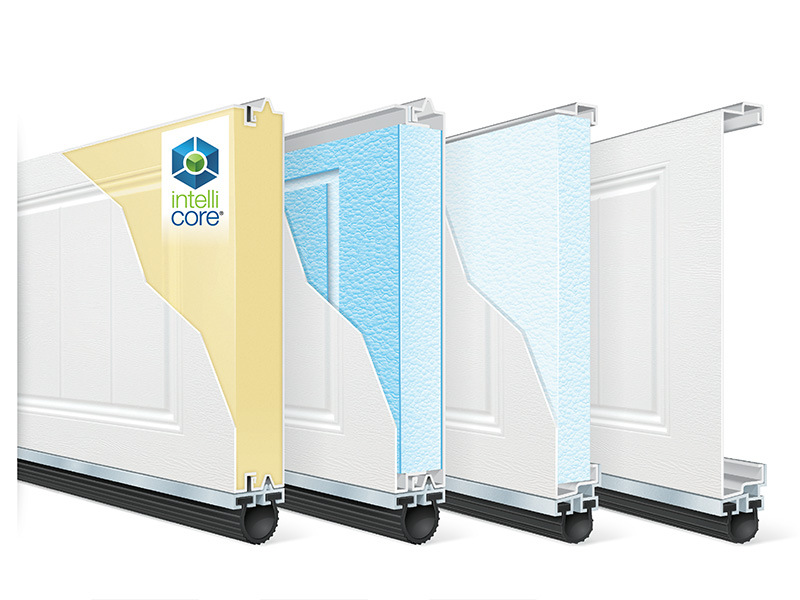 An insulated garage door can be an essential part of your home that provides safety and warmth for your garage. At Banko, we offer a broad selection of insulated garage doors, which our team can professionally install for you.
2. Rain and Other Debris Are Coming Through My Garage Door. What Should I Do?
If rain and other debris are coming through your garage door, an expert likely needs to reseal your door because it wasn't done correctly the first time.
3. How Do You Know You Might Need a Garage Door Alignment?
If your door only closes halfway, stops and goes back up or the lights on the opener are flashing, your garage door is most likely out of alignment. Call the professionals at Banko Overhead Doors to come out for a quick tune-up.
4. Why Will My Garage Door Not Open or Close While the Motor's Running?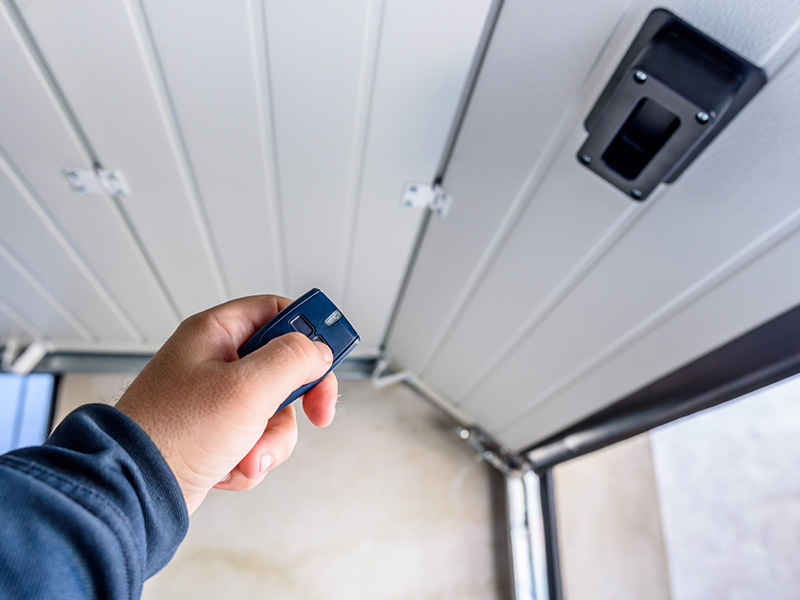 If you can open and close the door manually, someone pulled the emergency release cord. This is no big deal! All you need to do to reengage the opener is locate and engage the emergency red cord. Push the clip near the cord toward the back of the garage. You should hear it snap back into place.
If this doesn't work, Banko can come out for a service call and get you back in working order.
5. Can I Save Money by Using My Old Door's Original Tracks and Springs for a New Door?
Note that new garage doors can't use old tracks and springs due to safety. Still, you can get warranty on your new parts, so if they break or malfunction somehow, they'll likely be covered.
6. Why Do I Need Regular Service on My Home Garage Door and Opener?
To ensure your garage door remains safe and operational for years to come, we recommend getting an annual maintenance check from a trained technician. Don't try to attempt to fix or tune up your own garage door. An expert will be able to make the necessary repairs to your garage door without putting themselves at risk of an accident or injury, which is possible when you attempt to fix a garage door without the right training and knowledge.
7. Garage Door Installation: DIY or DI Don't?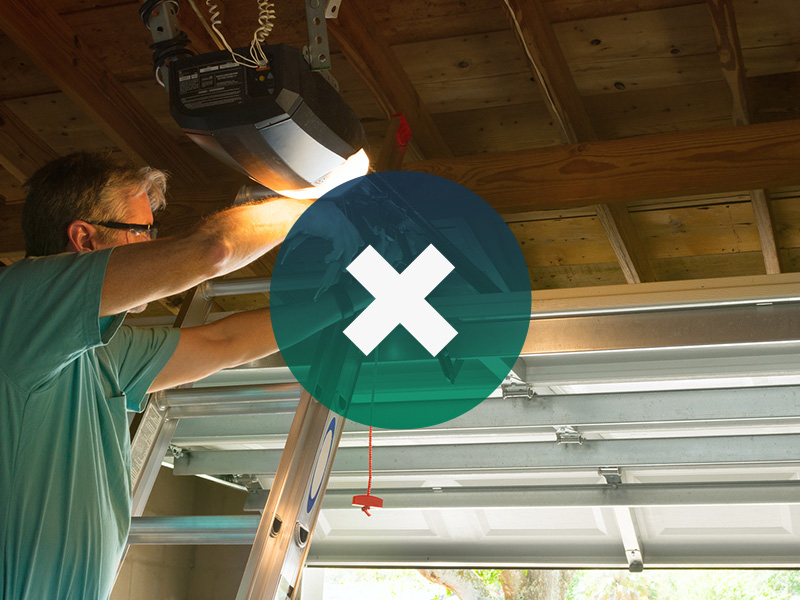 We never recommend trying to install a garage door on your own. This is a complicated process that should be left to a trained technician. When you choose a trusted company like Banko, you receive warranties on your new garage parts, expert installers and quality products and customer service from our team, all of which make installation a breeze, and something you don't have to worry about completing yourself.
8. Can I Replace Garage Door Springs Myself?
If a garage door spring breaks, we ask that you don't "spring" into action to attempt to replace them yourself. Garage door springs are under high tension and can cause serious damage to you and your garage door when handled improperly.
Let a professional complete this project for you by figuring out what size of replacement springs your garage door requires and replacing them for you. If you have a garage that won't open, it is time to get on the phone with Banko.
9. Should I Get an Insulated Door?
The answer is yes for a variety of reasons. We recommend selecting an insulated door to protect your storage, keep your living spaces warm in colder months and provide extra durability with unpredictable weather conditions. An insulated door is also energy efficient and reduces noise.
10. Do I Need a Permit to Install a New Garage Door in Florida?
Yes, you need a permit to install a new garage door in Florida. At Banko, we include a permit with the purchase of our garage doors. You need a permit when replacing a garage door to ensure your new door is hurricane rated and the door's installation process goes smoothly.
11. Should I Choose Hurricane Kits or a Hurricane-Rated Garage Door?
If safety is the goal, we don't recommend buying a kit to brace your door. If you buy a brace, no one tests the door and the springs and track won't be able to handle the added weight on the door. You want the best protection from Mother Nature and something the insurance will cover in the event of a major storm or damage — a hurricane-rated door.
12. Does Banko Stock Hurricane-Rated Garage Doors?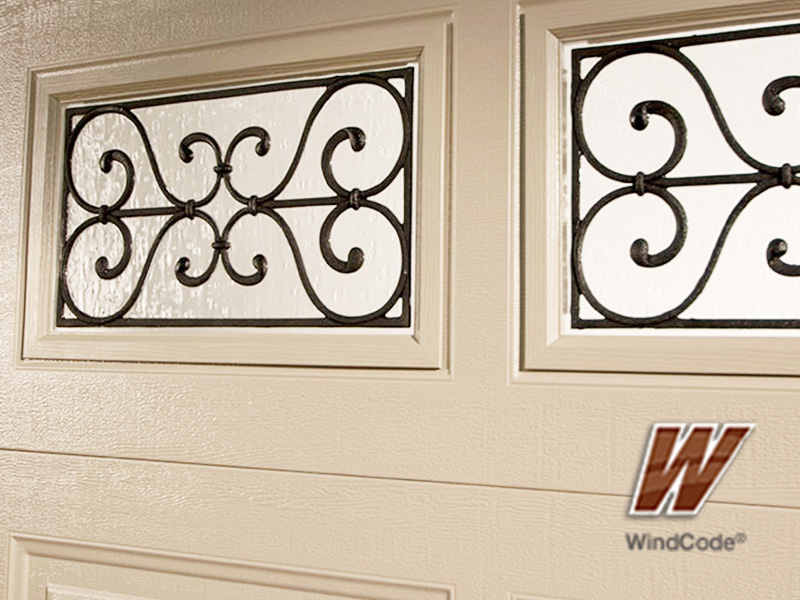 Florida building code requires hurricane-rated garage doors, so every door we stock is WindCode rated. These protective and stylish garage doors can add an extra safety feature to your home.
Repairs and Services From Banko
If your garage door needs an annual checkup or professional maintenance after reading through these garage door repair service FAQs, Banko can help!
Schedule a same-day repair with a trusted technician at Banko to get your garage back on track. You can also contact us for a free quote on our hurricane-rated doors.
Garage Door Opener FAQs
Your garage door opener plays a crucial role in maintaining your door's functions. Take a look at these common garage door opener FAQs.
1. My Garage Door Remote Isn't Working. What Could Be Wrong?
Garage door remotes have four main reasons for malfunctioning — a low battery, a locked remote feature, a need for a remote reprogram or an issue with the garage door receiver. Before calling a professional, check your batteries first and switch them out for new ones. When the wall-mounted button works but the remote does not, you may need to reprogram your remote. If all else fails, you can reach out to us at 877.902.2656 for guidance.
2. When Do I Need to Replace My Garage Door Remote?
Replacing your garage door opener remote can be necessary for various reasons. Your remote may be broken and no longer open the garage door, or the controller has been lost or stolen. Luckily, replacing a garage door opener remote is quick and easy — you just need to order a new version of your old remote.
3. How Do I Replace a Garage Door Opener Remote?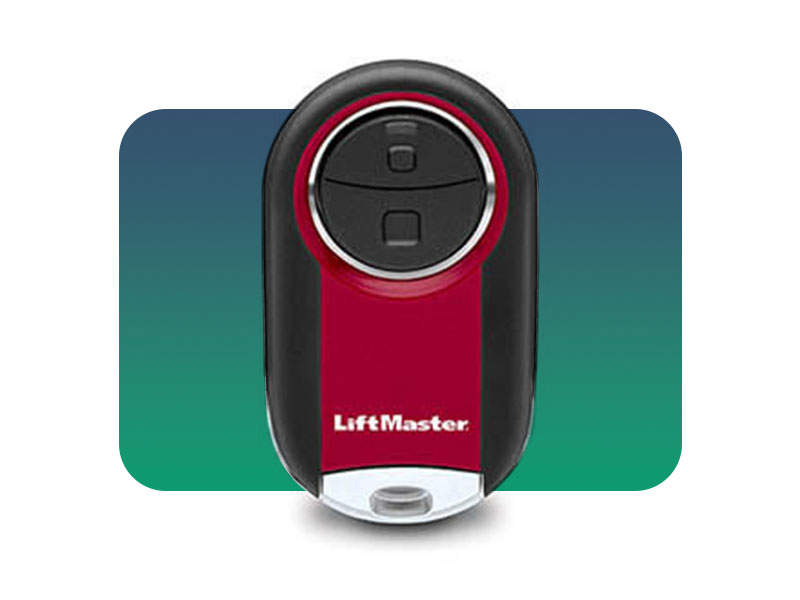 If you need a new opener remote for your garage door, check the owner's manual to see which remote pairs with the garage door opener. Follow this step if your remote breaks or gets stolen or you move into a new home with a different garage door. Once you purchase a new garage door opener remote, pair the remote to your garage door opener according to the owner's manual.
4. How Do I Clear My Garage Door Opener's Memory?
All garage door openers have a memory system that pairs any remote control to the door. Access to the openers makes getting in and out of your garage easy. If you're getting a new remote or moving, clearing the opener's memory is essential to avoid anyone gaining access to your garage.
Depending on your current garage door opener, you might only need to hold the "Learn" button for six to 10 seconds to clear the opener's memory. You can now reprogram your new remote to match the opener's functions or leave it clear for the new homeowners. Consult your owner's manual for more information.
5. How Do I Replace a Garage Door Opener Battery?
Replace the battery by unplugging your opener and taking off the light lens. Pull the current battery out after unscrewing the battery compartment and disconnecting the red and black wires. The new battery will need to connect to these red and black wires before you screw the compartment back into the light lens. Plug in the garage door opener and enjoy smooth opening and closing functions from a brand-new battery.
6. How Do I Disconnect My Garage Door From the Garage Door Opener?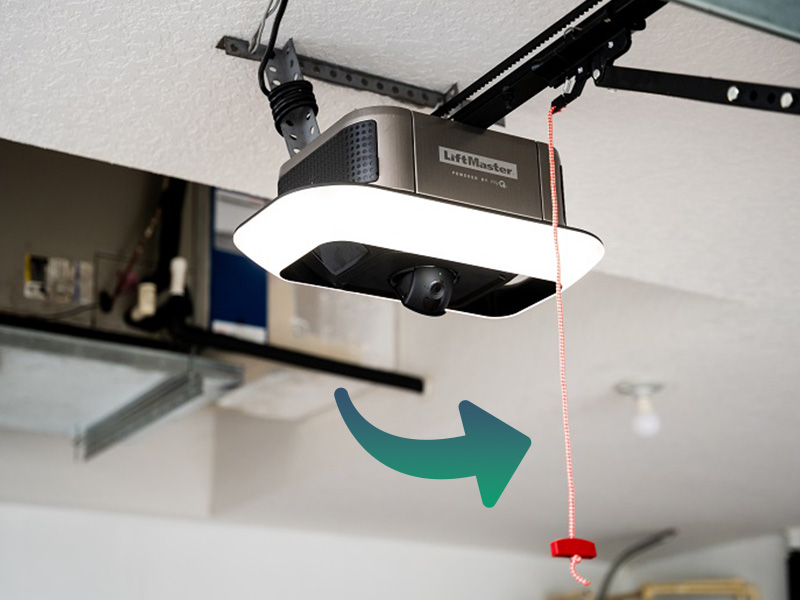 Disconnecting your garage door from the opener is an important part of manually lifting your garage when needed. You can successfully disconnect the opener and garage door with a few simple steps.
Start by closing the door and pulling the red emergency release handle connected to your garage door opener. You should now be able to move the door up and down manually. When you're ready to use your remote again, pull the red emergency release handle and open the garage using the opener's remote.
7. How Long Does a Garage Door Opener Last?
While a garage door typically lasts up to 20 years with proper maintenance and care, you can expect your garage door opener to last anywhere from 10 to 15 years. Take note of any strange noises from the opener — this may be a sign you need a new opener installation. If your garage opener has been in your garage since 1993, we recommend replacing this security feature to ensure your garage is secure.
8. How Do I Connect Amazon Key to My 87504 Opener?
With Amazon Key, Amazon drivers safely place your packages in your garage when they arrive. You'll need an Amazon Prime account and a LiftMaster® 87504 garage door opener to use this feature for your packages. You'll also need the login information for your myQ® account and your Wi-Fi network name and password to connect Amazon Key to your opener.
LiftMaster® Garage Door FAQs
LiftMaster® offers Wi-Fi and security features to transform your garage door opener into modern, smart technology that you can access right from your phone. Check out these common LiftMaster® garage doors FAQs.
1. How Do I Connect My LiftMaster® Garage Door to My Car's HomeLink?
Connecting your garage door's functions to a single button in your car makes storing your vehicle easier than ever. You'll receive a new remote that controls the LiftMaster® trolley in your garage, which you can pair with your current garage door opener.
2. Where's the "Learn" Button on a LiftMaster® Garage Door Opener?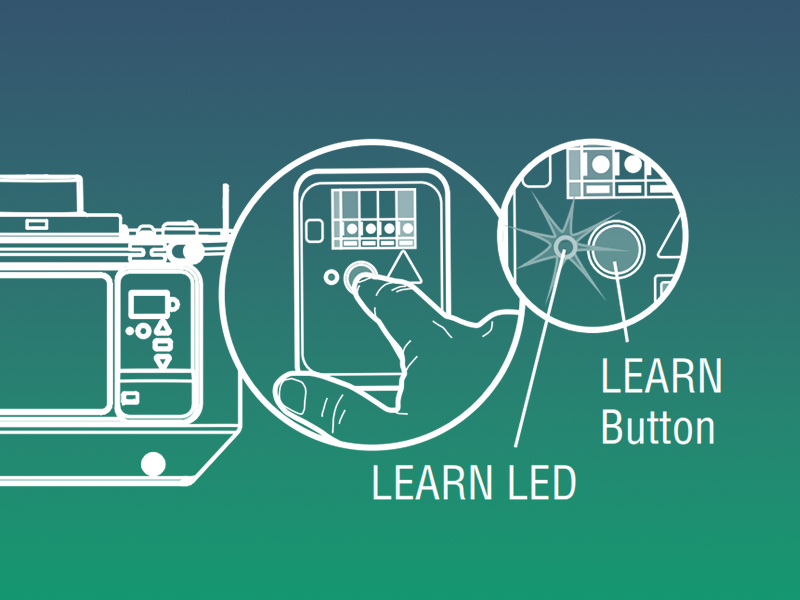 Locating the "Learn" button on your LiftMaster® opener lets you pair your garage door's functions to a remote control and wall mount.
Find the "Learn" button on your garage door opener by looking for the antenna first. You'll typically find this underneath the opener. If you don't see the colored button near the antenna, try removing the light coverings to see the dashboard. You should find the "Learn" button underneath the light covering on the panel.
3. How Do I Add, Program or Change a LiftMaster® Keyless Entry PIN?
Making changes to your LiftMaster® Keyless Entry PIN is quick and easy, ensuring your garage maintains the necessary safety features for your home and possessions. Many homeowners add, program or change their PINs when they move into a new house, a resident moves out, someone might know the entry code or the current owner simply can't remember the current one. No matter your reason for changing your PIN, you can do so in a few easy steps.
Locate the "Learn" button on your LiftMaster® opener and press down for six to 10 seconds. After 30 seconds, you can enter a new four-digit PIN on the keypad and press enter. When the lights on the opener blink, your new PIN is set. You can try out the entry numbers on the keypad to make sure everything is correct.
4. How Do I Program My LiftMaster® Garage Door Remote Control?
Your LiftMaster® garage door opener can easily pair with a remote control you can bring anywhere.
To program your remote to the opener, find the "Learn" button on the opener and press down for a few seconds before releasing. Press a button on the remote control you want to use to control the garage door's opening functions.
If the pairing is successful, you'll notice the LED lights blink or go out for a few seconds. You can try out your new programmed remote by pressing the button you chose to see if the garage door opens and closes.
5. How Do I Program My LiftMaster® Wall Control?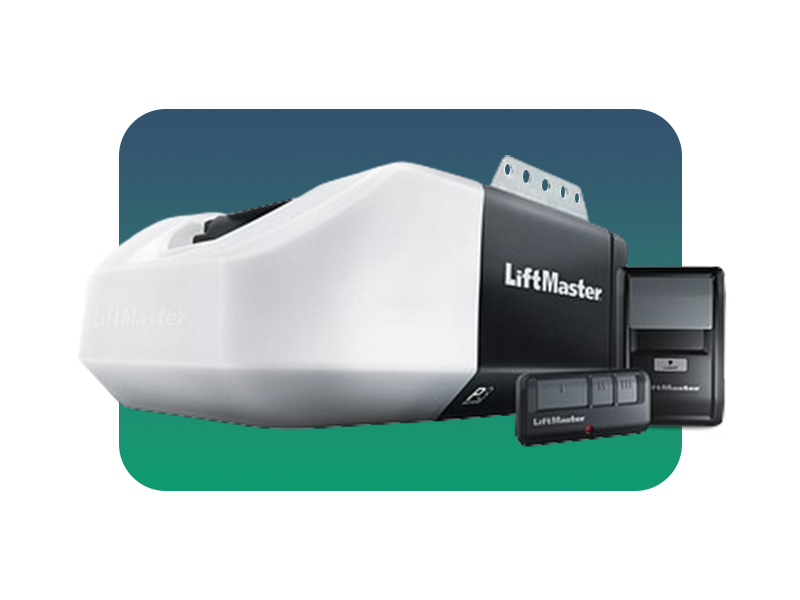 Similar to the remote control you can keep in your car to open and close your garage door, you can also use a LiftMaster® wall control to operate your door from inside your home.
To program your LiftMaster® wall control to pair with your garage door, press and quickly release the "Learn" button on the wall mount. As soon as you let go of the button, press the button on the remote control you want to pair. Hold this button for three seconds. You'll notice that the LED lights on the opener blink or turn off, which means the pairing was successful.
MyQ® Smart Garage Door FAQs
Adding a smart garage door system to your home is easy and can offer more security to your living spaces. You can follow these common setup and garage door maintenance FAQs below.
1. How Do I Use MyQ®?
If you recently added a LiftMaster® opener to your garage door, you can enjoy several new features to your space by clicking a button on your phone. Monitor your garage door, receive alerts, open and close the door from your phone and open gates with a tap of your phone screen to make the most out of your new myQ® features.
2. How Do I Add a Device to My myQ® Account?
You can add a garage door opener and a remote light to your account to open, close and light up your garage in the myQ® app. To add a device to your myQ® account:
Go to the app and tap the "Initials" button in the top left corner of the screen.
Click on "Device Management" and select "Device/Hub." This will let you find compatible devices, such as a garage door opener or remote light.
Click the "Add new" button and follow the instructions to pair each device.
3. What Should I Do if My myQ® Stopped Working?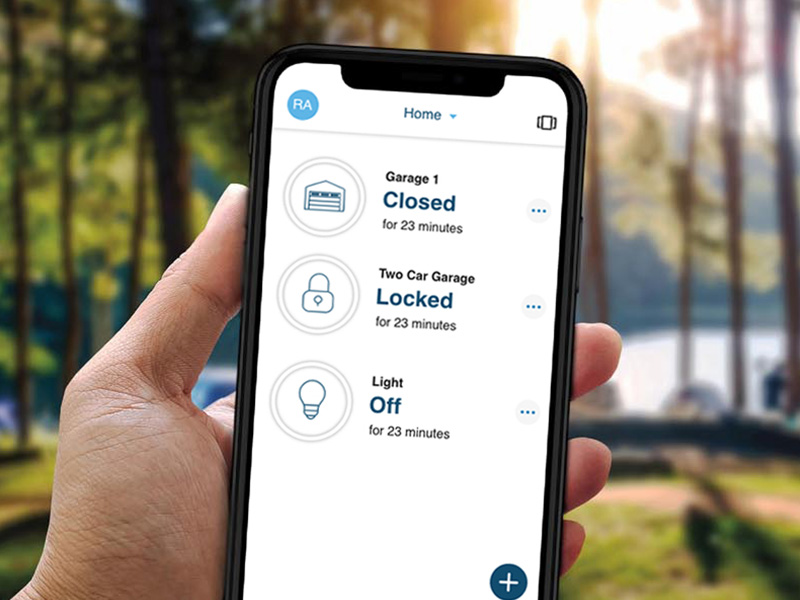 If you see error codes in your myQ® app — including 203, 207, 301, 602 and 707 — you may notice a few connectivity issues with the app or your garage door devices. In most cases, your Wi-Fi might be offline or you need to reset the connection of your devices.
If you notice your garage door opener won't connect to your myQ® app, try disconnecting the opener from the app through the settings option, check your Wi-Fi connection or log out of your account for a few minutes before signing back in. You can find other solutions here if you notice any other error codes in the app.
4. What Do I Do if My myQ® Is Offline?
When the app goes offline, the most common cause is a bad internet connection, router problem or an unplugged myQ® hub. Check all of these options to find the root of the issue.
Online Smart Connection Help From Banko
For long-lasting connections from your garage door to your phone, Banko can help you stay online and optimize your garage's safety features. Adding new devices and getting your systems up and running can take some time to figure out, so we're here to offer any assistance to make this process go smoothly. Contact us if you have any questions about your myQ® or LiftMaster® setup.
Homeowner FAQs
As a homeowner, you can take a few essential steps to maintain, decorate and preserve your garage door. Take a look at the following new garage door FAQs and other answered questions.
1. How Do I Clean My Garage Door?
Cleaning your garage door by washing, waxing and weather stripping it gives your garage door a longer life span. With the proper maintenance each year, you can enjoy the style and upkeep of your garage door for 20 years or more.
2. How Do I Measure for a New Garage Door?
In a few easy steps, you can measure the space in your garage for a brand-new garage door. Take note of the height, width, headroom and backroom of your garage door space, or allow an expert from Banko to record these measurements for you. You can learn the exact measurements you need in our step-by-step guide.
3. How Do I Paint My Garage Door?
Painting your garage door can help you better match it to your shutters, front door and siding. In only three simple steps that include taping the sides and features of your garage door, priming the exterior and painting the surface, you can enjoy a whole new look to your garage door.
If you have a specific color in mind, Banko offers the Clopay Color Blast System, which lets you select Sherwin-Williams paints for your garage door. Your ideal color will transform into a two-part polyurethane paint perfect for any door material, including steel, aluminum, vinyl and plastic.
4. What Garage Door Materials and Styles Can I Choose?
At Banko, we consider your style, budget and home's exterior so you can find a garage door that fits perfectly with your vision. You can choose from a wide selection of garage doors, including:
Quality Garage Door Installations With Banko
Preparing for your new garage is exciting when you visualize how the style will match your home's exterior. Trust Banko to make this process easier by letting our team of experts in West Central Florida install and safety test your garage door.

Let Banko Take Care of Your Garage Door Needs
At Banko Overhead Doors, we prioritize your safety and satisfaction with expert garage door installations and repairs. Banko serves areas throughout West Central Florida. Contact us today to request an estimate for a new garage door, schedule a garage door repair or call us at 877.902.2656 with any questions.
Reviews
Excellent service. Quick and professional. I was given a window for the day and then told they would call 30 minutes prior to arrival. That allowed me to run errands while waiting for the call. I couldn't expect a service call to go any better. Thank you and I would recommend 10 out of 10 times.
Shaun Sugrue

,

Nokomis, FL
Very professional installer and very quick had the old one down and the new opener installed in less than an hour.
Gloria J & Robert K Harmony

,

Tampa, FL
Excellent, the tech Mike is awesome.
Robert Cano

,

Carrollwood, FL
Excellent. Robert was extremely efficient and went the extra mile to resolve our problem. Price for repairs was very competitive.
Eric Feder

,

St. Petersburg, FL
I had a great experience working with Banko to repair a malfunctioning garage door. This was the second time they\'ve come out to assist (not their fault, I\'ll look to my builder and installer on that) and I\'ve had the pleasure of working with Chris (I hope I spelled his name correctly). He was prompt, courteous, and very knowledgeable. He took extra time to answer my questions and walk me through the issues my garage door was encountering and how he was going to fix it. He even gave me maintenance tips on how to keep my garage door in the best shape.
Andy D

,

Riverview, FL
Mike was timely, professional, and proficient. It was a pleasure.
Jacquelyn James

,

Tampa, FL
Knowledge technician!! Great customer service.
Tommy George

,

Riverview, FL
Great from start to finish. The young lady in customer service was polite and knowledgeable and got me on the schedule next day. The gentleman that did the work called 30 minutes ahead, showed up on time, explained it all to me and reviewed pricing before starting. He was in and out in under 30 minutes and my door is working perfectly. Great experience, well done all around!
Pat O'Donnell

,

Trinity, FL
A few months ago your tech "tuned up" our 2 year old 2-car door which started to act erratically
He was the most professional, knowledgeable, experienced and courteous tech I have ever dealt with. Very thorough. Door now very smooth.
Ron Simpson

,

Land O'Lakes, FL
Outstanding. Gene and Tom were professional, timely and did a great job—Thank You. My location is Wimauma, FL., but your system would not let me put that in, so I just picked one that worked
Dennis Lombardi

,

Ridge Manor, FL
Had a broken cable and springs replaced. Paul arrived in the service window and got right to work. Finished the job quickly and provided some maintenance tips to keep my door moving smoothly!
Excellent service Paul! Thank you.
Mike Caldwell

,

Venice, FL
The tech was great, very efficient and professional.
Mo sallout

,

Tampa, FL