Whether your garage door is near the end of its lifespan or you're looking to elevate your home's curb appeal, the time has come to replace your garage door. At Banko Overhead Doors, we have a wide variety of attractive, high-quality replacement options to choose from.
Yet the process may also involve applying for a building permit. So, how do you know if you need a permit to change, remodel or replace your garage door?
Knowing When to Get a Building Permit
As a homeowner, you've likely heard that if you start any intensive home renovations or change any existing electrical, plumbing or structures, you'll need to obtain a building permit. Typically, homeowners need building permits when creating new doorways or windows, altering plumbing and electric systems, adding or removing walls or adding onto the garage. Florida permits are in place to keep every home sturdy and safe.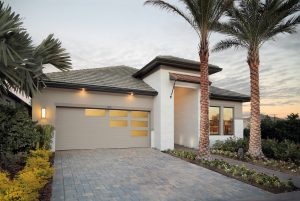 A Permit Is Required When Replacing a Garage Door in Florida
Due to the state's building codes, Florida homeowners need permits. With annual tropical storms and hurricanes, Florida has created effective building codes to protect properties from serious weather-related damage and personal injuries. These codes cover both high wind speeds and airborne debris.
Garage doors are considered an outside wall, and any replacement doors need to be strong enough to keep the structure of your home intact during the harshest storm. They need to withstand high wind speeds as well as impacts from flying debris. The most effective method for replacing your garage door is by working with a trusted, knowledgeable Florida garage door design and installation company.
Turn to Banko Overhead Doors for Your Garage Door Installation
At Banko Overhead Doors, we offer the widest selection of attractive Clopay® garage doors available with the sturdiest construction materials and hurricane rated for exceptional performance and protection. Our team will work with you to find styles that meet your expectations while exceeding Florida's building code requirements. We'll even apply for all of the necessary building permits.
Our team of highly trained garage door installation employees understands the needs of local homeowners and will recommend exceptional products that meet your budget. We have served the Tampa Bay area, including Hillsborough, Manatee and Polk Counties, with rapid response times and no hidden costs for over three decades.
Learn more about our hurricane rated garage doors and explore our wide selection of products today. Feel free to request an installation estimate, or if you have any questions, contact us online or call 844.707.9868.
---
Additional Resources on Living in Florida:
---