Living in Florida can feel like paradise. Sunny skies greet us nearly every day and provide us with the perfect weather to enjoy a day at the pool or beach. Even in the winter, when ice and snow rarely make an appearance in the state, temperatures are warm enough to spend a day on the water in many coastal towns. Yes, being able to call one of the world's top vacation destinations home is an amazing feeling.
However, the Sunshine State does get a little too sunny at times. With temperatures rising into the triple digits and humidity levels increasing as the seasons get warmer, your home faces an overload of heat throughout the day and even into the night. With so much heat and UV radiation bearing down on the roof and through the windows, it's a safe bet that your home isn't always as comfortable as you would like.
Table of Contents
30 Ways to Keep Your House Cool in Florida
At Banko Overhead Doors, we love living in Florida, but we also love the convenience and comfort of a perfectly cooled home. Keeping your house cool in extreme heat can be a challenge, especially if you have an older home that doesn't have adequate ventilation. Thankfully, there are plenty of ways you can keep your house cool. Here are 30 tips for bringing down the temperature and increasing the comfort of your Florida home.
#1: Schedule Regular HVAC Maintenance
You don't realize how important your HVAC unit is until the day you're left without air conditioning. Don't sweat these problems — prevent them by scheduling regular HVAC maintenance. Many companies have maintenance plans that keep your system running at peak performance all year long. If you don't have a trusted HVAC professional yet, find one and have them give your system a tune-up before the summer begins. Staying on top of your HVAC maintenance is a great way to keep your home comfortable all year!
#2: Air Seal Your Home

Did you know that you may be losing comfort through the smallest cracks and crevices of your home? Air from outside finds its way into your home, while your air-conditioned air leaks out. Reduce this air leakage by air sealing your home. This will help restore your comfort, keeping the warm air out of your home. Air sealing also helps prevent moisture from entering the home and causing your family respiratory problems. You can seal your home with caulk and weather stripping or get help from a professional.
#3: Insulate Your Attic
Installing adequate insulation in your attic is another great way to protect your home's comfort from the extreme heat of the Florida sun. Insulation materials are available in various R-values, the unit that measures its thermal resistance. Essentially, insulation blocks the transfer of heat trying to enter and leave your home. Because R-value needs vary by state, it's recommended that Florida homeowners place R30 to R60 insulation in their uninsulated attic. Those living close to Miami can choose R30 to R49 insulation.
#4: Upgrade Your Windows
Florida's powerful sun is bound to strike most of your windows throughout the day, causing your home's temperature to increase. If you have older windows, you may be letting in an immense amount of heat. However, you can upgrade to new windows that feature energy-efficient properties designed to prevent heat from entering your home. Multi-pane windows are filled with inert, non-toxic gases to minimize the transfer of heat.
#5: Open Doors Inside the House
There's a debate on whether or not you should keep your interior doors in your home closed to maintain maximum comfort. Many people believe that closing the doors will prevent warm air from spreading to those rooms or keep the air conditioning contained in those rooms. Actually, opening your doors is the best option. Letting air flow from room to room will keep the whole house cool instead of preventing fresh air from reaching closed rooms.

#6: Paint Your House a Lighter Color
Looking for a great way to cool down your home while improving its curb appeal? Consider painting the exterior of your home a lighter color. Darker colored houses absorb heat, just as dark clothing does. Lighter colored houses absorb less heat and can reflect some of the sun's rays. You can also paint your roof white to reflect UV rays similarly to how snow and ice reflect them.
#7: Replace Your Roof Shingles
Since we're on the topic of your roof, replacing your roof shingles is another way to cut down on the heat entering your home. Lighter colored shingles will reflect and repel heat. Although you can paint your shingles with special cool paint, you can also achieve a cooler roof by replacing your roof with a "cool roof" that's designed to prevent heat transfer better than a standard roof. You can potentially keep your roof up to 50 degrees cooler with these special shingles and materials.
#8: Set Your Fans Correctly
One tip for how to keep a house cool in hot weather is to make sure your ceiling fans are set correctly. On the fan motor, you'll notice a small switch that can flip up and down. This will control the direction of the fan, which revolves either clockwise or counterclockwise. Typically, you'll want the fan blades to spin counterclockwise in the summer. However, some models are designed differently. To know for sure, you need to feel the airflow from the fan while you stand below it.
#9: Put Up Thick Curtains
Thick curtains and blackout curtains can block sunlight and naturally insulate your rooms. Although this prevents much light from shining through, these curtains are ideal in rooms that you don't use often or when used during the day when no one is at home. For an aesthetic alternative, neutral-colored curtains can also cut heat by a third. If you already have curtains, you can dampen them and open the window to cool the incoming air and create your own alternative air conditioning.
#10: Use Your Oven and Stove Sparingly
There's nothing like a home-cooked meal, but when temperatures are reaching triple digits, any cooking done in the kitchen can make your whole house feel like an oven. Your oven and stovetop can generate plenty of excess heat. If possible, limit your cooking to cooler times during the morning or evening. Meal prep at the beginning of the week to limit your usage or take advantage of the sunny weather and cook a few meals outside on the grill.
#11: Do Laundry at Night

Doing chores around the house is a surefire way to work up a sweat. One way to keep your house cool in Florida is to choose ideal times of the day to complete certain tasks like laundry. Your dryer radiates a lot of heat and can increase the temperature of your home. By washing and drying your clothing at night or using a clothesline to dry your garments, you can cut down on errant heat. Also, run your dishwasher overnight to further reduce home temperature throughout the day.
#12: Use a Dehumidifier
Learning how to keep your house cool in Florida is important, as the Sunshine State can get extremely humid. To find reprieve from an uncomfortable day and night sitting in a humid house, consider using a dehumidifier in your bedroom. These machines will not change the temperature of the room but will remove the humidity and dry out the space. Place it in your bedroom with the doors closed and run it for a few hours before you sleep.
#13: Unplug Devices That Aren't in Use
There are a lot of small things around your home that make a big impact on your home's temperature. Believe it or not, devices that are plugged into the wall generate a significant amount of heat throughout the day, even if they're not being used. Unplug phone chargers, small kitchen appliances, laptops and other devices that generate a lot of heat while you're not using or charging them.
#14: Replace Your Interior Lighting
Walk through your home and count how many incandescent bulbs you have in your lighting systems. These bulbs, while effective at producing light, are also great generators of heat. In fact, 90 percent of the energy released by these bulbs is heat. Thankfully, innovative smart bulbs and LED bulbs are affordable options that do not give off as much heat. Because these bulbs lose less of their energy to heat, they're also more efficient than incandescent bulbs.
#15: Clean Out Your Vents

Your HVAC unit works hard at keeping your house cool in extreme heat — don't let it waste its efforts by neglecting your duct cleaning. Ventilation ducts clogged with dirt and debris have the potential to cause problems such as mold growth. The EPA only recommends cleaning your ducts when needed, however, there is evidence that dirty HVAC components can cause your unit to lose efficiency. Consider cleaning your ducts if your home has been recently renovated or if you believe mold, insects or contaminants are infesting your ducts.
#16: Sleep on Breathable Bedding
When you're active outside, you wear clothing that is comfortable — particularly breathable fabrics with moisture-wicking technology that keeps you cool. Why not sleep on fabric that keeps you just as comfortable throughout hot summer nights? Many manufacturers produce special cooling sheets that are lightweight, soft and breathable. Sleeping in hot heat can be unbearable, especially during the summer. Consider outfitting your bedroom with cooling sheets that you can store in the winter months to keep them in good condition for years to come.
#17: Use Natural Light in the Evening
Many of us switch on lights throughout the house in the evening out of habit. Although this will keep the home illuminated, it will also create additional heat that you don't need on a hot summer night. Instead, take advantage of the longer summer days and use natural light as late into the night as you can.
#18: Use Natural Air Flow at Night
Cut down on your energy bills and still keep your home cool throughout the evening by opening your windows. Using natural air is a great way to set your family up for a peaceful sleep. Allow air to circulate through your home by opening windows and doors in other rooms to create a draft. Make sure you have screens in place to prevent bugs from making their way into your home. Before bedtime, close and lock all windows and doors to keep your home safe.
#19: Place Portable Fans in Warmer Rooms
Are there rooms in your home that seem to be a little warmer than others? Spending money on cooling only to receive varying levels of comfort from room to room can be frustrating. Consider purchasing portable fans for these warm rooms to help offset your costs and give these spaces the extra air flow they need. Portable fans will allow you to sometimes turn off your air conditioning unit and keep you cool where you need it most.
#20: Invest in Solar Panels
Although you can block the heat with certain roofing materials, you can also take advantage of Florida's sunny weather by investing in solar panels. These roof-mounted devices can shade large portions of your roof from the sun while using the rays to generate clean energy. In addition to preventing sunlight from heating your home, you'll use that sunlight to help power your air conditioning unit.

#21: Use a Portable Air Conditioner
Having a reliable air conditioning system for your entire home is a great way to keep every room feeling cool. However, if you only use a handful of rooms throughout the day, consider purchasing a portable air conditioner. Instead of increasing your energy bills by keeping your A/C unit running non-stop, turn it off and only use a portable air conditioner in the rooms you frequent. You can easily plug it in your living room for the evening then move it into your bedroom while you sleep.
#22: Absorb the Heat With Plants
One environmentally friendly way to cool your home while adding to its decor is to use houseplants to absorb heat. Through photosynthesis, plants can change the temperature of their surroundings. There are many great plants you can keep near the windows of your home that don't require too much maintenance. Consider looking at mother-in-law's tongue, palms, Chinese evergreen and different species of ficus.
#23: Use Fans With a Bowl of Ice
This may seem like a silly thought, but here's an interesting trick that actually works — fill a bowl full of ice cubes and place it in front of a portable fan. This can be a window fan or a standing fan that you move to different rooms of the home. The ice will cool the air flow created and serve as an affordable and effective way to cool your home.

#24: Plant Exterior Trees
This may be a long-term solution, but if you're planning on living in your home for many years to come, consider planting a few trees in strategic places around your property. Shade from trees can cool your home, but to be truly effective, they must be placed in specific areas. The two best parts of your lawn to plant a tree are on the south side or west side due to the way their shadows fall on the home throughout the day.
#25: Turn on Bathroom and Kitchen Exhaust Fans
When you're cooking in the kitchen, you use an exhaust fan to remove the hot air emanating from the stove or oven the same way you would remove hot air in the bathroom after you take a shower. You can use your exhaust fans to help pull warm air from your home as well. Not only will it help cool down your home, but it will also remove excess moisture from humidity and stagnant air that may be odorous.
#26: Upgrade to a Smart Thermostat
Keeping your house cool in extreme heat requires a little bit of forethought. Thankfully, smart thermostats can do some of the thinking for you to help cool down your home. These devices can monitor and record your air conditioning use over time to learn when you use it most. They then can save you energy by modulating air flow when needed and turning off your HVAC unit when certain rooms reach your desired temperature.
#27: Apply Heat Reducing Film to Windows
Whether or not you have energy-efficient windows, you can always decrease the intensity of the heat and UV radiation making its way into your home by investing in window films. These window attachments, which block glare, heat and UV rays, are great alternatives to blinds or curtains. With window films, you can still see outside, and you can apply them to windows of various shapes, sizes and styles. The National Fenestration Rating Council, which rates and approves energy performance in windows, also certifies window films.

#28: Take Cooler Showers
Taking a cool shower can help you keep your house cool in extreme heat in two ways. First, switching from a hot shower to a warm or cool shower can cut down on the extra heat you're generating from the heated water. It will also put less of a strain on your hot water heater which will prevent your garage or appliance closet from getting too warm. Taking a cool shower can also help cool your body down.
#29: Regulate Your Body Temperature
One of the best ways of how to keep cool in your Florida home is to focus on cooling your body temperature. If you're not a fan of cold showers, you can still help your body stay cool by wearing lightweight and breathable clothing around the house. Use ice packs or freeze a water bottle to use throughout the day to cool down when the heat is unbearable. Drink plenty of water to make sure your body is hydrated and able to cool itself down sufficiently.
#30: Choose Insulated Garage Doors
Replace your old garage door with a new insulated model. With Clopay®'s innovative Intellicore Insulation technology, these garage doors are able to provide exceptional levels of temperature, quietness and strength. Insulated garage doors prevent hot air from getting into your garage and also prevent heat from escaping, making them ideal for temperature control all year long. A new garage door is a wise investment that can also improve your curb appeal and potentially increase the value of your home.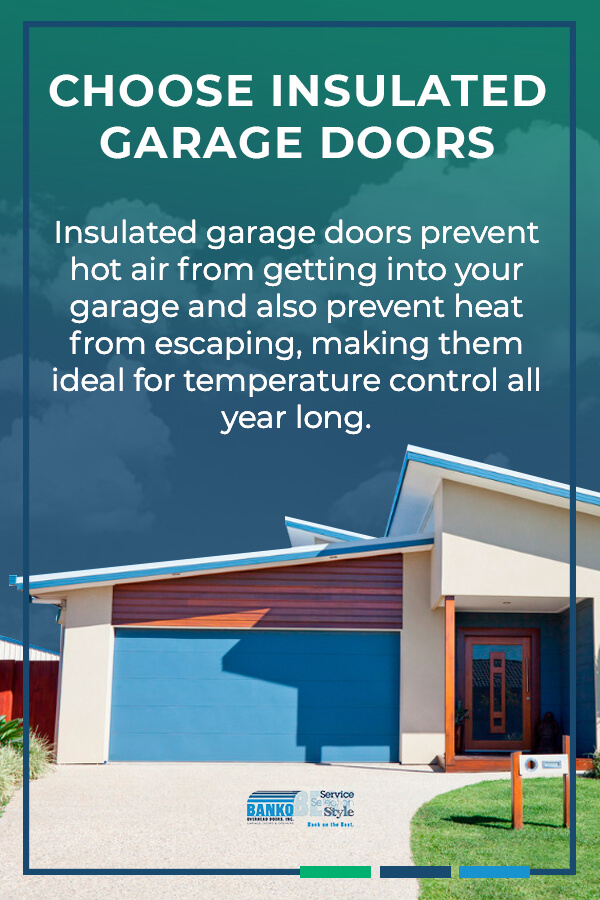 Keep Your Home Cool With Insulated Garage Doors From Banko
Knowing how to keep your home cool in Florida's extreme heat is something we believe all homeowners should know. Thankfully, there are many easy and affordable ways of how to keep your home comfortable in extreme heat. Clopay insulated garage doors can help keep your Florida home cool. The insulation added to these innovative doors blocks external heat from increasing the temperature of your garage.
Learn more about our insulated garage doors and discover how to keep your house cool in hot weather with this insulation technology. Contact us at Banko Overhead Doors today. We're happy to answer all of your questions and can provide you with a free garage door installation estimate before the weather heats up.
---
Additional Resources on Living in Florida:
---