Table of Contents
---
You may know Orlando, Florida, as a theme-park destination full of opportunities for excitement, but how would it be to live there? If you're planning on moving to Orlando, you'll want to know plenty about the city. With information about living in the city and tips for moving to Orlando, Florida, you'll feel confident in your choice to move to an area that's known for fun in the sun and so much more.
Check out what you should know before moving to Orlando and how to get the most out of your new home in the guide below.
What to Know Before Moving to Orlando
You're asking yourself, "Should I move to Orlando, Florida?" and you've got a lot of factors to consider before making your choice and moving. Moving somewhere new is a big decision regardless of your new location, but it doesn't have to be overwhelming. When you're thinking about moving to Orlando, a few tips will help guide your choice. One of the best pieces of advice is to learn about the city. From the job prospects to the weather and more, here's what you should know before moving to Orlando:
Demographics of Orlando

When you want to move anywhere, getting an idea of the demographics can help guide your decision. You can see if the residents are around your age, how large the population is and more useful information that can give you a snapshot of your potential home. Here are some stats about the demographics of Orlando:
In July 2019, the population was 287,442.
99% of the population is urban, while 1% is rural.
The population is 48.2% male and 51.8% female.
The median resident age is 33, younger than Florida's median age of 42 years.
Climate in Orlando
If you're considering a move to Florida, you may already know what type of weather you'll find, but it's essential to consider the climate of your potential new home. The climate in Orlando is what you'd expect from sunny Florida — humid and subtropical. In other words, Orlando has a warm climate that many visitors and residents find comfortable year-round. Orlando's climate is split into two seasons:
From May to mid-September: This is Orlando's rainy season. The average high temperatures this season are between 88 degrees Fahrenheit and 91 degrees Fahrenheit, while the average lows are between 64 degrees Fahrenheit and 73 degrees Fahrenheit.
From October to April: This season is warm and dry. Humidity is lower, between 46% and 56%, and the temperatures are a bit lower as well. The average highs are between 70 degrees Fahrenheit and 84 degrees Fahrenheit, and the average lows are between 49 degrees Fahrenheit and 64 degrees Fahrenheit.
Employment Outlook for Orlando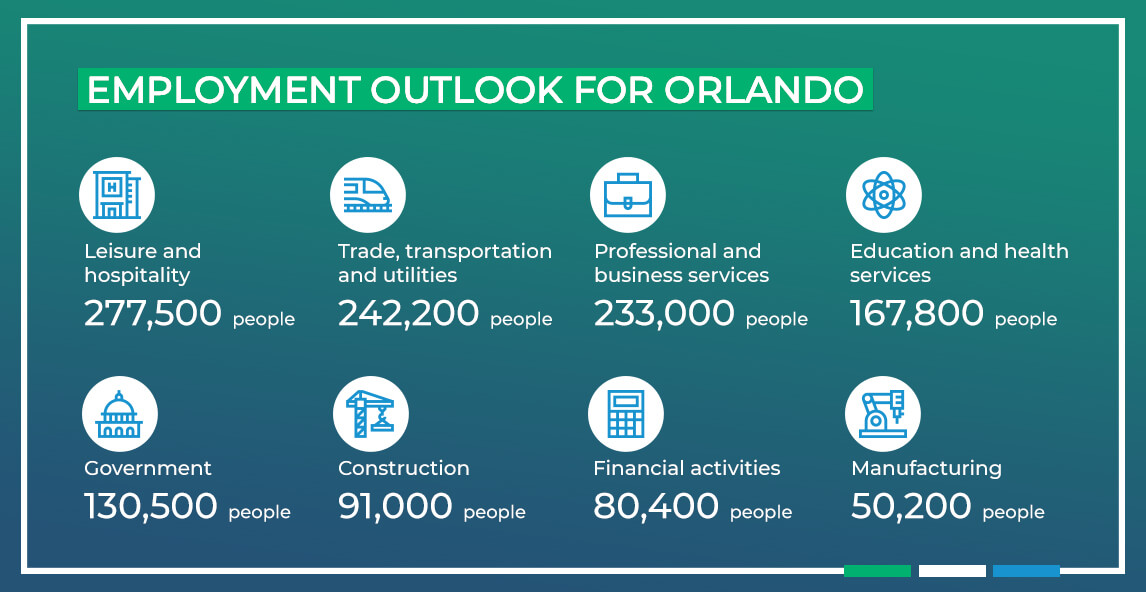 When moving to a new city, knowing the employment outlook can help you determine if it's a good location for your future — whether or not you already have a job in the area. In early 2020, the unemployment rate in Orlando was 4.2%, lower than the national average of 4.5%. According to Niche, the estimated median household income for Orlando is around $48,500, while the national median income is around $55,000.
It's also useful to know what industries are popular for jobs throughout the Orlando area. According to the Bureau of Labor Statistics (BLS), the following job fields are among the most popular in Orlando, shown by the approximate number of people they employ:
Leisure and hospitality: 277,500 people
Trade, transportation and utilities: 242,200 people
Professional and business services: 233,000 people
Education and health services: 167,800 people
Government: 130,500 people
Construction: 91,000 people
Financial activities: 80,400 people
Manufacturing: 50,200 people
The hospitality industry in Orlando is booming thanks to the theme parks and various tourist attractions in the region. This gives you plenty of opportunities to work in that industry if you're moving to Orlando to search for a job. With those and other jobs in the Orlando area, residents fall into various income brackets. In 2017, the yearly income distribution for households was as follows:
Less than $10,000: 7.8%
$10,000 to $20,000: 10.2%
$20,000 to $30,000: 12%
$30,000 to $40,000: 11%
$40,000 to $50,000: 11.9%
$50,000 to $60,000: 10.1%
$60,000 to $75,000: 8.9%
$75,000 to $100,000: 9%
$100,000 to $125,000: 6.7%
$125,000 to $150,000: 3.1%
$150,000 to $200,000: 4.2%
Over $200,000: 5.2%
Cost of Living in Orlando

As you consider a move to anywhere new, especially a city, you need to know how much it will cost to live there. The cost of living in Orlando is 5% lower than the national average. Check out the breakdown for the cost of living in Orlando as it compares to the national average across these categories:
Housing: 11% lower
Utilities: 11% higher
Groceries: 2% higher
Transportation: 6% lower
While the cost of housing in Orlando is lower than the national average, you'll still find that housing costs and values can be higher in urban areas. In Orlando, the median home value is around $218,000, and the median rent is around $1,100. Cities tend to have higher costs of living, especially as you get closer to downtown areas, but living in a suburb farther from the city can help lower your cost of living.
Transportation in Orlando

The Orlando area features two international airports — Orlando International Airport and the Sanford International Airport — which welcome tourists and make it convenient to travel to different locations from your Orlando home. In addition to air travel, you can either drive your own vehicle or use the city's various public transportation options, including:
LYNX, Central Florida's bus system
I-Ride Trolley
Shuttle vans
Theme park buses
Sun Rail, Central Florida's commuter rail system
While certain transportation is specifically for commuting to and from airports and theme parks, the other options can help you travel for work or entertainment. Sun Rail in particular services 49 miles across Orange, Osceola, Seminole and Volusia counties with 16 stations.
Education in Orlando
For families with children or those planning to have children, it's important to know that Orlando has 132 public schools and 31 private schools. Orlando also offers opportunities for furthering education, including colleges like the University of Central Florida and Rollins College, making it a great home for families with older children.
Around 90.2% of people who are age 25 and older in Orlando are high school graduates, and 36.7% of people age 25 and older have a bachelor's degree or higher.
Entertainment in Orlando

When you plan a move to somewhere new, remember you aren't just going to live there — you're going to play there, as well. Orlando is known for its theme parks, a large source of entertainment in the region. Residents and visitors of any age enjoy these popular Orlando theme parks:
Walt Disney World Resort
Universal Orlando Resort
SeaWorld Orlando
LEGOLAND Florida Resort
Your entertainment isn't limited to the theme parks of Orlando. Zoos, golf courses, water parks, botanical gardens, swamp tours and adventure parks create endless entertainment opportunities in the Orlando area. Orlando also offers nightlife entertainment on International Drive and downtown.
Thanks to the favorable weather most of the year, opportunities for outdoor adventure are abundant in Orlando. That makes it a perfect city for those who like to get away from urban areas now and then and enjoy the great outdoors. Even if you don't visit theme parks or various attractions that appeal to tourists, you'll find parks and lakes throughout the Orlando area that offer more relaxing ways to get your entertainment fix.
Arts and Culture in Orlando
Those interested in arts and culture will find plenty to experience around the city. The Dr. Phillips Center for the Performing Arts puts on over 300 shows a year, including ballet and Broadway performances, giving you endless evenings of entertainment possibilities. If you want even more forms of visual art, check out the Cornell Fine Arts Museum, the Orlando Museum of Art or the Zora Neale Hurston National Museum. These Orlando area museums host permanent collections and traveling exhibits, so there's always something new to see.
Dining and Cuisine in Orlando

When it comes to cuisine, you'll find the classic chain options you've come to love and so much more. From seafood to Vietnamese fare, the dining options in Orlando have a lot to offer its residents and visitors. Get farm-to-table meals or try local, award-winning restaurants that serve anything from contemporary American meals to Italian favorites. Many restaurants throughout the region focus on fresh, local and seasonal ingredients, so the menus are always changing.
Wildlife in Orlando
Anyone planning to take advantage of the parks, waterways and different green spaces in Orlando may want to know what wildlife they can expect to see. There's a mix of animals throughout Florida, and many call the natural areas of Orlando home. You'll find common critters in Orlando, as well as these Florida animals:
Alligators
Armadillos
Various snakes
Seagulls
Sea turtles
Bald eagles
Bobcats
Florida black bears
Fox squirrels
Manatees
Dolphins
While a few creatures on that list may seem a bit scary if you haven't lived around them before, taking proper precautions in natural spaces will help keep you and your family safe. Read up on what times of year you can expect to see different wildlife, and always watch for signs at parks and natural spaces advising you on how to stay safe.
Where to Move to in Orlando, Florida
As a large city, Orlando offers plenty of suburbs and neighborhoods to live in. You'll want to know which area to choose if you're moving to the city. When moving anywhere new, one of the best tips is to consider what you and your family need and what type of area you'd like to live in.

From schools to housing, to nightlife and entertainment, the suburbs and neighborhoods throughout Orlando have something for everyone. The following Orlando suburbs are considered among the best to live in by Niche, and they each offer different qualities:
1. Winter Park
With a population of over 30,000, this northern suburb in Orange County is among the best places to live in all of Florida. It combines urban and suburban experiences for those looking for a location that combines a family environment with nightlife. Winter Park has high ratings for its public schools, and residents enjoy the variety of bars, coffee shops, restaurants and parks the area has to offer.
2. Maitland
Maitland is an Orlando suburb in Orange County with a population of over 17,500. While its population is smaller than Winter Park, Maitland still provides a mix of urban and suburban experiences. With restaurants, parks and coffee shops, Maitland is suitable for families — though it does provide nightlife opportunities. This makes it a popular choice for young professionals.
3. Horizon West
Just over 32,500 residents call Horizon West home in Orange County. The sparse suburban feel is ideal for families and young professionals living in the area. The public schools in the region are above average, making it a suitable option for families with younger kids who won't be choosing private schooling. Still, private schooling is always an option if you prefer that for your children.
4. Oviedo
Located in Seminole County, Oviedo is an Orlando suburb with a population of nearly 40,000. Despite the large population, Oviedo has a more rural feel than the other top-rated suburbs in Orlando. The highly rated public schools and many families and young professionals in the area make Oviedo a great choice for families moving to Orlando.
5. Lake Mary
Lake Mary in Seminole County has a population of over 16,000. While the public schools in this suburb are highly rated, Lake Mary's residents are mostly young professionals. The sparse suburban feel is ideal for those looking for a suburban experience that isn't too crowded but still gives you the entertainment opportunities of the city.
6. Heathrow
Heathrow is great for those looking for a smaller place to live, with a population of around 6,000. The Seminole County suburb does have a dense suburban feel, but the smaller population may make the area feel less crowded. The population in Heathrow largely consists of retirees, but it would be a suitable move for families since the public schools are highly rated.
7. Doctor Phillips
With a population of over 11,000, Doctor Phillips is an Orange County suburb outside Orlando. Bars, restaurants and coffee shops in the area give its residents, mostly young professionals, options for entertainment and nightlife. The above-average public schools make Doctor Phillips a good contender for families, as well.
8. Altamonte Springs
Altamonte Springs in Seminole County is a mix of urban and suburban with a population of over 43,000. With highly rated public schools, Altamonte Springs would be suitable for families, but many of the residents are young professionals. While most residents in other suburbs own their homes, Altamonte Springs is home to many renters.
9. Wekiwa Springs
Even with a population of over 23,000, Wekiwa Springs provides a sparse suburban feel. The Seminole County suburb is home to both young professionals and retirees, making it a great place for families and individuals of any age. Families, in particular, will appreciate the highly rated public schools in Wekiwa Springs.
10. Winter Springs
Winter Springs has a similar size to other suburbs around Orlando, with a population of over 35,500. This Seminole County suburb has a sparse suburban feel and plenty of parks for its residents. Most of the residents in Winter Springs are young professionals, but with highly rated public schools, this suburb is good for families, too.
Moving to Orlando Pros and Cons
So how is moving to Orlando a good decision for you? That'll depend on a handful of factors, such as if you're moving with a family, searching for jobs in a particular field and looking for a particular type of area to live in. While the pros and cons of moving to Orlando vary from family to family, here's what some consider the best and not-so-great aspects of living in Orlando:
Cons of Moving to Orlando
Your specific needs for moving to a new location will ultimately determine potential drawbacks for living in Orlando. Particular drawbacks of the area may not even become clear until you've lived there for a year or two. A few of the more apparent cons of moving to Orlando, Florida, include:
A high volume of tourists, depending on where you are in the city
Traffic, though you can expect that in almost any city
The chance for severe weather
Tourists and traffic are present in just about any city, so don't let those points deter you from moving to Orlando. If you enjoy winter weather, you may consider the year-round warm temperatures a con in Orlando. For most planning to move to Florida, the sunny weather and lack of snow and cold is a big positive.
Pros of Moving to Orlando

Orlando is much more than a tourist destination, and its residents are proud to live, work and play in the city they call home. Among the benefits of moving to Orlando, Florida, are:
Highly rated and praised public schools
Support for arts and sports in the school system
Private schooling options
Proximity to theme parks
The opportunity to experience art and culture
A mild climate that is great for outdoor activities and events
Waterways that are great for sailing, swimming or going on a cruise
Living in areas that suit urban, suburban and somewhat rural lifestyles
The proximity to theme parks may be a con for some if they don't prefer a crowded city. But living in a suburb provides a peaceful environment while remaining a convenient distance from entertainment. Even if you don't have kids or grandkids living with you, you may have family members who would like to visit you and head to a theme park in the area. In either case, a home not too far from entertainment can be wonderful for you and your family.
Complete Your Dream Home in Orlando With Banko Overhead Doors

When searching for your dream home in the perfect neighborhood, make your new home perfect with help from us at Banko Overhead Doors. With rapid responses and no hidden costs, we've become a trusted provider of garage doors and garage door repairs throughout the region. For over 30 years, we've been meeting the specific needs of residents in Orange County and the surrounding areas.
Trust us at Banko Overhead Doors to make your new house feel like home with the convenience and protection of a high-quality garage door and garage door services. Contact us today at 844.707.9868 to schedule a repair or schedule an estimate.
---
Additional Resources on Garage Doors in Florida:
---