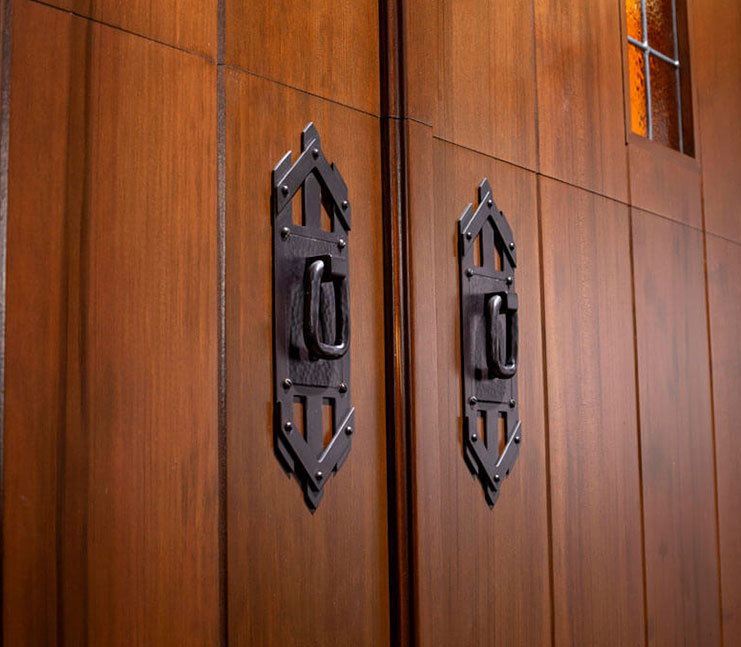 Customizable Wood Door Options
Wood Garage Doors are a beautiful addition to any West Central Florida home. There is no substitute for the warm distinctive look of wood. The stain options are endless and real wood doors offer the most design flexibility to create a one-of-a-kind garage door. While there's a lot to be said for steel doors, for some homeowners and home styles, only a natural beautiful wood door will do. It's also an investment that can pay for itself in increased curb appeal and resale value.
Banko Overhead Doors provides a wide range of durable, reliable, eye-catching garage doors for your home. Looking for a wood garage door?  Choose a finely crafted Carriage House Door Company wood garage door for your home. Choose a wood door from the Reserve® Collection, a set of handcrafted Carriage House designs that project old-world beauty and strength.
With our wood garage doors, you will be able to enjoy energy-saving insulation, unlimited customization options and the peace of mind of knowing you have a door that's going to last for years.
Interested in a garage door that has the look of natural wood without the upkeep and maintenance? Check out our faux wood garage door options!
Reviews
Excellent service very prompt careful and complete
calvin Jones

,

Riverview, FL
Excellent service. Don and his team were prompt, courteous, cleaned-up afterwards and made sure that we understood how to operate the door and the app. He was finished in about an hour and everything works great. Will definitely use Banko for replacing our other garage door opener and for any future service needs. Thanks!
Bryan Sykes

,

Tampa, FL
Service was done thoroughly and professionally. Kept me updated on what he found and corrected.
We always have great service from BANKO!
Pamela Ellison

,

Brandon, FL
Great job replacing the mother board in my garage door opener. Responded within 24 hours of calling for service.
Leon Heying

,

Venice, FL
Great Service Called , set appointment for next morning . Service tech David Mixon called prior to arriving , was on time in the allotted time frame . Very professional and completed the job in a very timely manor . Would highly recommend Banko
Dennis Y

,

Sun City, FL
The technician was very organized, thorough, polite and completed the work in an efficient manner.
nic evans

,

Plant City, FL
An absolute pleasure to deal with! This is the second garage door opener that has been damaged by a lightening strike in one year. The last one was installed in August 2021. Another strike destroyed that one on 6/19/22. Unfortunately by the time David Mixon arrived to assess our damage, he had just installed the last opener he had on the truck at a house around the corner from our house.
Very grateful that he arranged to come as early as possible today 6/22 to change out our unit to a new one. Now it is plugged into a TECO surge protector, so hopefully this will not happen again.
Ron Taylor

,

Apollo Beach, FL
Excellent work
Carlos Alvarez

,

Seffner, FL
Excellent service from Banko. Brett called first and also arrived earlier than expected. Brett was very professional, kind and thorough. He diagnosed the problem and fixed the springs efficiently. Then he checked the garage door and lubricated the door hinges to make sure it was operating properly. He answered all our questions. Brett is an excellent employee at Banko. He deserves a promotion. He represents your company with excellence.
Gwendolyn Cleveland

,

Spring Hill, FL
My problem was looked at and he immediately went to work after explaining what was wrong and what the charges would be. The cables and spring were replaced in an efficient way. He took the time to show me what he was doing and why which is very helpful. Professional, knowledgeable and courteous which is what you want as an employee. I couldn't be more please with this service call.
Douglas Uzelac

,

Land O'Lakes, FL
I liked the way the technician was friendly and knew in an instant what he "heard" was wrong with the door. Door was quieter and runs smoothly now, very happy with the end results. I also liked that he had a strip for the bottom of the door, with him and didn't have to order it first and then come back. Efficient worker and friendly.
JANICE GRIFFIN

,

Apollo Beach, FL
I was very happy with my technician Chad…..easy fix and explained my options.
David Thompson

,

Venice, FL