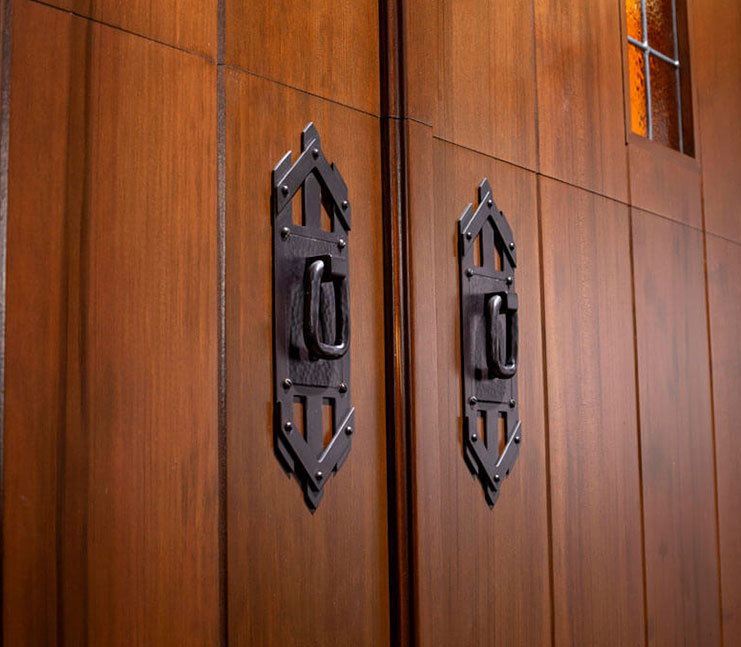 Customizable Wood Door Options
Wood Garage Doors are a beautiful addition to any West Central Florida home. There is no substitute for the warm distinctive look of wood. The stain options are endless and real wood doors offer the most design flexibility to create a one-of-a-kind garage door. While there's a lot to be said for steel doors, for some homeowners and home styles, only a natural beautiful wood door will do. It's also an investment that can pay for itself in increased curb appeal and resale value.
Banko Overhead Doors provides a wide range of durable, reliable, eye-catching garage doors for your home. Looking for a wood garage door?  Choose a finely crafted Carriage House Door Company wood garage door for your home. Choose a wood door from the Reserve® Collection, a set of handcrafted Carriage House designs that project old-world beauty and strength.
With our wood garage doors, you will be able to enjoy energy-saving insulation, unlimited customization options and the peace of mind of knowing you have a door that's going to last for years.
Interested in a garage door that has the look of natural wood without the upkeep and maintenance? Check out our faux wood garage door options!
Reviews
Banko came out within one day to replace our springs. They were fast, well priced, and have a great warranty. We would definitely use them again.
Cathy L
Banko has the best customer service you'll find. You just don't find this kind of service anymore. They've been out to my house a few times and have always called ahead to let me know exact time they were coming, and they always fix the problem in a timely professional manner. I have high expectations…and I really like this company. Highly recommend.
Wendy E
Just had my garage door serviced by Banko Overhead Doors from Tampa. They remind me of how Business used to be. From the initial phone call to the service call and follow up, they are the most professional business I have dealt with in a very long time. Good service and fair price with an excellent desire to.
Keith K
I recently had Banko install a new garage door and I was very impressed with their service and installation. Even the county inspector commented on what a great installation process. I would definitely recommend them!
Terri C
Good Service. Prompt response to message left for service call. Technician was professional and knowledgeable. Overall great experience!
Jana M