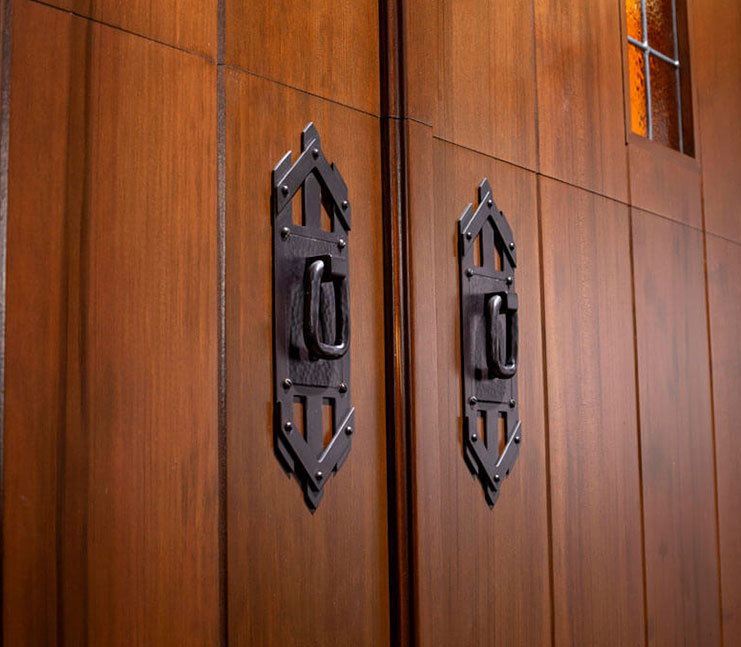 Customizable Wood Door Options
Wood Garage Doors are a beautiful addition to any West Central Florida home. There is no substitute for the warm distinctive look of wood. The stain options are endless and real wood doors offer the most design flexibility to create a one-of-a-kind garage door. While there's a lot to be said for steel doors, for some homeowners and home styles, only a natural beautiful wood door will do. It's also an investment that can pay for itself in increased curb appeal and resale value.
Banko Overhead Doors provides a wide range of durable, reliable, eye-catching garage doors for your home. Looking for a wood garage door?  Choose a finely crafted Carriage House Wood Collection for your home. Choose a wood door from the Reserve® Collection, a set of handcrafted Carriage House designs that project old-world beauty and strength.
With our wood garage doors, you will be able to enjoy energy-saving insulation, unlimited customization options and the peace of mind of knowing you have a door that's going to last for years.
Interested in a garage door that has the look of natural wood without the upkeep and maintenance? Check out our faux wood garage door options!
Additional Resources on Wood Garage Doors:
Reviews
Outstanding. Gene and Tom were professional, timely and did a great job—Thank You. My location is Wimauma, FL., but your system would not let me put that in, so I just picked one that worked
Dennis Lombardi

,

Ridge Manor, FL
Had a broken cable and springs replaced. Paul arrived in the service window and got right to work. Finished the job quickly and provided some maintenance tips to keep my door moving smoothly!
Excellent service Paul! Thank you.
Mike Caldwell

,

Venice, FL
The tech was great, very efficient and professional.
Mo sallout

,

Tampa, FL
Banko is great! From the moment you call, Virginia is so helpful in getting you set up and scheduled and Mike the service technician is great! They keep you updated on appointment times, actually Mike called and said he could be early if it was ok! Wow! Great service! Thanks Banko!
Mike Antinori

,

Tampa, FL
Juan was absolutely fantastic! He gave me all my options and made sure I knew all the costs associated with my repair. He was quick and extremely courteous, I would definitely suggest this company and Juan to anyone with garage door repair needs!
Lyndsey Struthers

,

Tampa, FL
Overnight service, on time with a window. Technician was well prepared, knowledgeable and appropriate, a pleasure to work with. I am so pleased with the installation, had no idea how far these devices have come in the 40 years since I installed my own. Your company and your tech are highly recommended.
Roger Smith

,

Port Richey, FL
best service ever ! great quality work ! Johnny was very professional and courteous . He is skilled and experienced to tackle any job ! Would recommend !
Liviu Leordean

,

Tampa, FL
Great Service
Roger Smith

,

Port Richey, FL
Same day service and in fact within the hour. Excellent, professional and efficient technician. Part that was defective was onsite and everything was fixed within 30 mins of appt start time. Recommend 100%
Jennifer Teeters

,

Tampa, FL
THE SERVICE TECH WAS EXCELLENT. HE INSTALLED 2 NEW SPRINGS AND WAS VERY EFFICIENT AND PROFESSIONAL IN HIS WORK. I would highly recommend him and the company and would use them again for any garage work needed in the future.
RALPH WIRSCHING

,

Spring Hill, FL
Zach was great!
Geri Erickson

,

Venice, FL
I am a customer for life. We have only had to use Banko a few times but every encounter is a professional one. From scheduling the appointment to repairing our door, they are focused on customer service. The gentleman who replaced our spring today was on time, called ahead and got the job done very efficiently. He answered all my questions and concerns. Highly recommend Banko for all your garage door needs!
Katie Dumala

,

Temple Terrace, FL