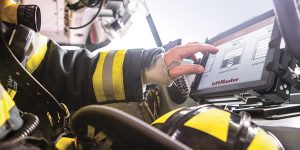 Response is Necessary for Emergency Response Teams
Life saving equipment sits behind these doors, theft and vandalism is a large concern to emergency response teams. Banko has teamed with LiftMaster® to create worry free solutions.
LiftMaster's Firehouse Solutions are integrated packages, assuring seamless integration of a motorized commercial door system. The combination of advanced technology, features and accessories provided by LiftMaster, simplifies the process of determining the best solution to meet the needs of your firehouse.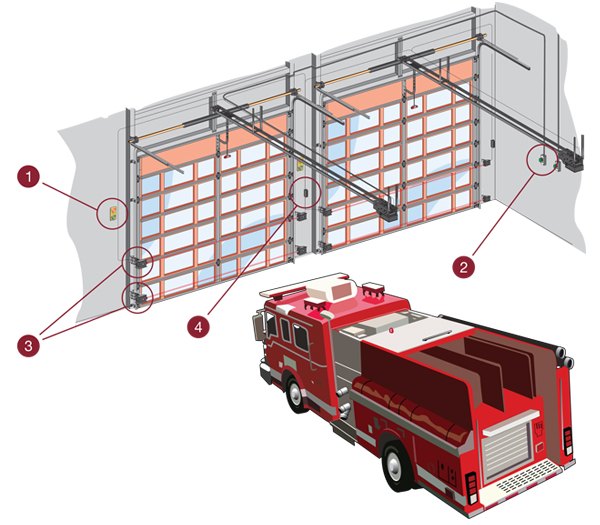 Features
1. Red/Green Traffic Light
Lets you know when the door is fully open and it's safe to exit, virtually eliminating door contact and expensive equipment damage.
2. Open Only Push Button
Can be positioned anywhere in the apparatus bay, such as the entrance from the bunkroom, allowing you to react quickly when you get the call.
3. Safety Sensors
Stop the door from closing if an obstruction is detected protecting personnel, vehicles, aerial ladders and other high apparatus obstructions.
4. 3-Button Station with Maintenance Alert System
Allows you to open, close and stop the door quickly. An indicator light lets you know when it's time for routine maintenance.
"Our LiftMaster door enhancements are providing a safer workplace for our firefighters, have eliminated costly door repairs and are allowing our unit to respond to emergencies faster." – Chief Shawn Oke
Why Automate Your Commercial Doors?
Reduces the opportunity to damage customer vehicles by providing control and safe operation of commercial doors.
Assures commercial doors cannot be manually opened from the outside by someone trying to gain access to commit theft.
Increases the life expectancy of the door and reduces service costs associated with ensuring proper operation of commercial doors. Commercial door operators open and lose in a controlled manner eliminating the potential for doors to raise too quickly or slam when being closed.
Reduces the opportunity for a soft tissue injury to occur when opening or closing a commercial door manually, preventing workplace injury claims, loss of time and potential increased insurance premiums.
We offer hundreds of additional accessories to choose from for your business. Contact your Banko connectivity specialist on how to automate your business.
Additional Resources on Garage Door Openers:
Reviews
Banko rep was on time and took care of the two issues for me.
Yvonne Ferrario

,

Seffner, FL
Thank you for your kind work David Mixon. Got the job done quickly. I would go back to Banko for further garage door needs.
Teri Chhum

,

Sun City, FL
Our service was excellent. With a broken spring, at mid-day, we were unable to to operate the garage door. Banko Service was able to locate technician Paul in our area and added our work order to his already full schedule. He replaced both springs quickly by the end of the afternoon. We are grateful for the urgent service, as we had an appointment early the following morning.
Robert Frank

,

South Venice, FL
The serviceman called before he arrived and quickly fixed the problem. I appreciate Banko because they are fair in pricing and doesn't take advantage of customers like others I have used.
Linda Evans

,

Tampa, FL
The technician was very knowledgeable and professional. I will recommend Banko to anyone who need garage door services.
Anthony Blaylock

,

Gibsonton, FL
Excellent.
Conrad Milne

,

Wesley Chapel, FL
Kris (KR1) was Excellent!!.. Was on time, very courteous, professional, explained everything thoroughly. Answered all my questions.
Excellent customer service!! Pls give him a pay raise.
William Conguta

,

Oldsmar, FL
In and out in under an hour! Plus the tech explained how everything worked! Great Service.
The garage door opener was installed the next day after my call for service.
Gregory Kornacki

,

Land O'Lakes, FL
Arrived on time… very professional.. very helpful.
Timothy Cassar

,

Tampa, FL
Showed up on time and Paul did a great job installing new torsion springs on my garage door.
Henry Ryber

,

Osprey, FL
Paul arrived on time, spent time explaining how he would identify the problems with the garage door and fix it. He worked quickly, made the necessary adjustments, and returned the door to a functional state. We are very pleased with this experience, and the repair cost was reasonable. We will definitely use Banko in the future.
Dave Trexler

,

Venice, FL
The tech came in on time and finished the installation within an hour. Everything worked fine and he was able to provide some explanations on how to operate the new equipment.
Ray Durand

,

San Antonio, FL