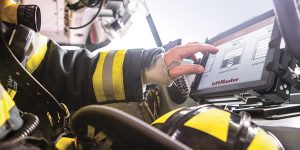 Response is Necessary for Emergency Response Teams
Life saving equipment sits behind these doors, theft and vandalism is a large concern to emergency response teams. Banko has teamed with LiftMaster® to create worry free solutions.
LiftMaster's Firehouse Solutions are integrated packages, assuring seamless integration of a motorized commercial door system. The combination of advanced technology, features and accessories provided by LiftMaster, simplifies the process of determining the best solution to meet the needs of your firehouse.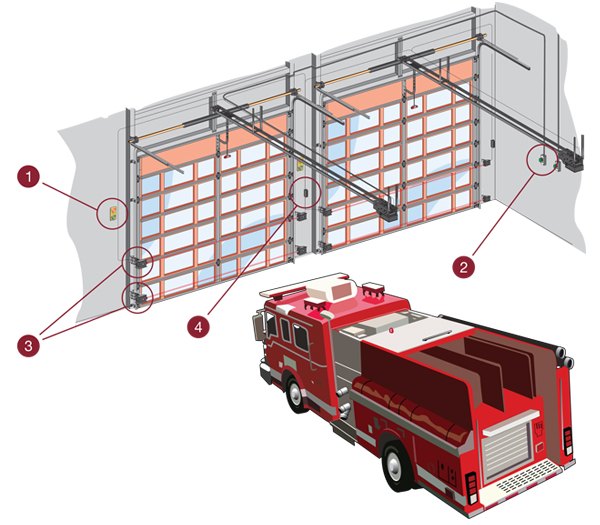 Features
1. Red/Green Traffic Light
Lets you know when the door is fully open and it's safe to exit, virtually eliminating door contact and expensive equipment damage.
2. Open Only Push Button
Can be positioned anywhere in the apparatus bay, such as the entrance from the bunkroom, allowing you to react quickly when you get the call.
3. Safety Sensors
Stop the door from closing if an obstruction is detected protecting personnel, vehicles, aerial ladders and other high apparatus obstructions.
4. 3-Button Station with Maintenance Alert System
Allows you to open, close and stop the door quickly. An indicator light lets you know when it's time for routine maintenance.
"Our LiftMaster door enhancements are providing a safer workplace for our firefighters, have eliminated costly door repairs and are allowing our unit to respond to emergencies faster." – Chief Shawn Oke
Why Automate Your Commercial Doors?
Reduces the opportunity to damage customer vehicles by providing control and safe operation of commercial doors.
Assures commercial doors cannot be manually opened from the outside by someone trying to gain access to commit theft.
Increases the life expectancy of the door and reduces service costs associated with ensuring proper operation of commercial doors. Commercial door operators open and lose in a controlled manner eliminating the potential for doors to raise too quickly or slam when being closed.
Reduces the opportunity for a soft tissue injury to occur when opening or closing a commercial door manually, preventing workplace injury claims, loss of time and potential increased insurance premiums.
We offer hundreds of additional accessories to choose from for your business. Contact your Banko connectivity specialist on how to automate your business.
Reviews
Great service plus very nice and answered my questions .
Jennifer Darville

,

Trinity, FL
The technician was on time ,found the problem and fixed it, then performed a quality control maintenance procedure on garage door (tightening chain oiling all points etc.) THANK YOU BANKO.
Frederick Betz

,

Riverview, FL
The tech that came out was professional and very courteous. Answered all questions that I had. Will recommend to anyone.
Steve Soto

,

Lakeland, FL
We have been using Banko for all our garage door needs. We have 4 garage doors and they installed all of them and keep them working like new!
Antoinette Muniz

,

Tampa, FL
I'm generally a skeptic with all service providers. I checked others and Banko is the best for service and price. Replacing my garage door was on schedule and professionally done. What really impressed me the most was the honesty of the technician. He noticed a small defect in a panel and pointed it out to me. He said that is unacceptable and I'll be back next week with a new panel. True to his word, he came back next week, replaced it and my door is perfect. I couldn't be happier. I recommended Banko to my neighbors.
Frank Wroblewski

,

Venice, FL
5 star rating well deserved. Rapid response, punctual arrival time, quality workmanship, knowledgeable technician. Cost unsure nothing to compare it with.
Tim Creedon

,

Venice, FL
Great service and right on time , thank you for the great service
Ivone Wagner

,

Dundee, FL
It was wonderful! The technician took his time to explain how to oil my garage door so it didn't make noise. The appointment was made in a timely manner too. Everyone I encountered through customer service to the technician gave customer service performed wonderfully!
Jennifer Baamonde

,

Brandon, FL
They were quick to respond and fixed the problem same day.
Jackie Daniels

,

Tampa, FL
Great service and great people. We got the new LiftMaster Secure View w the Belt drive and wishing we pulled the trigger sooner. Love how quiet it is (bedroom above the garage) and the Amazon my Q feature – delivery person opens the garage, drops our packages, and closes the garage. Highly recommend Banko!
Dave DeVaney

,

Tampa, FL
Professional, fair and timely.
Stacie Springer

,

Tampa, FL
Excellent! Their customer service was attentive and so very organized! They always went one step above! Our doors were installed quickly and not do they look awesome but they work beautifully! Highly recommend them! They are not the cheapest nor the most expensive. But their services alone makes you feel like you've spent a million bucks! A+++
Johanne Caglianone

,

Tampa, FL