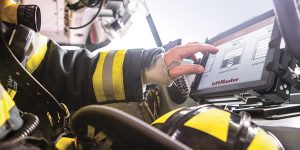 Response is Necessary for Emergency Response Teams
Life saving equipment sits behind these doors, theft and vandalism is a large concern to emergency response teams. Banko has teamed with LiftMaster® to create worry free solutions.
LiftMaster's Firehouse Solutions are integrated packages, assuring seamless integration of a motorized commercial door system. The combination of advanced technology, features and accessories provided by LiftMaster, simplifies the process of determining the best solution to meet the needs of your firehouse.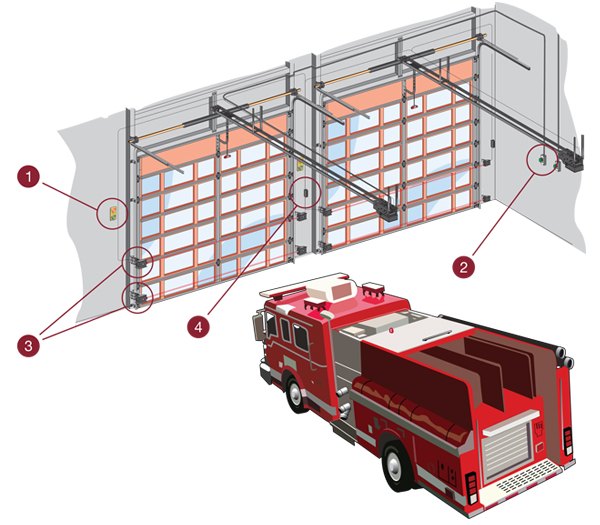 Features
1. Red/Green Traffic Light
Lets you know when the door is fully open and it's safe to exit, virtually eliminating door contact and expensive equipment damage.
2. Open Only Push Button
Can be positioned anywhere in the apparatus bay, such as the entrance from the bunkroom, allowing you to react quickly when you get the call.
3. Safety Sensors
Stop the door from closing if an obstruction is detected protecting personnel, vehicles, aerial ladders and other high apparatus obstructions.
4. 3-Button Station with Maintenance Alert System
Allows you to open, close and stop the door quickly. An indicator light lets you know when it's time for routine maintenance.
"Our LiftMaster door enhancements are providing a safer workplace for our firefighters, have eliminated costly door repairs and are allowing our unit to respond to emergencies faster." – Chief Shawn Oke
Why Automate Your Commercial Doors?
Reduces the opportunity to damage customer vehicles by providing control and safe operation of commercial doors.
Assures commercial doors cannot be manually opened from the outside by someone trying to gain access to commit theft.
Increases the life expectancy of the door and reduces service costs associated with ensuring proper operation of commercial doors. Commercial door operators open and lose in a controlled manner eliminating the potential for doors to raise too quickly or slam when being closed.
Reduces the opportunity for a soft tissue injury to occur when opening or closing a commercial door manually, preventing workplace injury claims, loss of time and potential increased insurance premiums.
We offer hundreds of additional accessories to choose from for your business. Contact your Banko connectivity specialist on how to automate your business.
Reviews
This company was a blessing for me today. This morning I called for an urgent service with the garage door. The lady who answered the 'phone was super courteous and understood the urgency of my condition. She immediately confirmed that one of their technicians would come today to repair the garage and few hours later the tech. showed up and fixed the problem. The technician was also very understanding and professional. I would give them 10 stars instead of 5 for their promptness and good service. Thank you BANKO!!!!
Rafaela Schonwit

,

Brandon, FL
The tech was very thorough, and answered all of the questions that I had at that time.
SONYA LEONARD

,

Cortez, FL
Michael is very thorough as well as efficient. Banko is lucky to have him.
Mike Stoddard

,

Tampa, FL
Excellent, as always!
Joseph Narkiewicz

,

Tampa, FL
Excellent, as always. Prompt and courteous service. Dan did a great job.
Joseph Narkiewicz

,

Tampa, FL
Fantastic and fast service! Friendly service person and fair pricing! Thank you, we will use you again!
Dianne Duncan

,

Town N' Country, FL
My wife Carolyn was home for the installation of the new garage door opener. She told me that Juan Torres was very professional, personable and helpful.
Daniel Levenson

,

Tampa, FL
I've never used anyone else but Banko Doors for my garage door repairs and would not consider using anyone else. Your technician that was at my house Mike Jefferson was both personable and professional which is a direct reflection on your company As a whole and I think he deserves a big atta boy. Thanks Banko keep up good work.
Donovan Rivers

,

West Chase, FL
Johnny was knowledgeable, honest, and got the issue fixed quickly. I would highly recommend him and would definitely request him for any future needs we have with our doors.
Jonathan Sklenka

,

Wesley Chapel, FL
I never leave a five-star rating because I believe there is always room for improvement. But I'm rating Banko Doors and Technician Daniel West 5-Stars for replacing my garage door torsion springs in a most professional manners. He was friendly, good humored, competent, and fast.
I placed the order at the Tampa office and all three of the employees I met were commendable.
Louie Rodriguez

,

Land O'Lakes, FL
Responded same day as the original call. Tech arrived at the time promised, had the necessary parts on his truck, began and completed the work promptly with top-notch workmanship. The total cost was very reasonable for the problem solved. Could not be more satisfied with the transaction.
Tommy Brown

,

Land O'Lakes, FL
Great service!
John Mitchell

,

Tampa, FL