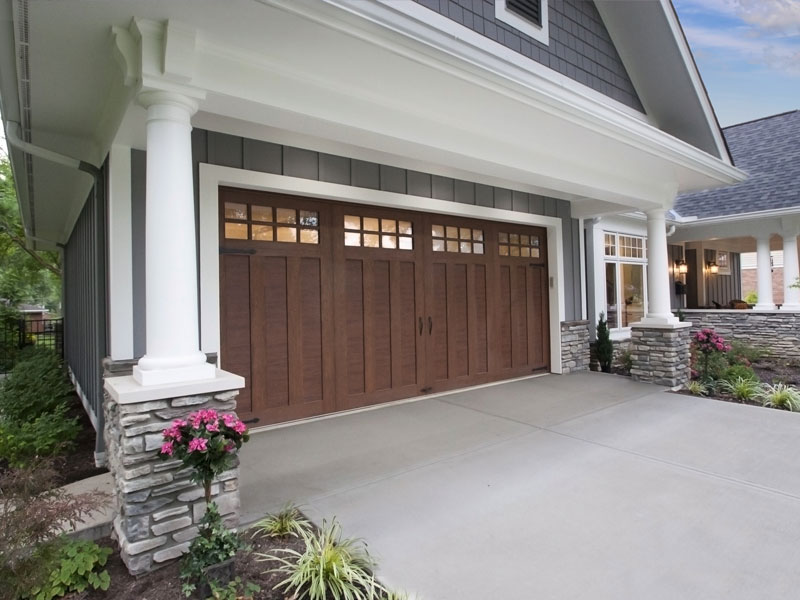 Browse Our Insulated Garage Doors:
Garage doors are essential parts of your home. They offer safety, insulation and an easy, convenient way to leave your home every morning without going outside. Your garage can also be a storage place for your belongings — and that's why it's so important to get a quality garage door you can count on.
Insulated garage doors are a great option if you're looking for extra durability, temperature control and improved security. More and more, people are choosing insulated garage doors because of their wide array of benefits.
What Is an Insulated Garage Door?
Insulated garage doors are stronger, more durable garage doors that mainly do what their name implies — insulate your garage as well as your home. Temperature control is one of the many benefits of insulated garage doors.
Insulated Garage Door R-Value
The R-value of a garage door is the efficiency with which your garage door blocks heat. A garage door with a higher R-value will be a better insulator, and those with lower R-values will allow more air in from the outside. Insulated garage doors have high R-values, and, depending on the kind you get, are far more effective at keeping your home comfortable than typical garage doors. What is the difference between insulated and uninsulated garage doors? The R-value can show you real statistics about the ways insulated garage doors perform.
How Do Insulated Garage Doors Work?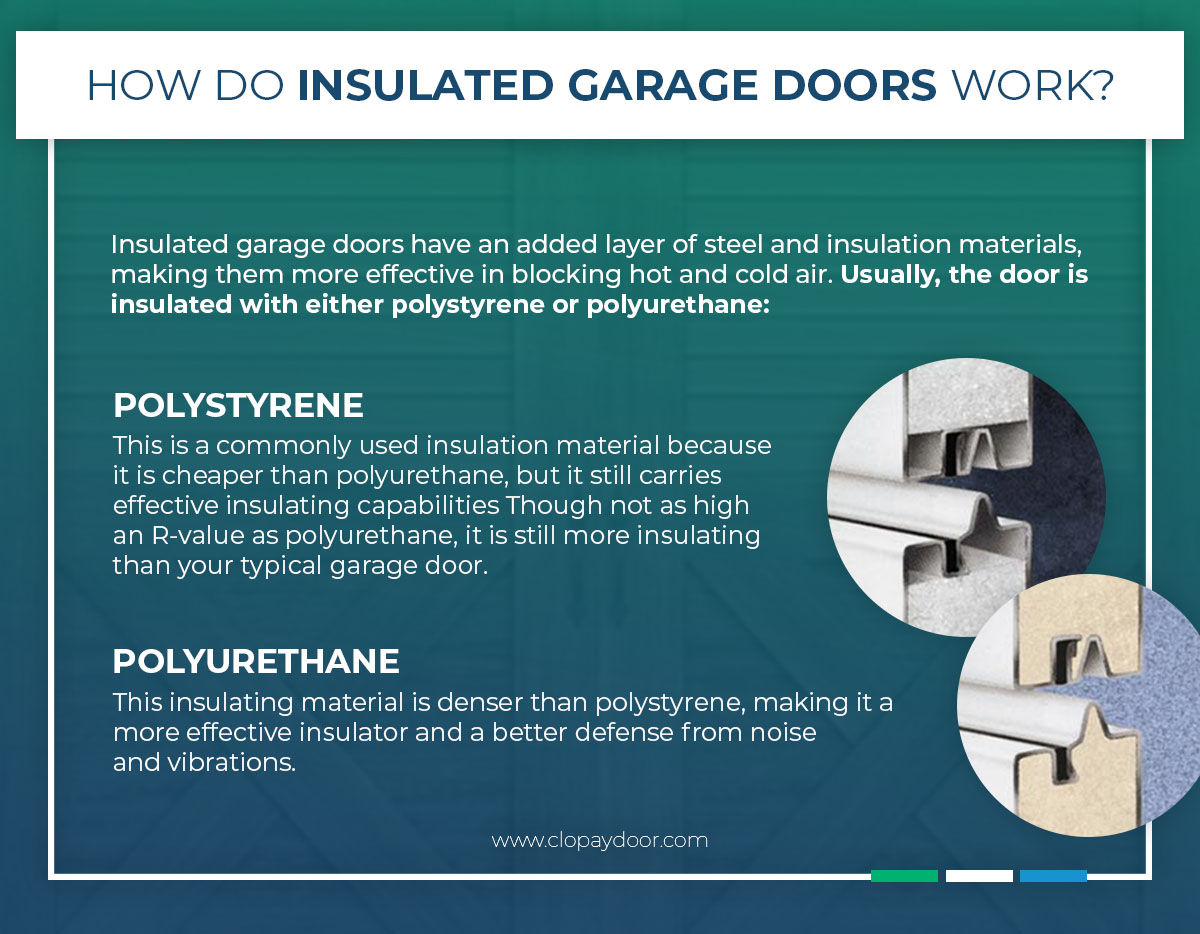 Insulated garage doors have an added layer of steel and insulation materials, making them more effective in blocking hot and cold air. These extra layers also create a more durable and safer garage door. Usually, the door is insulated with either polystyrene or polyurethane:
Polystyrene: This is a commonly used insulation material because it is cheaper than polyurethane, but it still carries effective insulating capabilities. Though not as high an R-value as polyurethane, it is still more insulating than your typical garage door.
Polyurethane: This insulating material is denser than polystyrene, making it a more effective insulator and a better defense from noise and vibrations.
These two materials are the main drivers of insulation. To choose one over the other, you should focus on what you want out of your insulated garage door, whether that be the best possible insulation or affordability. Weighing those aspects can guide you to an informed decision.
Benefits of Insulated Garage Doors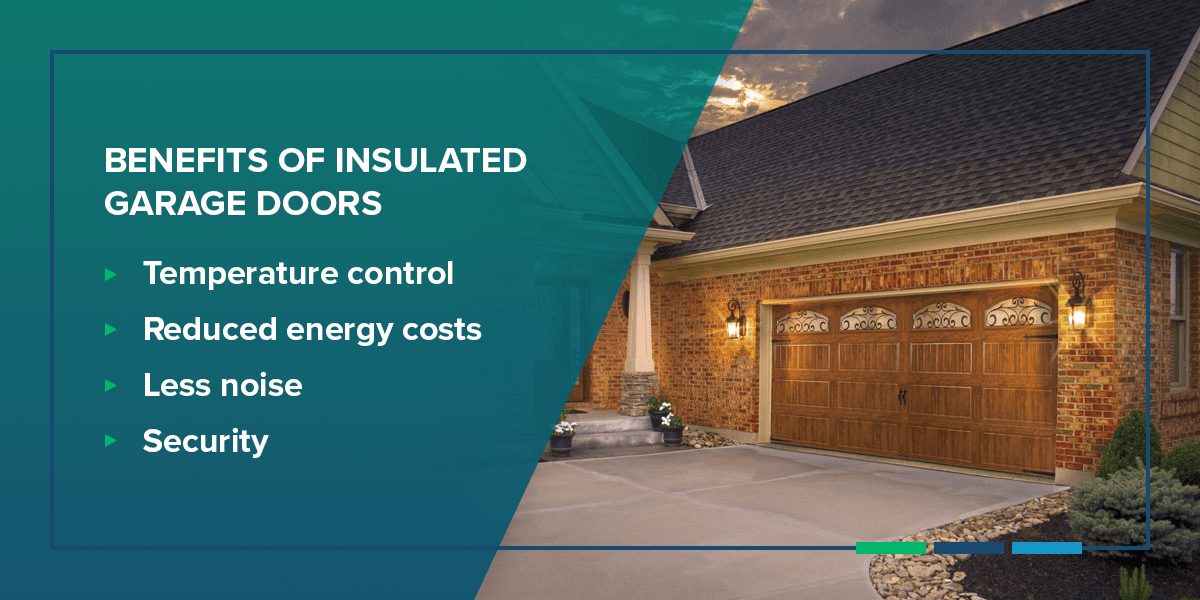 Even with information about what insulated garage doors are and how they work, it's natural to be questioning whether insulated garage doors are worth it. However, insulated garage doors have a vast array of benefits that will help your garage and your home as well:
Temperature control: You probably open and close your garage door multiple times a day. Each time you do this, you're letting the outside air into your garage, which then can seep into other areas of your home. In typical garage doors without adequate insulation, air can seep in through the door itself — even when it's closed. Poor insulation can cause you to lose control over the temperature in your home, and you might have to crank up the heat or air conditioning to counter it. With insulated garage doors, your garage will be protected from the climate outside. If you live in an area that experiences extreme heat or cold, this is a huge advantage.
Reduced energy costs: More control over your temperature will also result in lower energy costs. Instead of your heating or cooling system having to work overtime to make up for poor insulation, you can be confident that your insulated garage door will keep extreme temperatures out. Though you might be investing in an insulated garage door, you're also investing in energy savings.
Less noise: If you spend time in your garage, an insulated garage door can be a great way to block out noise from the outside. Things like vibrations and shaking will also be reduced, and you'll have a quiet room that you can comfortably spend time in.
Security: Your garage is one of the first lines of defense on your home. If you have a weak, hollow garage door, it's like having a fragile front door. A strong, durable, insulated garage door can give you the safety and security you need to make sure those in your house are safe at all times.
Do I Need an Insulated Garage Door in Florida?
Insulated garage doors are a great way to keep your Florida home cool in the summer. Your garage might be in a spot where the sun hits steadily all day, and in that case, your garage could become extremely hot. An insulated garage door can help keep your garage cool and, in turn, keep the rest of your house cool as well.
Insulated garage doors are ideal for any climate with extreme temperatures, as they help to keep temperatures comfortable inside, keep energy costs low and provide sound barriers and security.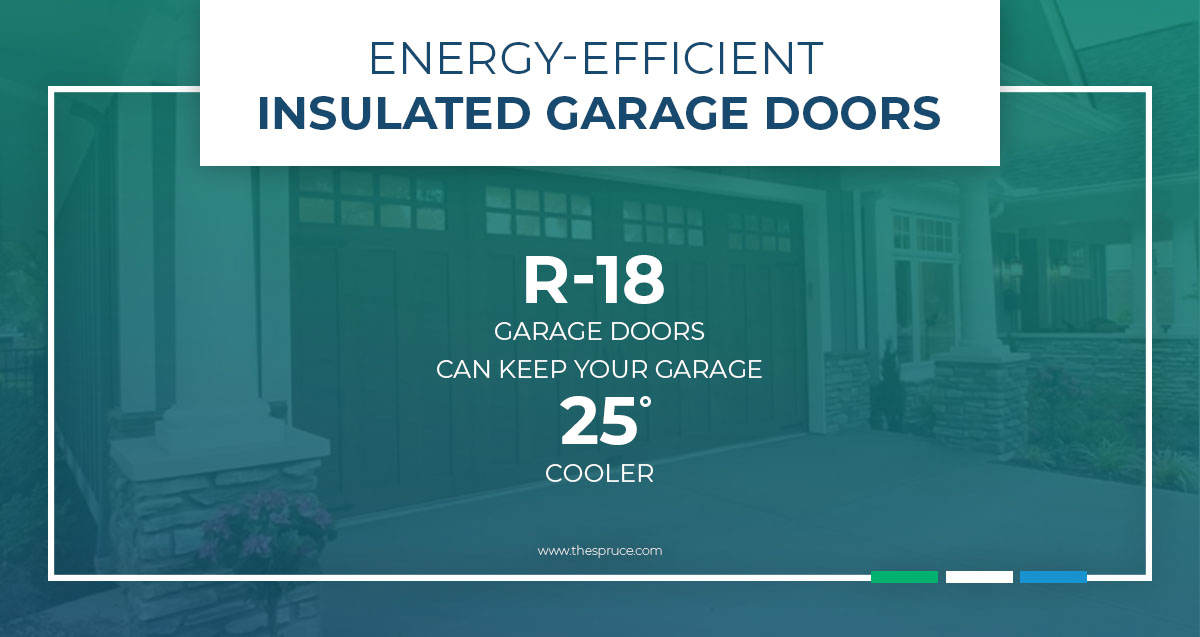 Buy Insulated Garage Doors for Sale From Banko Overhead Doors
Banko Overhead Doors provides quality Clopay® insulated garage doors. Pick from polystyrene or polyurethane insulation based on your garage door needs. The polystyrene option includes:
Up to 9.1 R-Value.
Prepainted smooth, aesthetic look for curb appeal.
Exterior and interior steel skins pressure-bonded to environmentally-safe polystyrene.
And for an even more durable, insulating garage door, you can choose the polyurethane option, which comes with:
Embossed steel for curb appeal and strength.
Up to 22.2 R-Value.
Polyurethane with prepainted steel insulation for maximum strength.
The polyurethane insulation garage doors are created with Intellicore® insulation technology. In the Intellicore process, polyurethane foam is injected into the garage door, effectively filling the space and eliminating any hollow spots. This creates powerful, hardy insulation that can stand up against even some of the most extreme temperatures.
Banko Overhead Doors offers various collections of insulated garage doors, from Bridgeport™ Steel to the elegant Gallery® Collection. With all of the choices to pick from, you're sure to find something that fits what you're looking for.
Get in Touch With Us for Your Insulated Garage Door
With over 30 years of experience, Banko Overhead Doors has the experience and knowledge to give you a quality insulated garage door. If you're thinking about buying a new garage door, we're here to help. We offer quality services in West Central Florida to install your new insulated garage door. Browse our selection of insulated garage doors, or schedule an estimate today!
Reviews
Excellent service very prompt careful and complete
calvin Jones

,

Riverview, FL
Excellent service. Don and his team were prompt, courteous, cleaned-up afterwards and made sure that we understood how to operate the door and the app. He was finished in about an hour and everything works great. Will definitely use Banko for replacing our other garage door opener and for any future service needs. Thanks!
Bryan Sykes

,

Tampa, FL
Service was done thoroughly and professionally. Kept me updated on what he found and corrected.
We always have great service from BANKO!
Pamela Ellison

,

Brandon, FL
Great job replacing the mother board in my garage door opener. Responded within 24 hours of calling for service.
Leon Heying

,

Venice, FL
Great Service Called , set appointment for next morning . Service tech David Mixon called prior to arriving , was on time in the allotted time frame . Very professional and completed the job in a very timely manor . Would highly recommend Banko
Dennis Y

,

Sun City, FL
The technician was very organized, thorough, polite and completed the work in an efficient manner.
nic evans

,

Plant City, FL
An absolute pleasure to deal with! This is the second garage door opener that has been damaged by a lightening strike in one year. The last one was installed in August 2021. Another strike destroyed that one on 6/19/22. Unfortunately by the time David Mixon arrived to assess our damage, he had just installed the last opener he had on the truck at a house around the corner from our house.
Very grateful that he arranged to come as early as possible today 6/22 to change out our unit to a new one. Now it is plugged into a TECO surge protector, so hopefully this will not happen again.
Ron Taylor

,

Apollo Beach, FL
Excellent work
Carlos Alvarez

,

Seffner, FL
Excellent service from Banko. Brett called first and also arrived earlier than expected. Brett was very professional, kind and thorough. He diagnosed the problem and fixed the springs efficiently. Then he checked the garage door and lubricated the door hinges to make sure it was operating properly. He answered all our questions. Brett is an excellent employee at Banko. He deserves a promotion. He represents your company with excellence.
Gwendolyn Cleveland

,

Spring Hill, FL
My problem was looked at and he immediately went to work after explaining what was wrong and what the charges would be. The cables and spring were replaced in an efficient way. He took the time to show me what he was doing and why which is very helpful. Professional, knowledgeable and courteous which is what you want as an employee. I couldn't be more please with this service call.
Douglas Uzelac

,

Land O'Lakes, FL
I liked the way the technician was friendly and knew in an instant what he "heard" was wrong with the door. Door was quieter and runs smoothly now, very happy with the end results. I also liked that he had a strip for the bottom of the door, with him and didn't have to order it first and then come back. Efficient worker and friendly.
JANICE GRIFFIN

,

Apollo Beach, FL
I was very happy with my technician Chad…..easy fix and explained my options.
David Thompson

,

Venice, FL