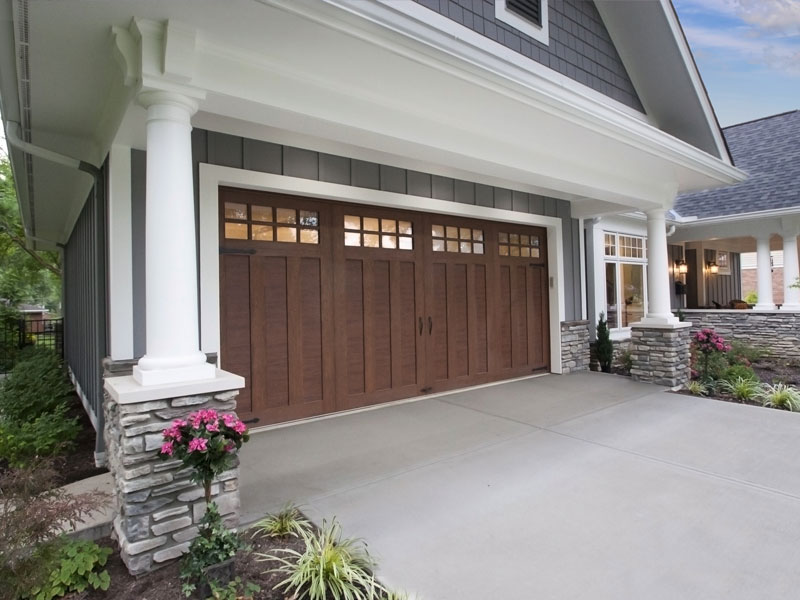 Browse Our Insulated Garage Doors:
Garage doors are essential parts of your home. They offer safety, insulation and an easy, convenient way to leave your home every morning without going outside. Your garage can also be a storage place for your belongings — and that's why it's so important to get a quality garage door you can count on.
Insulated garage doors are a great option if you're looking for extra durability, temperature control and improved security. More and more, people are choosing insulated garage doors because of their wide array of benefits.
What Is an Insulated Garage Door?
Insulated garage doors are stronger, more durable garage doors that mainly do what their name implies — insulate your garage as well as your home. Temperature control is one of the many benefits of insulated garage doors.
Insulated Garage Door R-Value
The R-value of a garage door is the efficiency with which your garage door blocks heat. A garage door with a higher R-value will be a better insulator, and those with lower R-values will allow more air in from the outside. Insulated garage doors have high R-values, and, depending on the kind you get, are far more effective at keeping your home comfortable than typical garage doors. What is the difference between insulated and uninsulated garage doors? The R-value can show you real statistics about the ways insulated garage doors perform.
How Do Insulated Garage Doors Work?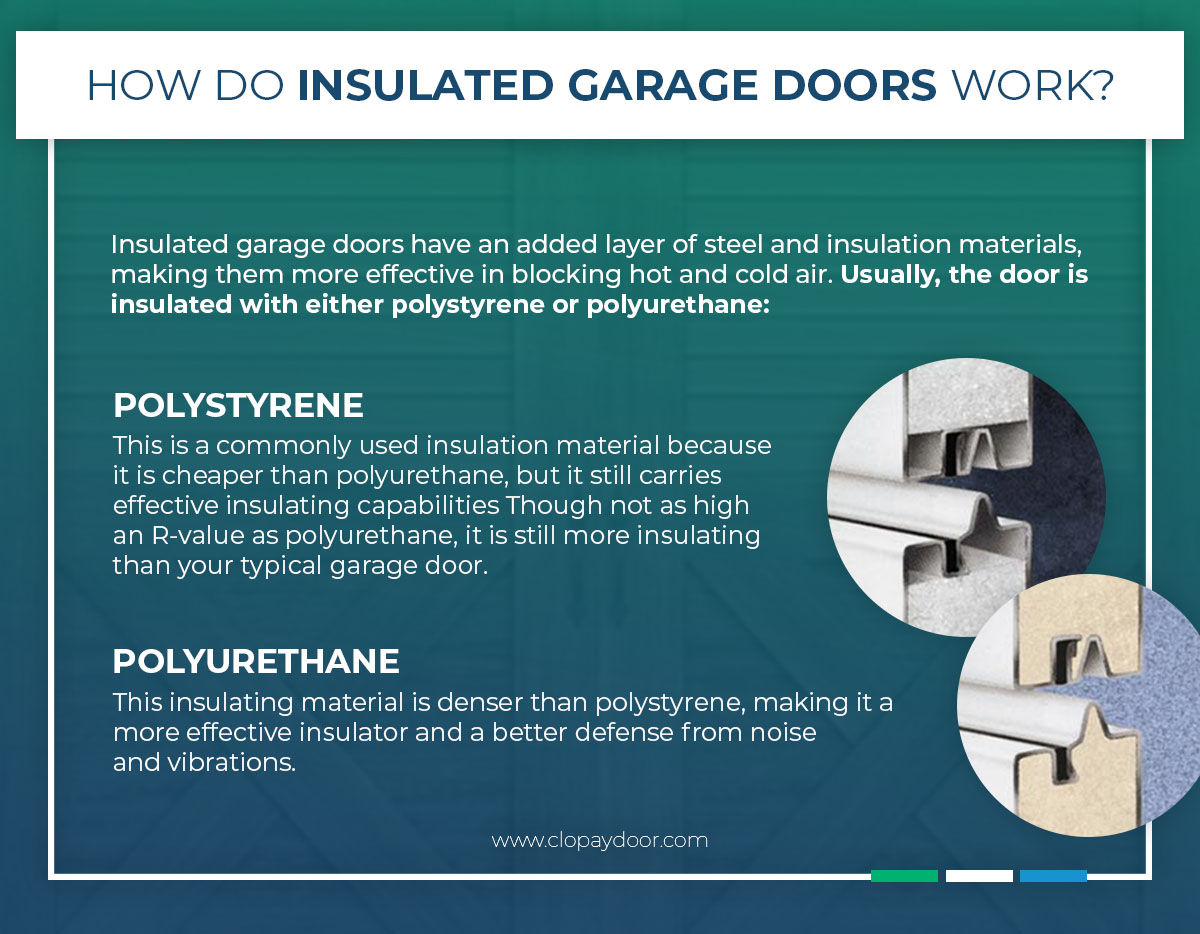 Insulated garage doors have an added layer of steel and insulation materials, making them more effective in blocking hot and cold air. These extra layers also create a more durable and safer garage door. Usually, the door is insulated with either polystyrene or polyurethane:
Polystyrene: This is a commonly used insulation material because it is cheaper than polyurethane, but it still carries effective insulating capabilities. Though not as high an R-value as polyurethane, it is still more insulating than your typical garage door.
Polyurethane: This insulating material is denser than polystyrene, making it a more effective insulator and a better defense from noise and vibrations.
These two materials are the main drivers of insulation. To choose one over the other, you should focus on what you want out of your insulated garage door, whether that be the best possible insulation or affordability. Weighing those aspects can guide you to an informed decision.
Benefits of Insulated Garage Doors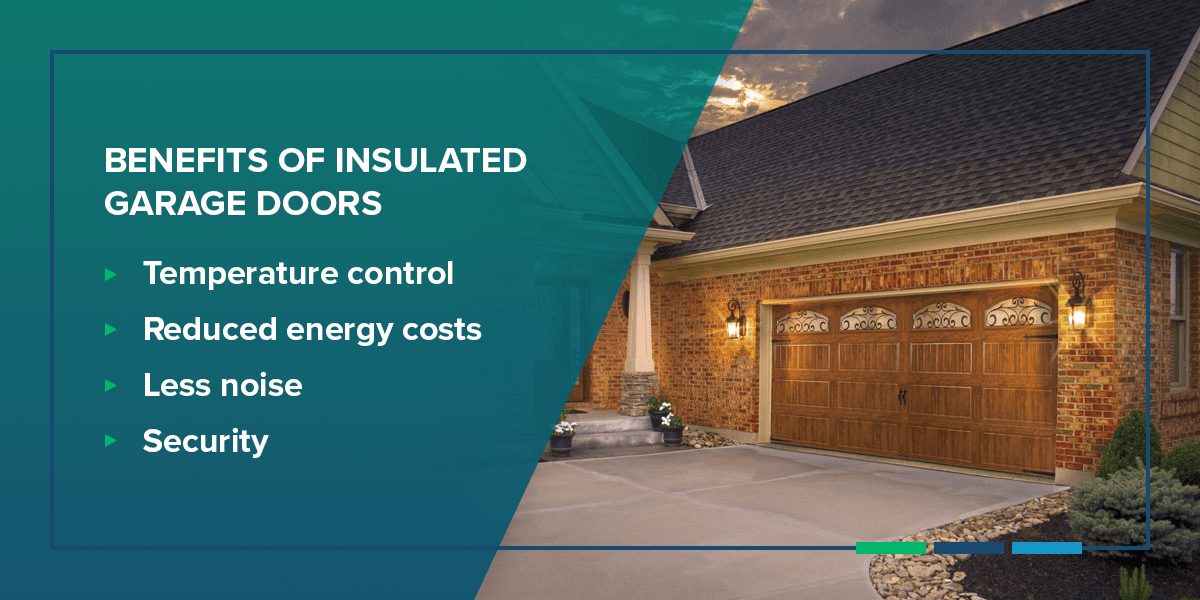 Even with information about what insulated garage doors are and how they work, it's natural to be questioning whether insulated garage doors are worth it. However, insulated garage doors have a vast array of benefits that will help your garage and your home as well:
Temperature control: You probably open and close your garage door multiple times a day. Each time you do this, you're letting the outside air into your garage, which then can seep into other areas of your home. In typical garage doors without adequate insulation, air can seep in through the door itself — even when it's closed. Poor insulation can cause you to lose control over the temperature in your home, and you might have to crank up the heat or air conditioning to counter it. With insulated garage doors, your garage will be protected from the climate outside. If you live in an area that experiences extreme heat or cold, this is a huge advantage.
Reduced energy costs: More control over your temperature will also result in lower energy costs. Instead of your heating or cooling system having to work overtime to make up for poor insulation, you can be confident that your insulated garage door will keep extreme temperatures out. Though you might be investing in an insulated garage door, you're also investing in energy savings.
Less noise: If you spend time in your garage, an insulated garage door can be a great way to block out noise from the outside. Things like vibrations and shaking will also be reduced, and you'll have a quiet room that you can comfortably spend time in.
Security: Your garage is one of the first lines of defense on your home. If you have a weak, hollow garage door, it's like having a fragile front door. A strong, durable, insulated garage door can give you the safety and security you need to make sure those in your house are safe at all times.
Do I Need an Insulated Garage Door in Florida?
Insulated garage doors are a great way to keep your Florida home cool in the summer. Your garage might be in a spot where the sun hits steadily all day, and in that case, your garage could become extremely hot. An insulated garage door can help keep your garage cool and, in turn, keep the rest of your house cool as well.
Insulated garage doors are ideal for any climate with extreme temperatures, as they help to keep temperatures comfortable inside, keep energy costs low and provide sound barriers and security.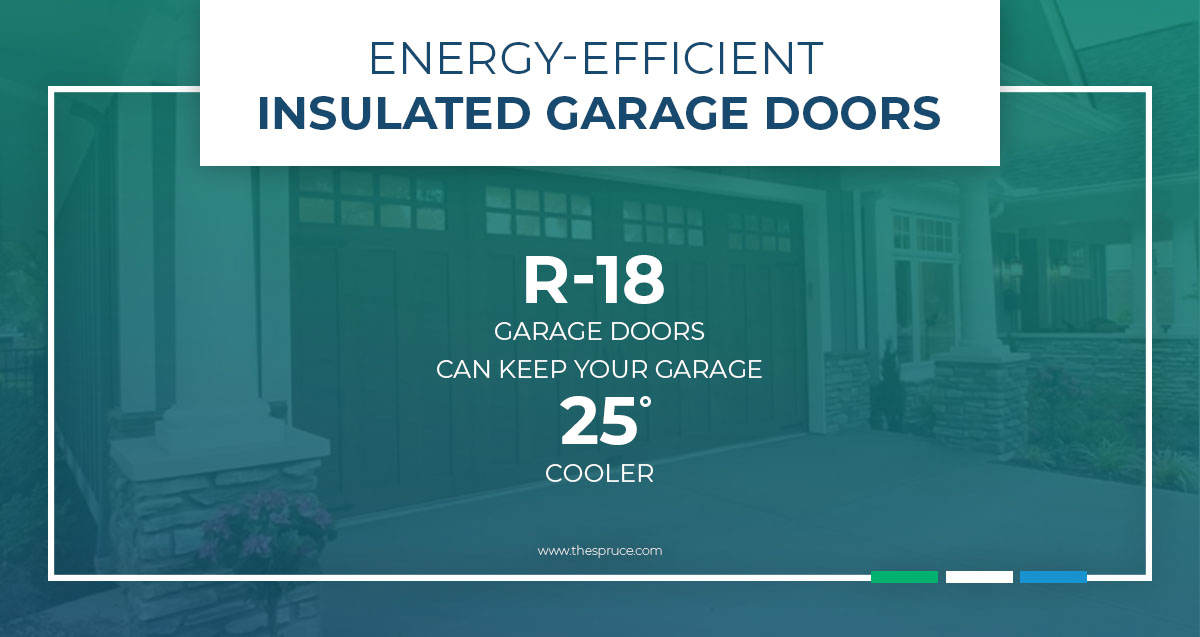 Buy Insulated Garage Doors for Sale From Banko Overhead Doors
Banko Overhead Doors provides quality Clopay® insulated garage doors. Pick from polystyrene or polyurethane insulation based on your garage door needs. The polystyrene option includes:
Up to 9.1 R-Value.
Prepainted smooth, aesthetic look for curb appeal.
Exterior and interior steel skins pressure-bonded to environmentally-safe polystyrene.
And for an even more durable, insulating garage door, you can choose the polyurethane option, which comes with:
Embossed steel for curb appeal and strength.
Up to 22.2 R-Value.
Polyurethane with prepainted steel insulation for maximum strength.
The polyurethane insulation garage doors are created with Intellicore® insulation technology. In the Intellicore process, polyurethane foam is injected into the garage door, effectively filling the space and eliminating any hollow spots. This creates powerful, hardy insulation that can stand up against even some of the most extreme temperatures.
Banko Overhead Doors offers various collections of insulated garage doors, from Bridgeport™ Steel to the elegant Gallery® Collection. With all of the choices to pick from, you're sure to find something that fits what you're looking for.
Get in Touch With Us for Your Insulated Garage Door
With over 30 years of experience, Banko Overhead Doors has the experience and knowledge to give you a quality insulated garage door. If you're thinking about buying a new garage door, we're here to help. We offer quality services in West Central Florida to install your new insulated garage door. Browse our selection of insulated garage doors, or schedule an estimate today!
Reviews
EXCELLENT INSTALLER , MIKE WAS INFORMATIVE AND HELPFUL IN EVERY WAY.
Edward Mobley

,

Ruskin, FL
Great service by Johnny today! From start to finish he kept me informed as he quickly completed his work. Johnny also explained when future maintenance might be required, setting proper expectations.
Chris Russell

,

Wesley Chapel, FL
Great 👍 professional 👏 👌
Marcus Ball

,

Tampa, FL
Great 👍 professional 👏 👌
Marcus Ball

,

Tampa, FL
Right on time. The technician was friendly and courteous. He explained everything about what he was doing and explained my options. I depend on Banko.
Joann Fitzpatrick

,

Riverview, FL
Fast, courteous, easy to use. Perfect experience !!
Douglas Wallace

,

Wesley Chapel, FL
We had a great experience with Banko. They were able to quickly assess the problem and fix it. Highly recommend their services.
Jeff Silverstein

,

South Venice, FL
Excellent service.
Payton Poole

,

Valrico, FL
Dave was a great technician very professional and I highly recommend.
Steve Bennett

,

Apollo Beach, FL
Outstanding service! I had a broken spring and called at 1:50 pm, spoke with Lauren who provided an estimated cost for repairs over the phone and was put on the schedule for the following morning which was fine with me considering it was mid-afternoon. I got a call about 15 minutes later from Paul W. the technician who said he was in the area and could come by this afternoon if it was ok with me. Paul showed up a few minutes later and replaced both springs, tested and adjusted the door. Good as new. Guess I got lucky that he was in the area and got here so quickly but from my initial call to completion of the repairs was less than 2 hours! Lauren and Paul couldn't have been more professional and pleasant to deal with.
We've used Banko for routine maintenance and repairs when needed since we purchased our home about 6 years ago and their service has always been terrific. Highly recommend Banko!
Terry K

,

Venice, FL
Paul was very professional and did a great job.
Charles Cane

,

South Venice, FL
Love Banko! Always on time and ALWAYS great service. Thank you Seff
Jennifer Hanson

,

Valrico, FL