The garage door has become most families' front door, so the emphasis has gone from "looks" to longevity, safety, and strength. Garage doors with Intellicore insulation are the ultimate smart choice for homeowners. Injected with polyurethane foam, Intellicore insulated doors have incredible strength and durability while being quieter and providing year-round comfort and improving energy efficiency of your home. Insulated doors tend to make less noise compared to non-insulated doors as the foam absorbs vibrations made from your garage door going up and down versus the single, non-insulated door.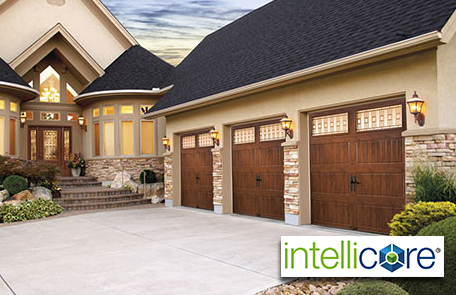 Non-insulated doors are made with only one sheet of metal that makes them very easy to dent and crease. Insulated doors are more durable and come in a huge selection of design options.
Another benefit of insulated doors is that they reduce the amount of outside temperatures that enter your garage, making it more comfortable for you – especially if you have living space above your garage. If your garage is attached to your home, any air in the garage can travel through the doorway to your living area. An insulated door will keep temperatures in the garage fairly stable to reduce temperature fluctuation in the room. With less air escaping through the garage door, insulated garage doors will decrease your energy bills over time.
Before you purchase your new garage door, schedule an estimate with Banko Overhead Doors so we can help you choose the best insulated garage door for your home.
---
Additional Resources on Garage Door Insulation and Strength:
---