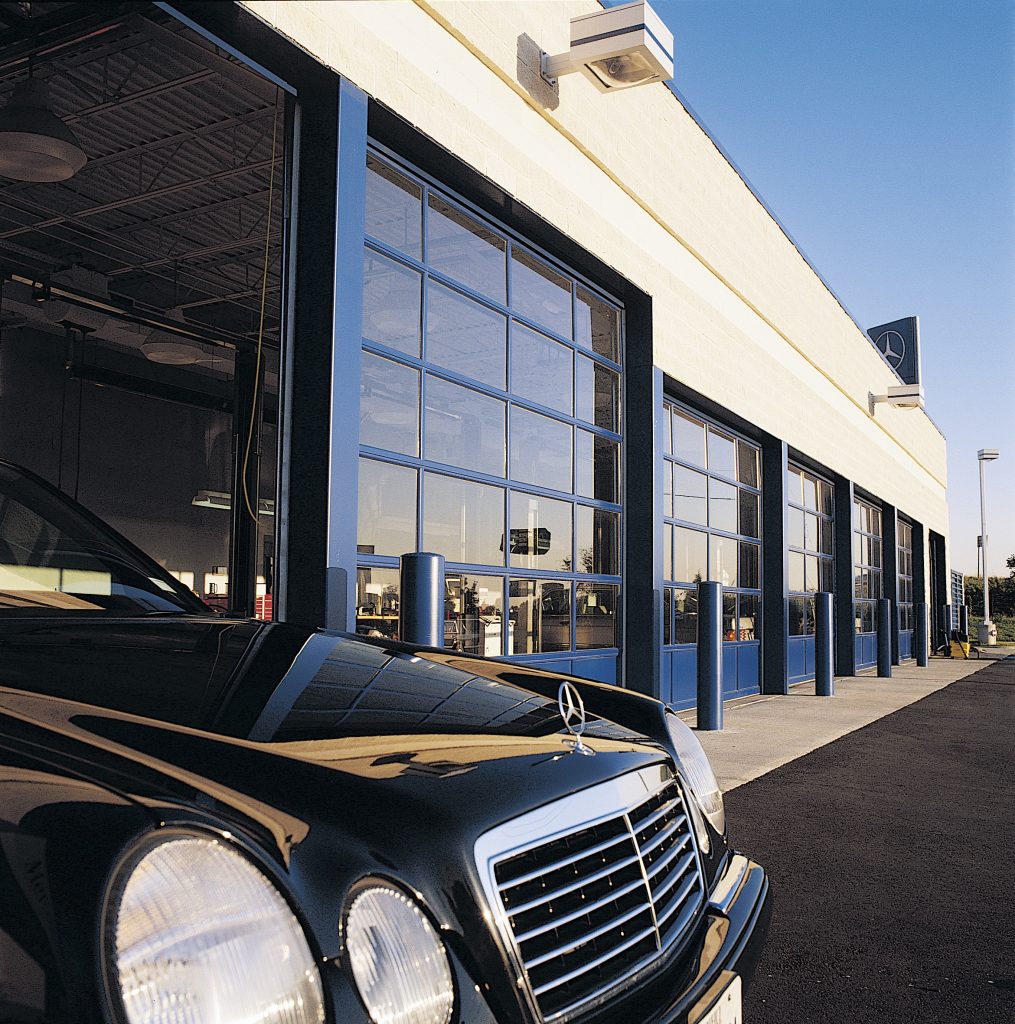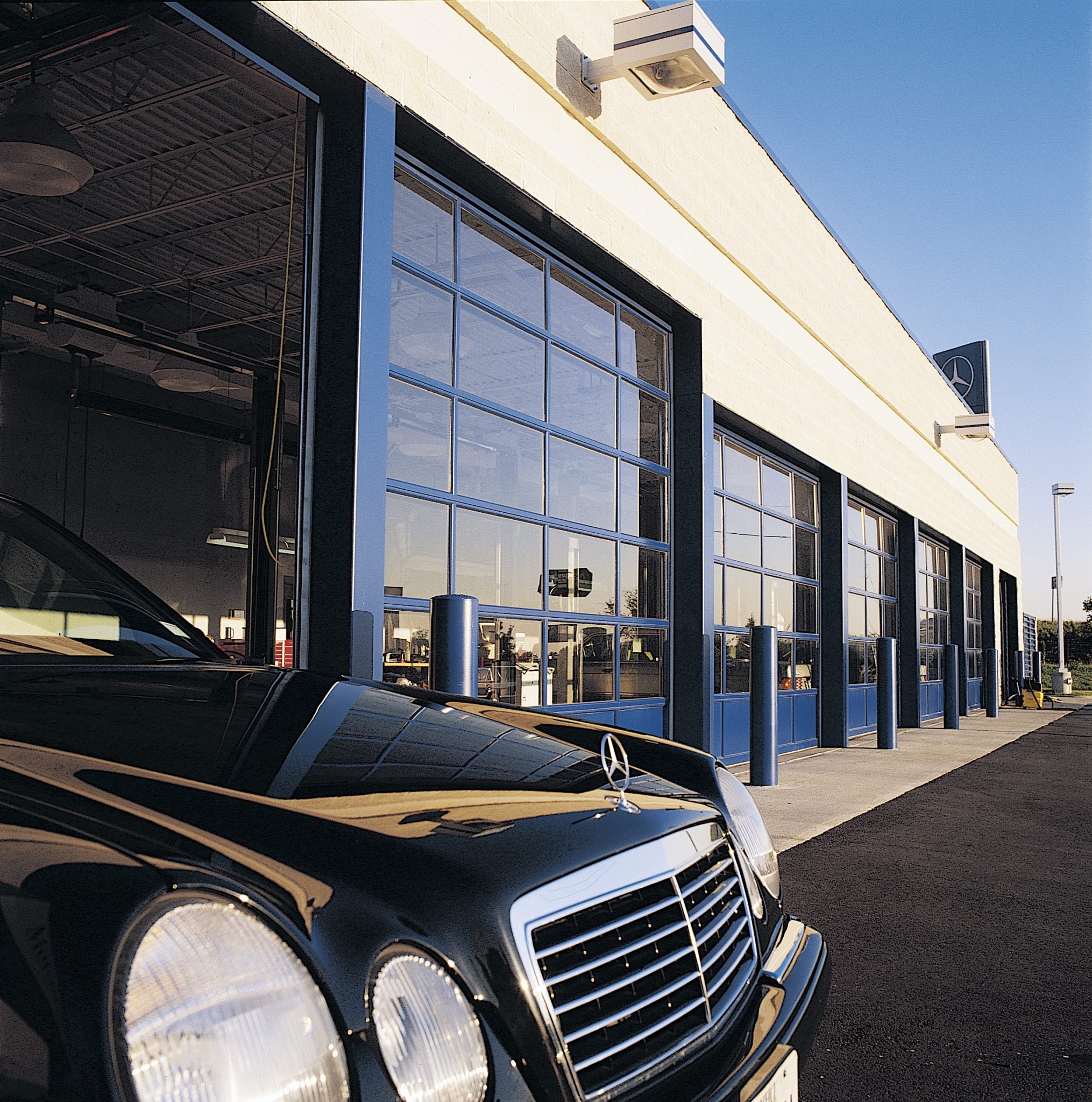 Automotive Service professionals; Banko is ready to discuss service bay access needs.
We've teamed with LiftMaster® to solve your primary concern – access. Ease of access allows for great customer service. Cars waiting to gain access to your service area may take you away from helping a current customer. Imagine being able to open and close your service bay garage doors without having to walk back to the service counter.
LiftMaster's Automotive Service Solutions are integrated packages, assuring seamless integration of a motorized commercial door system. The combination of advanced technology, features and accessories provided by LiftMaster, simplifies the process of determining the best solution to meet the needs of your automotive service center.
Features
1. Red/Green Light
Notifies you when the door reaches the open position and its safe to enter or exit, eliminating the potential for costly accidents.
2. Safety Sensors
Stop the door from closing if an obstruction is detected, protecting personnel and vehicles.
3. 3-Button Station with Maintenance Alert System
Lets you open, close and stop the door quickly. An indicator light lets you know when it's time for routine maintenance.
"In addition to dependability, these products provide security and peace of mind, which gives us the confidence that our cars and equipment are safe when we head to the track every weekend." – CGR Facility Manager, Pete Wilson, on LiftMaster's Commercial Door Operators
Why Automate Your Commercial Doors?
Reduces the opportunity to damage customer vehicles by providing control and safe operation of commercial doors.
Assures commercial doors cannot be manually opened from the outside by someone trying to gain access to commit theft.
Increases the life expectancy of the door and reduces service costs associated with ensuring proper operation of commercial doors. Commercial door operators open and lose in a controlled manner eliminating the potential for doors to raise too quickly or slam when being closed.
Reduces the opportunity for a soft tissue injury to occur when opening or closing a commercial door manually, preventing workplace injury claims, loss of time and potential increased insurance premiums.
We offer hundreds of additional accessories to choose from. Contact your Banko connectivity specialist on how to automate your business.
Reviews
Juan was very professional and explain all my options. After installation, he went over the operation of the new garage opener and answer all my questions.
Bill Lum

,

Tampa, FL
My repairman was EXCELLENT! He got everything working, was polite, and explained what was wrong! Thank you
Cheri De Geere

,

Sun City, FL
My experience with Banko Overhead Doors was excellent. The C/S rep who booked the appointment was pleasant, efficient and professional. Our service technician Paul from the Venice office was also excellent. He was very thorough and explained the proper maintenance for the doors and door opener. Both interactions were a 10 on the scale of 1 to 10.
Joe Noti

,
The Banko technician did a excellent job . I am very grateful for the work he did in my house.
Tina Gil

,

Tampa, FL
Excellent service and tech.
Anthony Delrio

,

Land O'Lakes, FL
Just great Elvis was very Professional and he was very neat in what he did. My wife and I really appreciate the service thank you all again for fixing our garage door.
Autry&leslie Denson

,

Lakeland, FL
Absolutely great service. Very punctual, and even early sometimes. Always called ahead to let us know they were in route. Work was excellent and completed quickly. The tech was patient with us as we were out of town and running a little late for our appointment. Highly recommend for any garage door needs.
Donald Sanchez

,

Brandon, FL
It was great! Technician knew the problem as soon as he looked at it and was able to fix it. Very happy with his service.
Diane Cleveland

,

Safety Harbor, FL
Outstanding service by Johnny Torres, one of Banko service technicians. He was on time, polite, efficient and knowledgeable.
William Martello

,

Tampa, FL
Very positive. Dave was experienced, neat & fast. A pleasure to work with Banko!
Richard Marsiglia

,

Sun City, FL
Juan did a great job. Honest, hard working and did excellent work. Very professional.
Clif Dell

,

Temple Terrace, FL
The tech that came out was very courteous and conscientious about his job. He went to work right away. I really appreciated his explaining everything to me. Thanks
Cindy Dupre

,

Brandon, FL