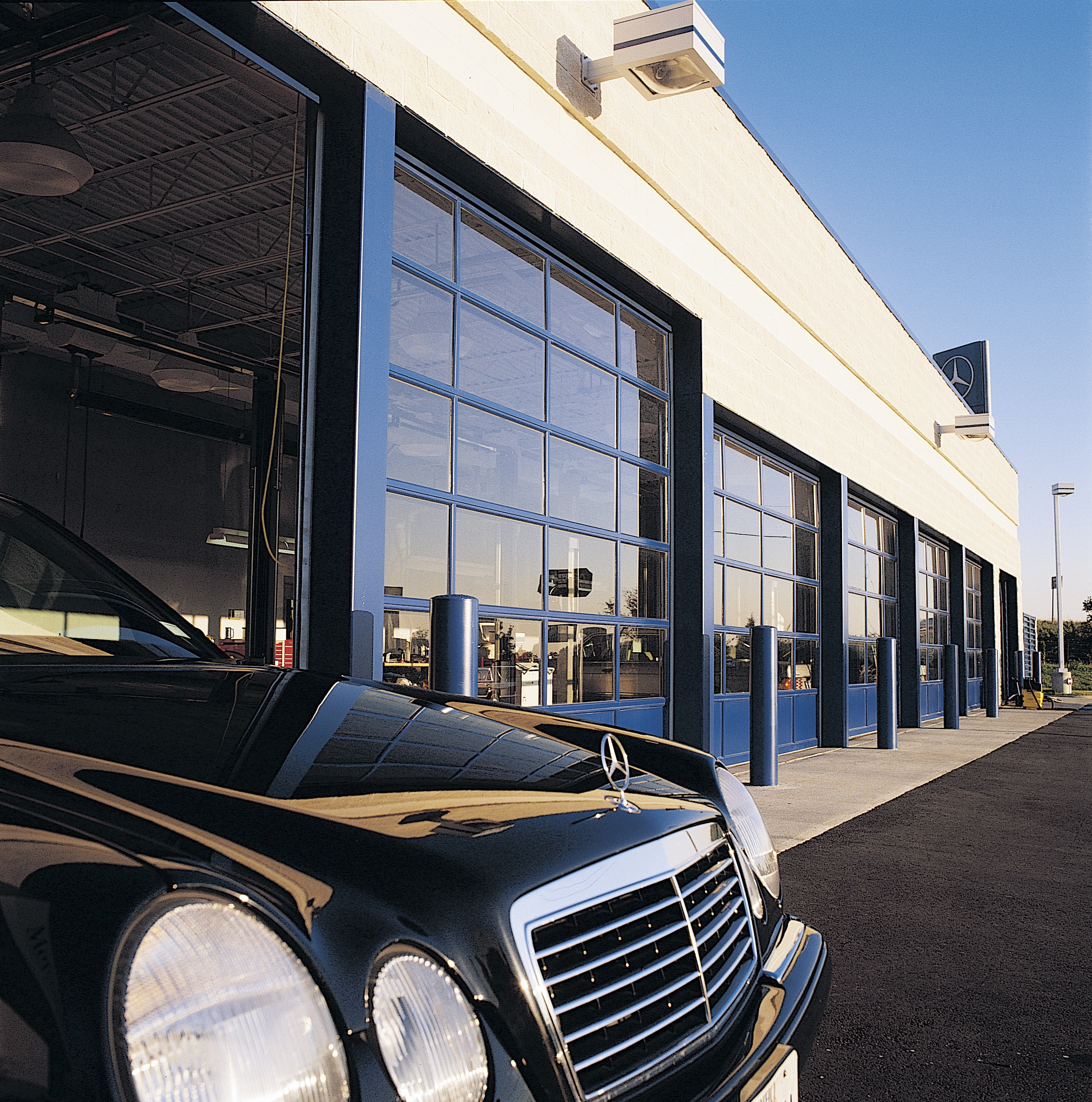 Automotive Service professionals; Banko is ready to discuss service bay access needs.
We've teamed with LiftMaster® to solve your primary concern – access. Ease of access allows for great customer service. Cars waiting to gain access to your service area may take you away from helping a current customer. Imagine being able to open and close your service bay garage doors without having to walk back to the service counter.
LiftMaster's Automotive Service Solutions are integrated packages, assuring seamless integration of a motorized commercial door system. The combination of advanced technology, features and accessories provided by LiftMaster, simplifies the process of determining the best solution to meet the needs of your automotive service center.
Features
1. Red/Green Light
Notifies you when the door reaches the open position and its safe to enter or exit, eliminating the potential for costly accidents.
2. Safety Sensors
Stop the door from closing if an obstruction is detected, protecting personnel and vehicles.
3. 3-Button Station with Maintenance Alert System
Lets you open, close and stop the door quickly. An indicator light lets you know when it's time for routine maintenance.
"In addition to dependability, these products provide security and peace of mind, which gives us the confidence that our cars and equipment are safe when we head to the track every weekend." – CGR Facility Manager, Pete Wilson, on LiftMaster's Commercial Door Operators
Why Automate Your Commercial Doors?
Reduces the opportunity to damage customer vehicles by providing control and safe operation of commercial doors.
Assures commercial doors cannot be manually opened from the outside by someone trying to gain access to commit theft.
Increases the life expectancy of the door and reduces service costs associated with ensuring proper operation of commercial doors. Commercial door operators open and lose in a controlled manner eliminating the potential for doors to raise too quickly or slam when being closed.
Reduces the opportunity for a soft tissue injury to occur when opening or closing a commercial door manually, preventing workplace injury claims, loss of time and potential increased insurance premiums.
We offer hundreds of additional accessories to choose from. Contact your Banko connectivity specialist on how to automate your business.
Additional Resources on Garage Door Openers
Reviews
Outstanding. Gene and Tom were professional, timely and did a great job—Thank You. My location is Wimauma, FL., but your system would not let me put that in, so I just picked one that worked
Dennis Lombardi

,

Ridge Manor, FL
Had a broken cable and springs replaced. Paul arrived in the service window and got right to work. Finished the job quickly and provided some maintenance tips to keep my door moving smoothly!
Excellent service Paul! Thank you.
Mike Caldwell

,

Venice, FL
The tech was great, very efficient and professional.
Mo sallout

,

Tampa, FL
Banko is great! From the moment you call, Virginia is so helpful in getting you set up and scheduled and Mike the service technician is great! They keep you updated on appointment times, actually Mike called and said he could be early if it was ok! Wow! Great service! Thanks Banko!
Mike Antinori

,

Tampa, FL
Juan was absolutely fantastic! He gave me all my options and made sure I knew all the costs associated with my repair. He was quick and extremely courteous, I would definitely suggest this company and Juan to anyone with garage door repair needs!
Lyndsey Struthers

,

Tampa, FL
Overnight service, on time with a window. Technician was well prepared, knowledgeable and appropriate, a pleasure to work with. I am so pleased with the installation, had no idea how far these devices have come in the 40 years since I installed my own. Your company and your tech are highly recommended.
Roger Smith

,

Port Richey, FL
best service ever ! great quality work ! Johnny was very professional and courteous . He is skilled and experienced to tackle any job ! Would recommend !
Liviu Leordean

,

Tampa, FL
Great Service
Roger Smith

,

Port Richey, FL
Same day service and in fact within the hour. Excellent, professional and efficient technician. Part that was defective was onsite and everything was fixed within 30 mins of appt start time. Recommend 100%
Jennifer Teeters

,

Tampa, FL
THE SERVICE TECH WAS EXCELLENT. HE INSTALLED 2 NEW SPRINGS AND WAS VERY EFFICIENT AND PROFESSIONAL IN HIS WORK. I would highly recommend him and the company and would use them again for any garage work needed in the future.
RALPH WIRSCHING

,

Spring Hill, FL
Zach was great!
Geri Erickson

,

Venice, FL
I am a customer for life. We have only had to use Banko a few times but every encounter is a professional one. From scheduling the appointment to repairing our door, they are focused on customer service. The gentleman who replaced our spring today was on time, called ahead and got the job done very efficiently. He answered all my questions and concerns. Highly recommend Banko for all your garage door needs!
Katie Dumala

,

Temple Terrace, FL