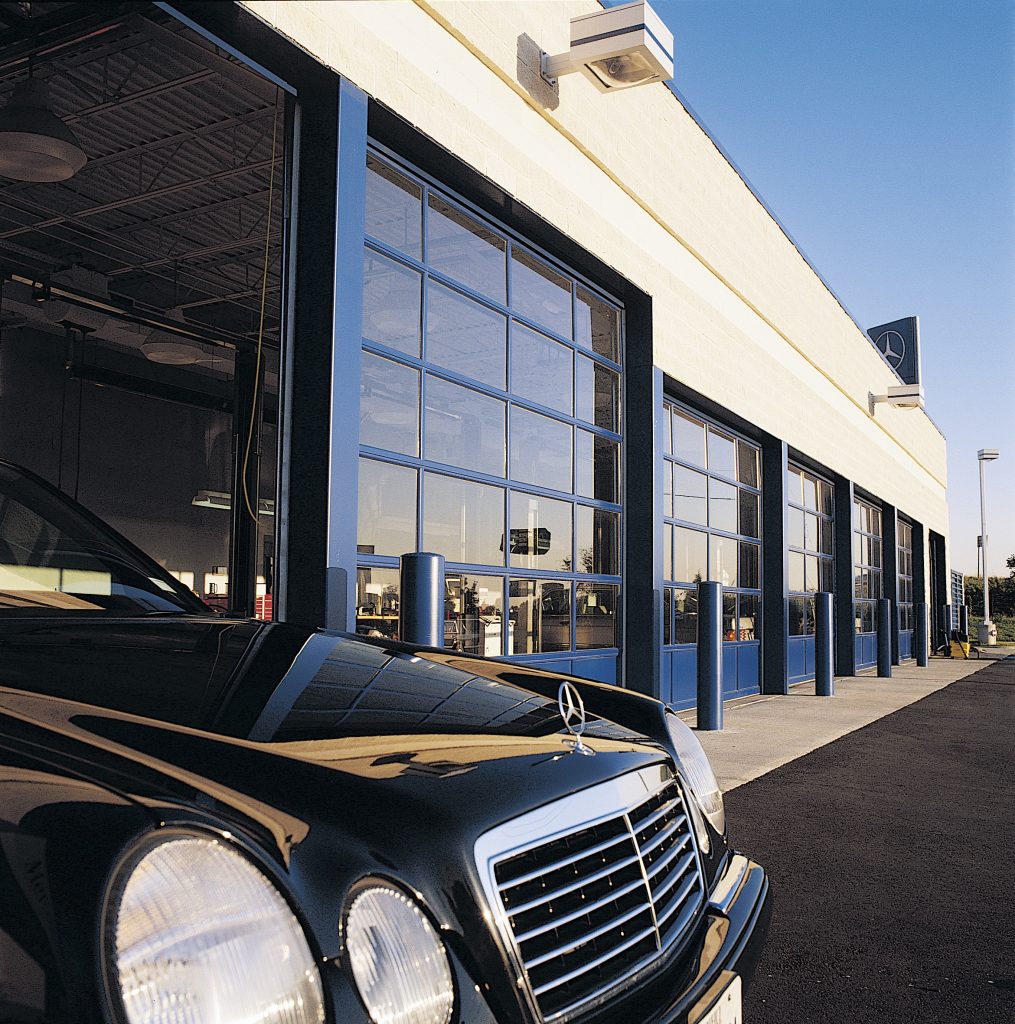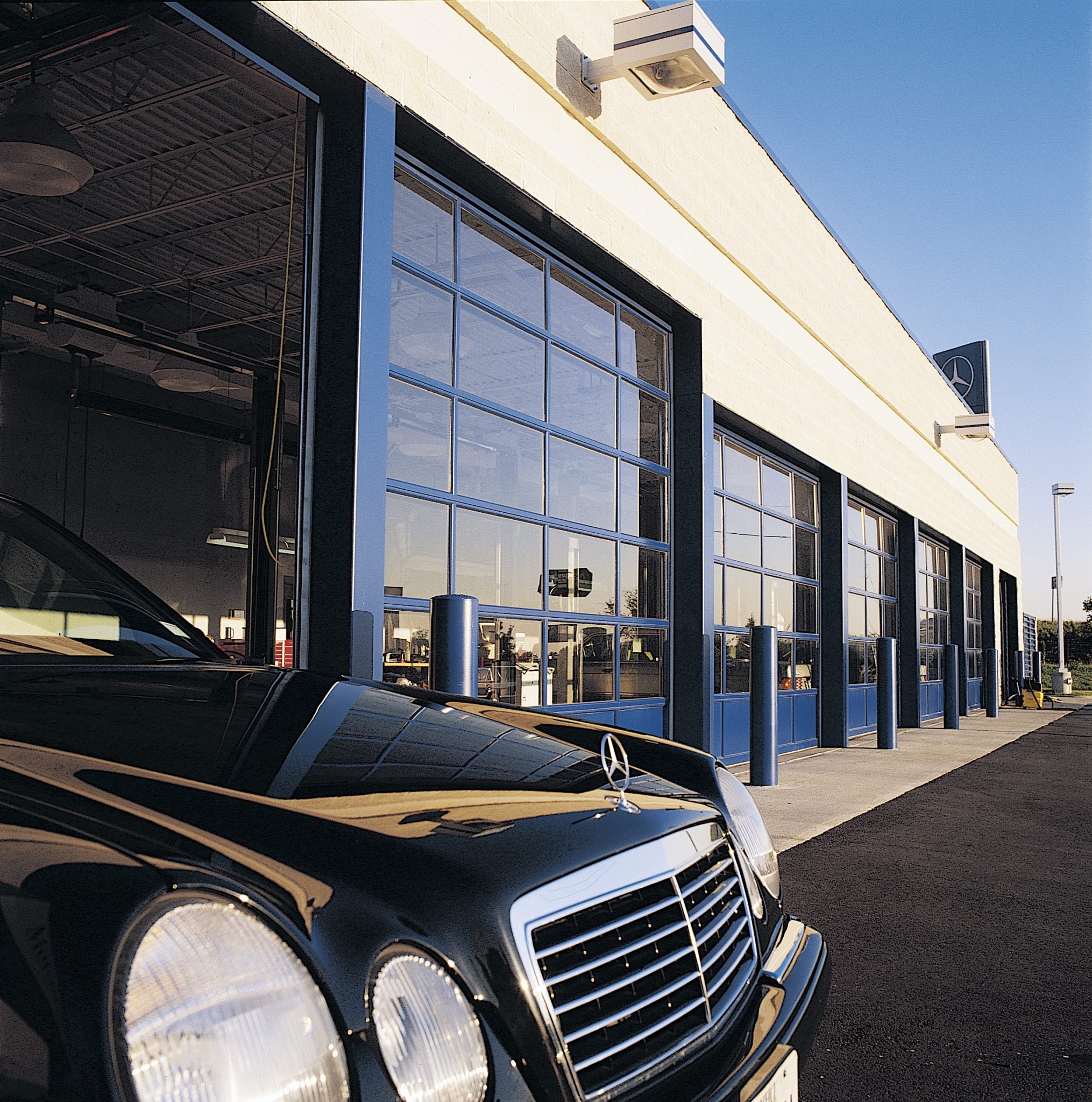 Automotive Service professionals; Banko is ready to discuss service bay access needs.
We've teamed with LiftMaster® to solve your primary concern – access. Ease of access allows for great customer service. Cars waiting to gain access to your service area may take you away from helping a current customer. Imagine being able to open and close your service bay garage doors without having to walk back to the service counter.
LiftMaster's Automotive Service Solutions are integrated packages, assuring seamless integration of a motorized commercial door system. The combination of advanced technology, features and accessories provided by LiftMaster, simplifies the process of determining the best solution to meet the needs of your automotive service center.
Features
1. Red/Green Light
Notifies you when the door reaches the open position and its safe to enter or exit, eliminating the potential for costly accidents.
2. Safety Sensors
Stop the door from closing if an obstruction is detected, protecting personnel and vehicles.
3. 3-Button Station with Maintenance Alert System
Lets you open, close and stop the door quickly. An indicator light lets you know when it's time for routine maintenance.
"In addition to dependability, these products provide security and peace of mind, which gives us the confidence that our cars and equipment are safe when we head to the track every weekend." – CGR Facility Manager, Pete Wilson, on LiftMaster's Commercial Door Operators
Why Automate Your Commercial Doors?
Reduces the opportunity to damage customer vehicles by providing control and safe operation of commercial doors.
Assures commercial doors cannot be manually opened from the outside by someone trying to gain access to commit theft.
Increases the life expectancy of the door and reduces service costs associated with ensuring proper operation of commercial doors. Commercial door operators open and lose in a controlled manner eliminating the potential for doors to raise too quickly or slam when being closed.
Reduces the opportunity for a soft tissue injury to occur when opening or closing a commercial door manually, preventing workplace injury claims, loss of time and potential increased insurance premiums.
We offer hundreds of additional accessories to choose from. Contact your Banko connectivity specialist on how to automate your business.
Reviews
Mark was very knowledgeable and professional.
Will recommend your company to others.
Janet Mummey

,

San Antonio, FL
I found that the two men David and his assistant who came to my house were very experienced. Once I told David what was happening with my garage door, he knew exactly what the problem was and how to solve it. Both men went right to work. They work fast and accurate. Job well done
Jeff

,
Outstanding in every phase of customer service. Chad was knowledgeable, personable and went above and beyond to assure we were satisfied. We want service annually and will let all our neighbors know about your company and Chad. Thank you.
Robert Broderdorf

,

Venice, FL
Mark was professional and right on task.
Most importantly-he came to our home as scheduled.
Paul Kovac

,

Land O'Lakes, FL
Called in the morning, and they were able to come out the same day. Dan was very professional and replaced our opener quickly. Cost seemed fair to me. Would definitely recommend this company.
Jan Hendrix

,

Tampa, FL
The repair was quick and affordable.
Shelby Horton

,

Tampa, FL
Just had two new openers installed and it went great. Dan did excellent work installing, helping me set up the WIFI features and showing me how they work.
John Montagna

,

West Chase, FL
Can't say enough good things about my experience. Totally expected that it would take several days to schedule the repair. I made a request after hours on May 4 and the repair was completed by 2 pm on the 5th. The technician was very friendly and more than capable.
Jack Harmon

,

Longboat Key, FL
I was able to schedule an appointment for the morning after I called. Mike was the service technician who came to my home. He was prompt, personable and professional. The repair only took about 25 minutes. I recommend Banko Overhead Doors without reservation.
Andrew MacGill

,

Tampa, FL
Last Fri. we had an exceptional experience with Banko. Right from the call to the office to get a quote for a garage door opener. To the great service by Dan who installed the system, programmed the new one to the other one in the next day. He installed an outside keypad, inside pad, belt drive that is so quiet that you can hardly hear the door closing. He finished by programming 2 cars to 2 different doors and our cell phones.
Plus the security camera and safety beam. All in 2hrs. We are totally please with Banko.
Audrey Barnfather

,

Cheval, FL
The technician was very professional and informative. He arrived inspected the the door and all it's parts made some adjustments and did not try selling me things I did not need.
Frank S

,

Bloomingdale, FL
If your looking for a Professional garage door company look no further. Banko was very helpful from the moment I called requesting a price quote. The Technician was at my home the same day and the job was performed perfectly. In most cases you would pay more for great service. Not with Banko! They were less expensive than all of the other quotes I received and acted like they wanted to earn my business. I can't say the same about their competition.
Josh Person

,

Seminole, FL