Table of Contents
---
Many homeowners use their garage doors every day as the main entrance to their homes. If you do the same, you know your garage door opener remote is an important part of your daily life. With it, you gain access to where you park your car, store various items and enter your home through a connecting door.
But what happens if you misplace your garage door opener remote? It's easy to accidentally drop and lose it during the busy moments of life. In more unfortunate circumstances, someone could even steal it from you, jeopardizing the safety of your home.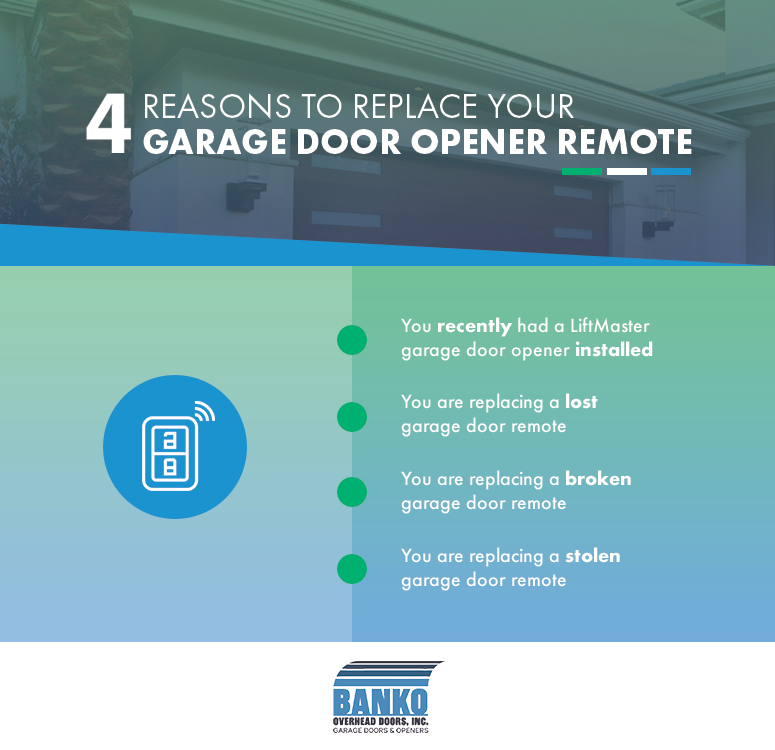 In these situations, you need to replace your garage door opener, but a lost or stolen remote isn't the only reason you might need a new one. Discover what to do in these and other situations, as well as how to replace your garage door opener remote below.
When to Replace Your Garage Door Opener Remote

Without your opener remote, using your garage door becomes far less convenient and safe. You may have to keep your garage door unlocked all day so you can manually open and close it, compromising your home's safety. You may be thinking about getting a new remote so you can return to the convenience and safety you once knew.
But what warrants replacing your garage door remote? If you've recently experienced any of the following circumstances, consider replacing your garage door opener remote to ensure your safety, as well as that of your family and your possessions.
1. Your Remote Is Stolen or Lost
Whether you use your garage door opener more than your front door's key or on occasion, treat this device like an electronic key that grants access to your house. Still, even with the utmost care, anyone can lose their garage door remote.
The main reason you should replace your garage door opener remote after losing it is for convenience. You rely on your garage door opener every day, and not having a remote to control it makes entering and exiting your home more difficult.
When you discover that your garage door remote is missing, you can look for it to regain peace of mind. But your garage and home will be safer if you assume someone has stolen the device and take the appropriate steps. Get a replacement remote for the missing one to regain garage access in the meantime.
2. Your Remote Is Broken

How long does a garage door opener remote last? The answer changes with how you treat the device. Several factors could contribute to a broken garage door remote, and a few of the most common include:
Frequent use: With regular garage door opener use, the buttons can wear out, resulting in no electrical contact when you press them. You can try replacing buttons or opening up the remote and cleaning dust from within. If that doesn't work, you may be better off getting a replacement device.
Manufacturing issues: Assembly line products have a high rate of success, but once in a while, something can go wrong. Your remote could contain faulty components, causing it to work incorrectly or not at all. In these instances, you may be able to call the manufacturer and request a free replacement. Check the company's website to see if you qualify before going out and buying a new remote.
Accidents: Plenty of accidents can break a garage door opener. Dropping your remote on the ground could dislodge an internal component, leading to its malfunction. Another instance is dropping your remote on the driveway and accidentally crushing it with your car. If the batteries in the remote are old, they could leak and corrode the battery terminals. Sometimes, car crashes can even be damaging enough to result in a broken remote.
Whenever your garage door remote breaks, you should get a replacement. You'll want to return to the convenience of having a working remote, and broken or faulty remotes can be frustrating when they only work half the time.
Of course, you could try troubleshooting the issue before getting a replacement device. Replace the batteries with new ones and see if you need to reprogram the remote to connect to the opener. You can also check that the door is functional by using the keypad or the button in the garage to open it. Rule out a damaged garage door opener to see if it really is your remote that's the issue. If you try those steps and the remote still doesn't work, get a replacement.
3. You're Getting a New LiftMaster® or Genie Garage Door Opener
Pairing a new garage door opener with a new remote ensures your setup will run the best it possibly can. Any time you get a new garage door opener, you can get an overhead garage door remote replacement to accompany your purchase. Think of it as a small investment in the long-term functioning of your new garage door opener.
A replacement garage door remote will give you a reliable response with a new opener. An old remote with a new opener may not work as well as you'd hope. Your old remote could have broken buttons or a spotty connection with your opener. Getting a new door opener can instead come with convenient extras. Many modern openers are enabled with Wi-Fi, letting you control your garage door from your phone. You can even look into options for programming your car with a garage remote.
How to Replace a Garage Door Opener Remote

When it's time to get a new garage door remote, you can quickly and easily replace it by contacting the manufacturer of your opener unit or reaching out to Banko Overhead Doors. By purchasing a LiftMaster 893MAX, 893LM, G3T or 890LM remote through Banko Overhead Doors, you'll receive the new device quickly and know it'll work with your opener. One of our professional service technicians can pair it and perform maintenance on your garage door at the same time. You can also get a universal door remote that works with your current opener and any devices you purchase in the future.
You have other options available based on your preferences and budget. You can find universal garage door opener remotes at hardware stores and garage door outlets that have a few attractive benefits.
Depending on their features, universal garage door remotes can be a less expensive option. They'll also work with your current opener and any future opener you might purchase. Universal remotes are a solid choice based on their flexibility and price.
What to Do When Your Remote Is Lost or Stolen
If your garage door opener remote was lost or stolen, you're dealing with more than a minor inconvenience to your daily routine. Your home's safety is at risk, and you want to do all you can to protect your household members and your property. It's important to stay calm and remember you can take measures to resolve the situation. Here are some things you can do when your garage door opener remote is stolen or lost:
1. Clear Your Garage Door Opener's Device Memory
If a stranger has stolen this device, take action quickly to disable the remote from the opener and prevent unwanted entry. Luckily, garage door openers have a feature to forget devices paired with them. That means anyone who stole your remote won't be able to open your garage door and access your home. How you go about disabling your garage door depends on the opener's brand and model. To have your LiftMaster or Genie garage door opener forget all of its associated remote pairings, follow these simple steps:
Go to the back panel of the opener.
Press it for several seconds, and the device will forget all garage door opener remotes that operated it.
If anyone in your household still has their remote, make sure you reprogram the devices with the opener. You can check the opener's manual for more details on how to delete the associated remote pairings or program new ones.
2. Give Yourself Temporary Garage Access
It's a good idea to have a backup garage door remote in case your main remote is ever lost or stolen. If you lack a spare remote, you'll have to give yourself temporary garage access after clearing your opener's device memory.
One way to have temporary access is to detach your garage door from the opener by pulling the red safety cord. You can then open and close your garage door manually. Note that you will need to take additional security measures with this method, though.
Add locks and bolts to your garage door so you can secure it when it's not in use. You or a professional can add locking mechanisms outside the garage door, which you can use when you enter or exit the garage. Just ensure you unlock the door before re-engaging and using the automatic opener.
You might also choose to have temporary garage access with the keypad and your PIN. You'll need to keep your automatic opener engaged for this method, though, and you'll have to get out of your car to operate the door. Having temporary garage access will add some steps to your routine. But manually controlling your garage door with added locks and bolts can help to keep your family safer until you can purchase a new garage door remote.
3. Buy and Program a New Garage Door Opener Remote
Replacing your stolen garage door remote is the final step to return to normalcy. If your opener is a LiftMaster or Genie, you can contact our team at Banko Overhead Doors for a new one. While this can ensure the device will work like the previous one, you might be able to save money by purchasing a universal remote. The choice is yours.
Before using your garage door opener again, make sure you put the emergency cord back to its connected position if you operated the door manually. You must also make sure you unlock any bolts or locks. Opening your garage door without unlocking them could damage your opener.
Once you get your new remote — or two, if you want a backup — you need to program it to your garage door opener. Each garage door opener brand has a slightly different process to accomplish this, so check with your user manual. But you'll generally use the same "learn" button that you used to clear the opener's device memory. You might then follow these steps to pair a new device to your garage door opener:
Hold the button in for a few seconds until a light starts blinking.
Press the button on your new remote until the blinking light either becomes solid or blinks in a new pattern.
Press the button on your remote, and the opener should work.
Preventing Future Remote Theft
You can reduce your chances of future garage remote theft by incorporating a few new practices into your daily life. When you make these changes and upgrades, you'll be keeping your household and your property safe. Instruct any household members who have opener remotes to follow these steps and use them yourself to prevent theft:
1. Keep the Remote Hidden
If you're going to think of your garage door remote as a key to your house, then you need to treat it like one. You wouldn't leave your house keys out where anyone could grab them, and leaving your remote visible in your car provides an opportunity for theft.
Most people don't carry their garage door remote with them on their person or in a purse, bag or backpack. Doing so risks losing the remote, so keep it hidden in your car instead. Put the opener in your glove compartment or center console rather than leaving it attached to the visor. You might bring the opener remote inside when you're home if you park your car in the driveway. But keeping the device hidden in your car can be just as effective at preventing theft.
2. Lock Your Car
Whether you're parking your car at home or somewhere when you're out and about, always lock it, no matter how quickly you'll return. Even if your garage remote opener is hidden, you don't want a stranger getting into your vehicle. They could take the remote or other valuables and gain access to your garage.
3. Upgrade Your Garage Door Opener
Upgrading your garage door opener could keep you safer if you need to replace your remote again. Modern garage door openers have many benefits and safety features that make it harder for thieves to access your house through your garage door.
One of those modern safety features is myQ technology. Openers with myQ integration let you access garage door details from your smartphone. The myQ app lets you monitor your garage door, get security updates and open and close it from anywhere. Your phone becomes your remote, reducing your chances of remote theft and helping you monitor your home's security while you're away.
Upgrading your garage door opener has other benefits. New openers have "rolling codes," where the code your remote uses to open the door changes every time you click it. When the code changes, it stops anyone from being able to steal your door code by guessing or retrieving it with a device. New openers are also much quieter than older models. Quieter operation is helpful if you need to leave for work before the rest of your family wakes up or if you plan on coming home after bedtime.
For Reliable, Helpful Garage Door Opener Services, Call Banko Overhead Doors

When you need knowledgeable, friendly and helpful garage door specialists in West Central Florida, call the experts at Banko Overhead Doors. We pride ourselves on always offering personalized services, affordable solutions and high-quality products that provide long-term, dependable functionality and ease of use. We even offer hurricane rated garage doors to help protect your garage during inclement weather.
If you find that your garage door remote is missing and need a fast replacement or want to upgrade your current residential garage door opener, we're ready to help. Trust our highly trained, full-time professional team to help you find quality solutions and products to fit your daily needs. Call us today at 877.902.2656 to speak to a specialist or fill out our online form to request more information. You can also schedule a garage door repair online or request an estimate for installation.
---
Additional Resources on Garage Door Opener Remotes:
---