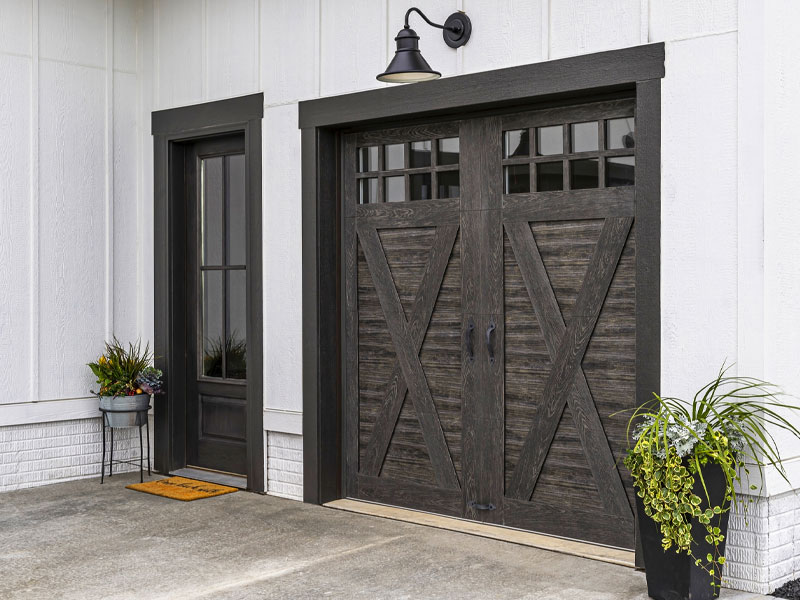 An updated garage door design crafted from rich, textured wood can breathe new life into your West Central Florida home. With a faux wood garage door from Banko Overhead Doors, you don't have to choose between the distinctive and natural elegance of wood and a high performing, low maintenance garage door.
Faux wood garage doors are made from steel and fiberglass materials that are expertly molded to look like wood, including wood's texture and unique grain patterns. With advanced design and construction methods, faux wood doors appear incredibly realistic. With faux wood Clopay® garage doors, you get a classic, inspiring garage door design with modern convenience and functionality to improve your lifestyle, boost your home's value and add curb appeal.
Advantages of Faux Wood for Your Garage Door
With a wood-look garage door for your West Central Florida home, you'll experience many benefits including:
Durable construction: Faux wood garage doors crafted from steel and composite materials are much sturdier than wood. They can withstand a variety of climates and temperatures and resist rot, cracking, shrinking and warping.
Low-maintenance design: A real wood garage door requires routine sanding, staining and repairs throughout its lifetime. In contrast, a faux wood door requires very little maintenance and won't need resealing.
Affordability: Because faux wood doors are crafted from readily available materials and are not custom made, they are much more affordable than solid wood alternatives.
The Gorgeous, Natural Look of Wood Without the Upkeep
Banko Overhead Doors offers a wide selection of Clopay faux wood garage doors including their popular Canyon Ridge Ultra-Grain and Canyon Ridge Modern Series garage doors. Clopay faux wood doors are crafted using quality construction steel and faux wood composite overlay materials for better functionality and long-term performance, even in Florida's climate.
Clopay Canyon Ridge garage doors feature a timeless design and contemporary finishes for an unforgettable look without the expense or continuous upkeep. Canyon Ridge faux wood steel garage doors are the perfect complement for any home.
Spruce Up Your Home With a Faux Wood Garage Door for Sale
Finding the warm, inviting look of a wood garage door with advanced steel performance is simple — just turn to the garage door installation and design professionals at Banko Overhead Door. We offer quick response times and no hidden costs to homeowners throughout the Greater Tampa Area and surrounding communities. Come visit our showroom to see our wide selection of faux wood garage doors as well as hurricane rated garage doors.
Learn more about the benefits of faux wood by contacting our team of experts or calling us at 877.902.2656. You can also schedule an estimate today!
Additional Resources on Garage Doors:
Reviews
Excellent service. Quick and professional. I was given a window for the day and then told they would call 30 minutes prior to arrival. That allowed me to run errands while waiting for the call. I couldn't expect a service call to go any better. Thank you and I would recommend 10 out of 10 times.
Shaun Sugrue

,

Nokomis, FL
Very professional installer and very quick had the old one down and the new opener installed in less than an hour.
Gloria J & Robert K Harmony

,

Tampa, FL
Excellent, the tech Mike is awesome.
Robert Cano

,

Carrollwood, FL
Excellent. Robert was extremely efficient and went the extra mile to resolve our problem. Price for repairs was very competitive.
Eric Feder

,

St. Petersburg, FL
I had a great experience working with Banko to repair a malfunctioning garage door. This was the second time they\'ve come out to assist (not their fault, I\'ll look to my builder and installer on that) and I\'ve had the pleasure of working with Chris (I hope I spelled his name correctly). He was prompt, courteous, and very knowledgeable. He took extra time to answer my questions and walk me through the issues my garage door was encountering and how he was going to fix it. He even gave me maintenance tips on how to keep my garage door in the best shape.
Andy D

,

Riverview, FL
Mike was timely, professional, and proficient. It was a pleasure.
Jacquelyn James

,

Tampa, FL
Knowledge technician!! Great customer service.
Tommy George

,

Riverview, FL
Great from start to finish. The young lady in customer service was polite and knowledgeable and got me on the schedule next day. The gentleman that did the work called 30 minutes ahead, showed up on time, explained it all to me and reviewed pricing before starting. He was in and out in under 30 minutes and my door is working perfectly. Great experience, well done all around!
Pat O'Donnell

,

Trinity, FL
A few months ago your tech "tuned up" our 2 year old 2-car door which started to act erratically
He was the most professional, knowledgeable, experienced and courteous tech I have ever dealt with. Very thorough. Door now very smooth.
Ron Simpson

,

Land O'Lakes, FL
Outstanding. Gene and Tom were professional, timely and did a great job—Thank You. My location is Wimauma, FL., but your system would not let me put that in, so I just picked one that worked
Dennis Lombardi

,

Ridge Manor, FL
Had a broken cable and springs replaced. Paul arrived in the service window and got right to work. Finished the job quickly and provided some maintenance tips to keep my door moving smoothly!
Excellent service Paul! Thank you.
Mike Caldwell

,

Venice, FL
The tech was great, very efficient and professional.
Mo sallout

,

Tampa, FL