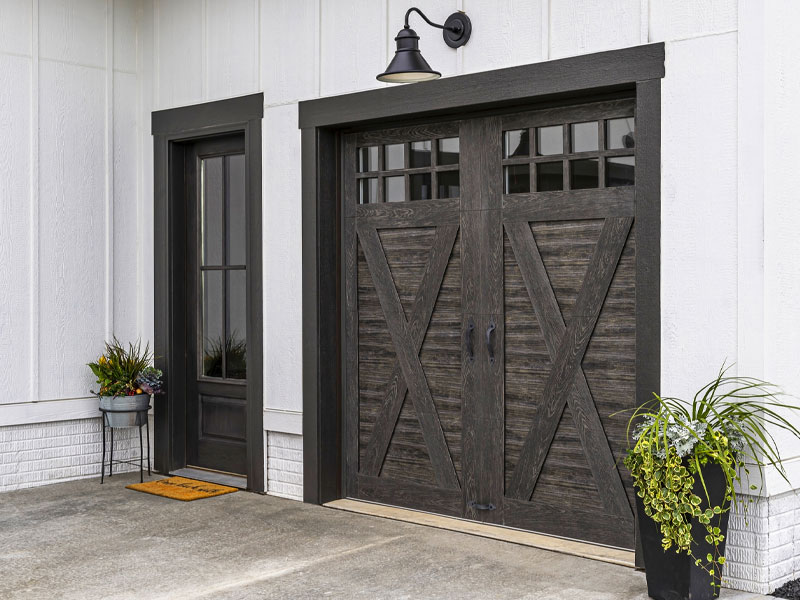 An updated garage door design crafted from rich, textured wood can breathe new life into your West Central Florida home. With a faux wood garage door from Banko Overhead Doors, you don't have to choose between the distinctive and natural elegance of wood and a high performing, low maintenance garage door.
Faux wood garage doors are made from steel and fiberglass materials that are expertly molded to look like wood, including wood's texture and unique grain patterns. With advanced design and construction methods, faux wood doors appear incredibly realistic. With faux wood Clopay® garage doors, you get a classic, inspiring garage door design with modern convenience and functionality to improve your lifestyle, boost your home's value and add curb appeal.
Advantages of Faux Wood for Your Garage Door
With a wood-look garage door for your West Central Florida home, you'll experience many benefits including:
Durable construction: Faux wood garage doors crafted from steel and composite materials are much sturdier than wood. They can withstand a variety of climates and temperatures and resist rot, cracking, shrinking and warping.
Low-maintenance design: A real wood garage door requires routine sanding, staining and repairs throughout its lifetime. In contrast, a faux wood door requires very little maintenance and won't need resealing.
Affordability: Because faux wood doors are crafted from readily available materials and are not custom made, they are much more affordable than solid wood alternatives.
The Gorgeous, Natural Look of Wood Without the Upkeep
Banko Overhead Doors offers a wide selection of Clopay faux wood garage doors including their popular Canyon Ridge Ultra-Grain and Canyon Ridge Modern Series garage doors. Clopay faux wood doors are crafted using quality construction steel and faux wood composite overlay materials for better functionality and long-term performance, even in Florida's climate.
Clopay Canyon Ridge garage doors feature a timeless design and contemporary finishes for an unforgettable look without the expense or continuous upkeep. Canyon Ridge faux wood steel garage doors are the perfect complement for any home.
Spruce Up Your Home With a Faux Wood Garage Door for Sale
Finding the warm, inviting look of a wood garage door with advanced steel performance is simple — just turn to the garage door installation and design professionals at Banko Overhead Door. We offer quick response times and no hidden costs to homeowners throughout the Greater Tampa Area and surrounding communities. Come visit our showroom to see our wide selection of faux wood garage doors as well as hurricane rated garage doors.
Learn more about the benefits of faux wood by contacting our team of experts or calling us at 877.902.2656. You can also schedule an estimate today!
Reviews
Very positive. Within four hours of my call they were at my home and the garage problem was fixed. The tech was courteous and helpful and the cost was what I expected. No complaints.
Raymond Paltoo

,

Tampa, FL
Juan was very professional and explain all my options. After installation, he went over the operation of the new garage opener and answer all my questions.
Bill Lum

,

Tampa, FL
My repairman was EXCELLENT! He got everything working, was polite, and explained what was wrong! Thank you
Cheri De Geere

,

Sun City, FL
My experience with Banko Overhead Doors was excellent. The C/S rep who booked the appointment was pleasant, efficient and professional. Our service technician Paul from the Venice office was also excellent. He was very thorough and explained the proper maintenance for the doors and door opener. Both interactions were a 10 on the scale of 1 to 10.
Joe Noti

,
The Banko technician did a excellent job . I am very grateful for the work he did in my house.
Tina Gil

,

Tampa, FL
Excellent service and tech.
Anthony Delrio

,

Land O'Lakes, FL
Just great Elvis was very Professional and he was very neat in what he did. My wife and I really appreciate the service thank you all again for fixing our garage door.
Autry&leslie Denson

,

Lakeland, FL
Absolutely great service. Very punctual, and even early sometimes. Always called ahead to let us know they were in route. Work was excellent and completed quickly. The tech was patient with us as we were out of town and running a little late for our appointment. Highly recommend for any garage door needs.
Donald Sanchez

,

Brandon, FL
It was great! Technician knew the problem as soon as he looked at it and was able to fix it. Very happy with his service.
Diane Cleveland

,

Safety Harbor, FL
Outstanding service by Johnny Torres, one of Banko service technicians. He was on time, polite, efficient and knowledgeable.
William Martello

,

Tampa, FL
Very positive. Dave was experienced, neat & fast. A pleasure to work with Banko!
Richard Marsiglia

,

Sun City, FL
Juan did a great job. Honest, hard working and did excellent work. Very professional.
Clif Dell

,

Temple Terrace, FL