Table of Contents
---
Purchasing a new garage door is a major decision. Your garage door is often the first thing that people see when they arrive at your home. It makes a significant impact on the overall style of your home's facade. Modern garage doors can last for decades, so it's important to choose something that you'll enjoy for years to come.
There are a lot of factors to consider before buying a new garage door. This guide will explain how to choose a garage door so you can feel confident in your decision. With so many options to choose from, you're sure to find something to meet your needs.
Why Buy a New Garage Door
If you're building your dream home, moving to a new place or renovating your current residence, your garage door has a significant impact on the function and style of your property. Investing in a new garage door can benefit your home in the following ways:
1. Higher Resale Value
A new garage door is an appealing feature for potential home buyers. It adds value to your home by improving your property's security, energy efficiency and appearance. The curb appeal of your home is one of the biggest selling factors.

An upgraded garage door will make your home stand out on the market, and 70% of realtors confirm that it will help your home sell faster. If you're planning on selling your home anytime soon, renovating your garage door is a wise investment that could have as much as a 93.8% return. It nearly pays for itself!
2. Reliable Performance
Most families use their garage door multiple times per day, which adds up to thousands of times per year. Frequent challenges opening and closing your old garage door can be frustrating and prevent you from utilizing your garage. Replacing your old door will prevent these issues so that you can use your garage space as an extension of your home.

An upgraded garage door will seal in your space so you can use it as an office, home gym, pantry or parking spot. You can rely on a new garage door to function correctly so that you can enjoy your garage all year long.
3. Modern Features
Many vintage garage doors are missing the safety and convenience features that come standard with modern garage doors. A new garage door upgrades your home with the latest styles and technology of the 21st century. Replacing your old garage door will improve the look and function of your home, whether you decide to sell or enjoy it yourself for decades to come.
When Is the Best Time to Buy Garage Doors?

A professional garage door installation company can replace your garage door any time of year. It typically takes less than a day to have your old garage door replaced with a fully functioning new model. When your garage door breaks down unexpectedly, it's best to replace it right away.
If you live in a temperate climate, cold and snowy winters can take a toll on old garage doors. When warm weather returns, you can replace your worn garage door with a new one. If you live in a tropical climate where it's always hot and humid, replacing your garage door before hurricane season ensures your home is prepared for harsh storms in the fall.
When your old garage door is removed, it can let out precious cooling in the summer and heating in the winter. Experienced technicians can finish the job in a few short hours, conserving energy so you can replace your garage door no matter the weather. When you're ready to purchase a new garage door, schedule an installation anytime with Banko Overhead Doors.
What to Look for When Buying a New Garage Door
After scrolling through pages of garage doors, it's easy to get lost in all of the product specs and features. While it's nice to have all of the latest bells and whistles, you can narrow down your search to garage doors with these essential features:
1. Security
Your garage door is the largest entrance to your home. It's crucial to have modern safety measures to protect your possessions and — more importantly — your family. Many garage doors come equipped with rolling-code and encryption technology to prevent hackers from breaking into your garage.

You can also look for garage doors with myQ smartphone control that allows you to secure your garage door anywhere at any time. With myQ technology, you can:
Check on the status of your garage door.

Open or close your garage door from your smartphone.

Program your lights to turn on and off automatically.

Receive instant alerts when your garage door opens.
2. Safety

Garage doors weigh several hundred pounds, so modern safety features are vital to prevent serious injuries. Infrared sensors or safety eyes monitor the area below the garage door and reverse it automatically if an object is detected. Safety eyes are essential to protect small children and pets that might wander under the closing door. If your garage door lacks this feature, you should have it replaced as soon as possible.
3. Insulation
In the past, most people used their garage for storing vehicles. Today, garage doors function as an extension of the home. People convert their garages into workshops, art studios, entertaining areas, laundry rooms and other functional spaces. However, to utilize your garage for other purposes, it must be adequately insulated.

Insulated garage doors seal in the space to protect it from leaks, pests and drafts from the outside. The more layers your garage door has, the more insulation it provides. Most garage doors have one to three layers:
Single-layer: Offers very little insulation with one layer of panel material
Double-layer: Has one layer of insulation on the interior side of the panel material
Triple-layer: Has one layer of insulation between two layers of panel material
A triple-layer garage door will maintain a stable temperature so your garage is comfortable all year long. It can also improve the energy efficiency of your entire home.
4. Hurricane Protection
If you live in an area that experiences frequent hurricanes or severe storms, a hurricane-rated garage door can help protect your home. Hurricane-rated garage doors are designed to withstand heavy rain, strong winds and flying debris. They're built strong with durable materials that can outlast years of wear and tear. Choosing a hurricane-rated garage door will give you peace of mind that your home is prepared to withstand a tropical storm.
How to Choose the Right Garage Door
There are hundreds of different garage doors on the market with unique functions and designs. Narrow down your search to one factor at a time. You can start by setting a budget, choosing the material and moving forward from there. It makes it easier to find a garage door that matches your individual preferences when you tackle the process step by step.
Choosing the color, style and features for your new garage door will ensure that it matches your aesthetic. Finding a garage door that reflects your taste can make your house feel more like home.
We've answered the following questions to help you choose the right garage door for your family.
1. How Do I Choose a Garage Door in My Budget?
Price is one of the most important factors homeowners consider when buying a new garage door. Setting a budget is essential for getting the highest return on your investment, whether you choose to sell your home or not. Garage doors range in price from a few hundred to several thousand dollars depending on their size, material and style.
You can decide how much you're willing to spend. At a lower price point, you'll find simple garage doors that look great and work smoothly. At a higher price point, you'll find garage doors with extravagant designs and premium technology. The best option depends on your individual needs. With so many options, you're sure to find a garage door with the right blend of style and function within your budget.
2. What Type of Garage Door Should I Buy?
The material you choose significantly impacts the style, function and price of your new garage door. It's important to understand the advantages and disadvantages of each one to help you choose the best garage door for your home. Here are some materials to consider when buying a garage door:
Natural wood: Wood garage doors have a classic look that blends well with almost any exterior. You can choose your favorite timber, from cedar and redwood to tropical luan. They also come in various finishes that are sure to complement your style. Natural wood doors can be more costly than other materials for their unique beauty and charm. Wood doors are strong and durable to last for years to come. If they start looking worn, they can be restained or painted at any time.
Composite wood: If you want the look of natural wood at a more affordable price, faux wood garage doors could be the solution. Composite wood garage doors are typically made from a steel frame with a composite wood outer shell. They're complete with a wood grain texture that is easy to mistake for the real thing. Unlike real wood, composite requires very little maintenance. It's insulated and weather-resistant to maintain a stable temperature year-round.
Steel: Steel garage doors are one of the most durable options on the market. They're built with insulation to conserve heating and cooling and save you money on your next energy bill. Steel garage doors require minimal maintenance to prevent rusting. They're available in a wide range of styles, from modern and industrial to rustic and traditional. There are basic and luxury options so that you can afford a steel garage door on almost any budget.
Aluminum and glass: Glass garage doors look sleek and luxurious to give your home a contemporary style. Transparent glass lets you enjoy stunning views from the inside and show off your garage from the outside. If you want to illuminate your garage with natural light but still value your privacy, frosted glass can provide the best of both worlds. Double-paned glass panels are an investment, but they will keep your garage insulated.
3. How Do I Choose a Garage Door Style?

One of the most important factors to consider when choosing a garage door is the style. The best choice will depend on the design of your home, the look that you're trying to achieve and your personal preferences. Garage doors take up a large portion of the exterior of your home, so you want something that looks beautiful and complements the rest of your property. The following styles will enhance almost any home:
4. How Do I Choose a Garage Door Color?
The color of your garage door is the finishing touch to achieve a cohesive style on the exterior of your home. There are countless options to choose from, whether you're interested in a wood finish or a solid hue. You can choose a soft shade for an understated look or make a statement with a bold color. Here are some tips to help you choose the right color garage door:
Play with neutrals: Black, gray, tan, brown and other neutral shades will complement a wide range of color palettes. These colors are sophisticated and unique but still blend with your home's aesthetic.
Experiment with earth tones: Forest green and stormy blue shades look cohesive against the surrounding landscape. If you choose an earth tone for your garage door, it's best to carry the same color throughout other fixtures around your home. Consider painting your shudders or window boxes the same shade.
Choose an era-appropriate hue: If your home was built in another decade, you could choose a historically accurate shade to complement the architectural style. For example, Victorian homes featured deep rich hues like burgundy and dark green. While this era never saw garages or even cars for that matter, you can still honor the period with a Victorian-inspired garage door.
Glance around the neighborhood: If you need some color inspiration, you can look around your street to see what other people have chosen. You'll probably find homes with a similar style and color palette. While you don't have to match them exactly, you can choose a similar shade that blends well with your neighborhood.
Consider the climate: Over time, intense sunlight can cause your garage door to fade. In a few years, a pale color might fade to white. If you live in a constantly sunny area, consider choosing a deeper shade so it lasts longer.
Match your home: If you're wary of choosing the wrong shade, you can always paint your garage door the same color as your home. It can make your house appear larger and allow other features to stand out.
Fall back on white: With so many options to choose from, it's easy to get caught up trying to find a shade to match your existing color scheme. When in doubt, white will look beautiful on almost any garage door.
5. Should I Buy a New Garage Door With Windows?
Windows can elevate a simple garage door to enhance your home's curb appeal. They look beautiful and let in the natural light so you can navigate your garage without flipping a light switch. Adding a tint, frost or mirrored effect to the windows will improve their privacy factor.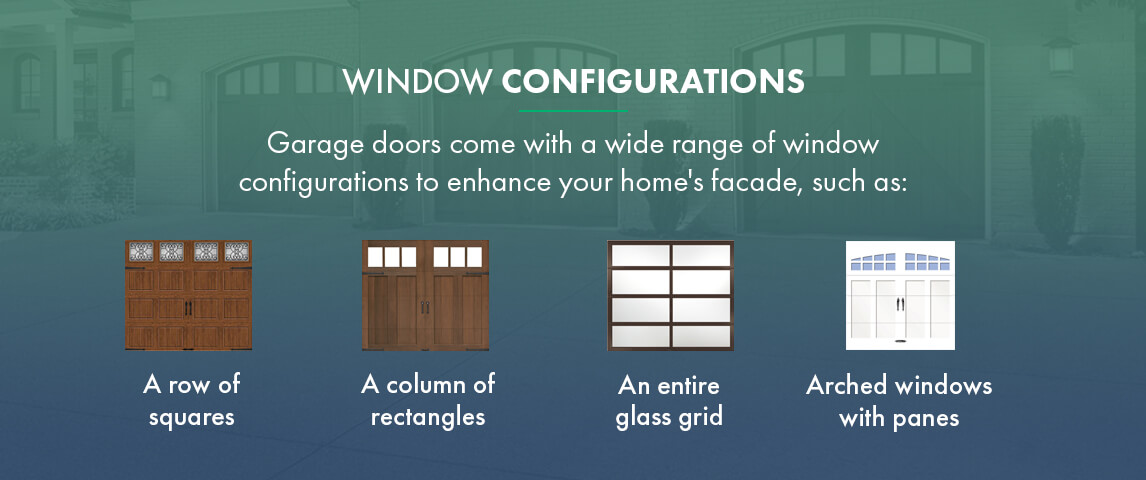 Garage doors come with a wide range of window configurations to enhance your home's facade, such as:
A row of squares: Looks great on traditional and raised panel garage doors
A column of rectangles: Complements a contemporary or retro style home
An entire glass grid: Makes a statement on modern homes and industrial buildings
Arched windows with panes: Enhances the vintage aesthetic of carriage house garage doors
Where to Buy a New Garage Door
Now that you understand how to choose a garage door, it's time to go shopping. Banko Overhead Doors offers a wide selection of garage doors in various colors, styles and materials. We have garage doors to fit the design of your house, lifestyle and budget.
Our skilled professionals will help you find the best garage door for your home. We'll guide you through the process and recommend styles and materials that will meet your needs. Once you decide, our expert technicians will install your new garage door with the highest level of craftsmanship.
With over 30 years of service, you can trust our team to provide the best experience from start to finish. Our goal is to help you bring your vision to life. We'll provide a free estimate and design consultation for your new garage door. Contact us today, and we'll help you find the garage door of your dreams!
---
Additional Resources on Garage Door Tips and Tricks:
---