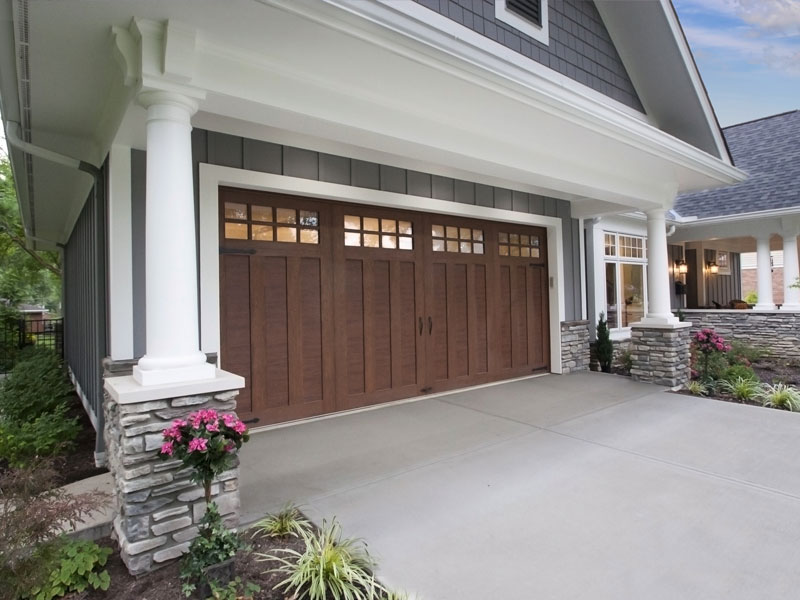 Browse Our Hurricane Rated Garage Doors:
There are many benefits to living in Florida, from the beautiful beaches to warm weather to fun local attractions. But, amidst all these benefits lies the yearly threat of hurricanes. Hurricane damage can be costly for even the most insured homeowner, which is why it's so important to take precautions where possible. In Florida, a Category 1 hurricane typically puts over 350,000 households at risk — and a Category 5 hurricane can put almost 3 million households at risk.
Is Your Garage Door Hurricane Ready or WindCode Rated? Request a Free Review!
If you have concerns about the WindCode rating and hurricane protection of your current garage door, Banko is here to help. We offer free garage door reviews to help you determine if your home could benefit from a hurricane rated garage door. We know how costly storm damage can be, and we want to make sure you have the information you need to protect your home and family.
To request a free review including a free quote on a new garage door, click to request a free review and estimate and note in the comments that you want a hurricane/WindCode review and our expert team will reach out with next steps. We also offer one of the largest selections of hurricane rated garage doors in Florida, so if you do need to replace your garage door – we can help!

Table of Contents
When you choose from among hurricane rated garage doors, you're able to enjoy some peace of mind as hurricane season approaches. And hurricane garage doors aren't just handy during hurricane season. They are stronger and more durable than other options, meaning you can count on long-term performance and durability through all seasons whether a hurricane strikes or not. A hurricane rated garage door is one of the best investments you can make for your home in West Central Florida.
In West Central Florida, a permit is required for a garage door, and the door also needs to meet the proper WindCode based on where you live. The closer to the water or wind debris zone, the higher the design pressure. You can meet these requirements when you find a product that adheres to the Florida WindCode for garage doors. And you may also find that you enjoy savings from your insurance provider when you choose wind-resistant garage doors for your home. A wind-rated garage door is worth the upfront investment if it helps you save money month after month.
Browse Our Hurricane Rated Garage Doors
What is a hurricane rated garage door? These garage doors are specially designed to withstand the high-powered winds that typically batter homes during hurricane season. Hurricane rated garage doors from Banko Overhead Doors will help secure any garage because of their high resistance to extreme wind and other inclement weather.
Along with meeting all Florida WindCode standards for hurricane protection, these garage doors also come in many stylish options that will be a welcome addition to the outer décor of any home. You can help protect your West Central Florida home with a hurricane rated garage door and enhance your home's curb appeal at the same time.
Get peace of mind for your home or business when you choose hurricane and WindCode®-rated garage doors that can help withstand the following:
Hurricanes: At Banko Overhead Doors, we offer hurricane rated garage doors that are designed specifically for Florida's unique climate. Hurricane season starts in June — be sure your home and family are protected.
Powerful winds: Strong winds that accompany tropical storms and other weather events are no match for our hurricane rated garage doors.
Windblown debris: Wind isn't the only threat during hurricane season. Our hurricane rated garage door options are also designed to withstand battering from windblown debris.
Heavy rain: A hurricane rated garage door can help keep rain out of your garage and keep your garage door from shifting off its track.
Sudden changes in pressure: Even changes in atmospheric pressure can create challenges for traditional garage doors. When you choose hurricane-proof garage doors, you get a tough overhead door solution that withstands the many weather challenges we face in West Central Florida.
When selecting the best hurricane rated garage doors from Banko for your home in West Central Florida, you have the option to choose from one of the most reputable brands in the industry, Clopay®. Clopay hurricane rated garage doors provide incredible storm protection, and Clopay garage door wind ratings help keep your home secure from gale-force winds. And since we have an employed full-time staff of highly skilled installers and professional service technicians, you can rest assured that your door will be installed correctly – a critical part of the overall protection.
Reinforced Hurricane Rated Garage Doors
A reinforced hurricane rated garage door provides extra protection thanks to the additional heavy-duty materials it contains. These storm-ready doors also provide an excellent option for protecting your garage door in a hurricane and are designed to give maximum protection against hurricane-force winds. They contain at least one layer of steel, and sometimes more, along with other optional elements like aluminum sheeting, wood paneling and insulation. The number of steel layers, the thickness of the steel and the type of steel used all combine to determine what wind speeds the door can withstand. These hurricane-impact garage doors are permanent solutions, so homeowners have automatic, year-round protection and do not have to install and uninstall their reinforcements with every storm.

How to Protect Your Garage Door From Hurricanes
Impact-rated hurricane-proof garage doors offer a few different structural benefits over standard-issue garage doors. Choose these features when you're looking for a hurricane-resistant garage door:
Layers: Standard, unreinforced garage doors generally contain only a single or perhaps a double layer of metal. Reinforced garage doors, on the other hand, usually contain multiple layers of steel, aluminum sheeting, wood paneling and insulation. These layers help defend against gale-force wind and rain to increase garage door hurricane protection.
Sturdy tracks: Reinforced garage doors also differ from unreinforced garage doors in their tracking. Reinforced garage doors offer heavy-gauge metal tracks to make doors less likely to become dislodged during high winds.
Reinforcement rods: The rigid steel rods mounted to the interior of reinforced garage doors help provide extra garage door wind protection. These steel rods buttress the door, increasing its strength and helping to brace the door against the potential twisting effect of swirling winds.
Upgraded hinges: Upgraded hinges offer additional strength and add sturdier rollers so the rollers are less likely to slide out under the force of hurricane-strength winds.
Insulation: Insulated hurricane garage doors help provide another layer of protection and keep extreme temperatures out of your garage during severe weather and all year long.
Importance of Hurricane Rated Doors
Investing in a hurricane rated door is essential for a few different reasons. Of course, a hurricane rated door is more likely than a standard garage door to survive a storm intact. But investing in a hurricane rated door offers additional benefits as well.
Preserving structural integrity: Once a hurricane impacts the garage door of your home, it can affect more than just your garage. Since the garage is the largest opening to your home, once compromised – it can result in increased damage to the rest of your home. A solid, reinforced, hurricane rated garage door serves as a shield for the rest of the house and reduces the potential impact from high winds.
Offering flood damage protection: A quality hurricane rated garage door acts as a buffer against water damage that could cause costly flooding. A damaged garage door can allow stormwater to flood a home. And even small amounts of water quickly lead to mold, mildew, rot and costly repair projects — just a single inch of water can end up costing $25,000 in damages. Investing in a hurricane rated door helps keep your home secure against flood damage.
Shielding belongings: A damaged garage door could also leave homeowners vulnerable to the loss of their possessions. Many of us store a hodgepodge of items in the garage, from bikes and kayaks to power tools and lawnmowers to boxes of old baby clothes and books. A hurricane rated garage door, on the other hand, helps keep items with monetary and sentimental value safe and secure.
Providing cost savings and increase in home value: Of course, the damage and losses laid out above are devastating on their own. But the costs of repairing a house and replacing damaged items quickly add up. Making a hurricane rated garage door your first line of defense is an excellent financial strategy. Even though an impact-rated door may cost a little more upfront, the potential savings it can provide over years of storm protection make the increased cost worth it. It has also been shown to be one of the best investments you can make for your home's value.

Florida's WindCode
The higher likelihood of storms in Florida has led to the development of a stringent and specific WindCode. The Florida Building Commission oversees updates to the code, which governs both residential properties and commercial businesses. When you're working on getting your home up to WindCode standards, working with a professional garage door technician can be an invaluable benefit. A trained professional knows the code inside and out and can let you know what type of garage door will meet the code's requirements and protect your home best.
Clopay Residential WindCode® Calculator
Some of the components that go into determining your obligations under the WindCode include the following.
1. Home Construction
Whether your residence is a single-story or multistory dwelling is part of what determines how the WindCode applies to you. Taller structures may be at greater risk during a hurricane, so alternative protections may be necessary. Talk to a garage door professional to make certain of the requirements for your type of home.
2. Wind Speeds
The wind speeds in your area of the state also play a role in the WindCode. Especially in coastal areas, wind speeds are formidable, and the WindCode assigns each area a minimum wind speed that garage doors must be certified to protect against. It's important to know the minimum wind speed for your region to ensure you have the right door and the necessary level of protection.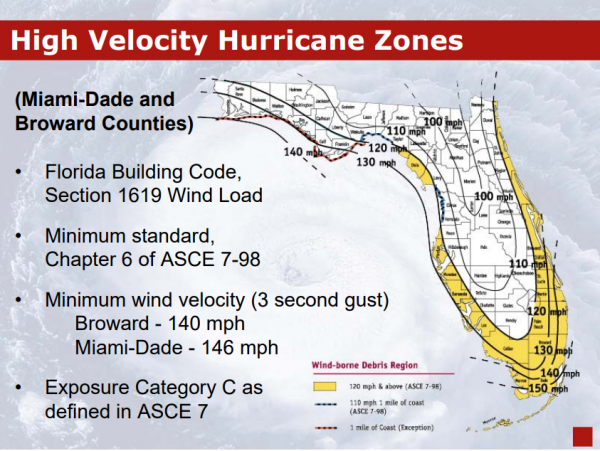 3. Windborne Debris Hazards
The likelihood of damage due to windborne debris also plays a role in WindCode requirements. Often, and again particularly in coastal regions, the strong possibility of windborne debris during a storm leads to more stringent specifications for your garage door. Be sure to look into the wind debris requirements for your home under the WindCode as well.
4. Exposure Levels
In Florida, all structures receive an exposure rating depending on their location. Exposure levels under the Florida WindCode are divided into three rating categories:
Exposure B: Exposure B applies to cities and suburbs, areas thickly covered with obstructions and forested areas.
Exposure C: Exposure C applies to open terrain that contains only a few obstructions. Grasslands and other types of flat open ground count as Exposure C. Miami-Dade and Broward Counties, for instance, meet the criteria for Exposure C, except where they meet the criteria for Exposure D.
Exposure D: Exposure D applies to coastal areas within 600 feet of the ocean. Exposure D also applies to areas within 600 feet of any other body of water that is at least 5,000 feet across.
Knowing the exposure level rating of your area will tell you something about what kind of wind, surf and debris damage your home is likely to face in a storm and will help you figure out what type of hurricane rated garage door you need. Talk to your local building-code authority or a garage door professional to learn more.
WindCode®-Rated Doors
WindCode®-rated doors have ratings that range from W-1 to W-9. A door with a rating of W-1 can protect a one- or two-story building from winds of up to 90 miles per hour. A door with a W-9 rating can protect a two-story building from winds of up to 150 miles per hour. The choice of WindCode® rating for your garage door will depend on the factors above, which describe your home's level of risk during hurricanes. One excellent option is to use the Clopay Residential WindCode® Calculator, which uses specifics about your home and location to tell you what type of WindCode® rating you need for your garage door.
The Appeal of Hurricane Rated Doors
Some homeowners may assume that because Florida hurricane rated garage doors are heavy and functional, they cannot match the same style and beauty of other quality garage doors. But hurricane-approved garage doors are just as classy, elegant and appealing as their standard counterparts. A hurricane-safe garage door merely takes the modern elegance of a standard door and adds subtle strength and power. The result is a door that both protects the home and pleases the eye.
Types of Residential Hurricane Rated Garage Doors
When you're looking for the best hurricane garage doors, Banko has many options. Here are some of the hurricane-proof garage doors we have for sale, all with WindCode® options:

Canyon Ridge Collection
The Canyon Ridge Collection is made up of energy-efficient carriage house doors. These doors contain a five-layer insulated steel base covered with layers of composite cladding and overlays to give the enchanting aesthetic appeal of real wood while offering superior hurricane protection. Their design gives the illusion of traditional swing-out carriage doors, but they operate upward with modern garage door openers. They also offer beveled, removable window-clip grilles for an attractive touch and convenient cleaning. These gorgeous doors add an elegant, old-century flair to your home while providing robust hurricane protection.
The Carriage House® Wood Collection
The Carriage House® Wood Collection doors also offer the traditional, elegant appeal of carriage house doors coupled with modern functionality and superior home protection. Their low maintenance makes them convenient to own, their safety rating makes them excellent defenses against Florida hurricanes, and their beautiful aesthetic appeal will complement your home's exterior and lend it an added touch of charm. Different types of finishes give these doors the homey, rustic look of real wood and still allow for the sturdiness of a metal frame.

Coachman Collection
The Coachman Collection, like the Canyon Ridge Collection, offers the look of carriage house doors whose elegant appearance conceals a tough, steel-and-composite frame. These doors consist of a strong steel base topped with wood-grain composite overlay for a beautiful finish. These doors offer many glass options, including clear, rain, seeded, frosted, insulated and obscured glass, and they come in a few different wood-grain finish options as well. These attractive and sturdy doors make wonderful options for enhancing the look of your home and protecting it from threatening hurricane-strength wind and rain.

Gallery Collection
The Gallery Collection also features elegant carriage house doors with robust underlying steel protection. These sleek, sophisticated doors offer one, two or three layers of grooved panel steel, as well as optional Intellicore® polyurethane, polystyrene or vinyl-backed polystyrene insulation for a boost in energy efficiency. The steel skins also contain a few different protective elements: a hot-dipped galvanized layer, a baked-on primer and a top coat. These features help ensure the doors can withstand brutal gale-force winds, even as they add charm and style to your home's exterior.

Grand Harbor Collection
The GRAND HARBOR Collection is made up of steel-and-composite carriage house doors as well. These doors offer one or two layers of strong steel protection against hurricanes, and the steel skins have layers of hot-dipped galvanized protection, baked-on primer and a top coat. The classic carriage house styles look fantastic as well. The doors also come with the option of vinyl-backed polystyrene insulation for extra energy efficiency, and four appealing paint colors offer attractive finishing options.

Modern Steel Collection
The Modern Steel Collection features heavy-duty, protective steel doors with attractive paint or wood-grain finishes. These doors incorporate one, two or three sturdy steel panels for maximum security, as well as protective steel finishes like a hot-dipped galvanized layer, a baked-on primer and a top coat. They also come in several appealing paint choices for a modern look or wood-grain finishes to give your door the classic appearance of real wood. And they offer the option of Intellicore® polyurethane, polystyrene or vinyl-backed polystyrene insulation for enhanced energy efficiency.

Premium Series
The Classic Collection Premium Series features both elegant construction and rugged storm resistance. They offer incredible durability, superior strength, excellent energy efficiency and a soft operation that lets your household go about its business in uninterrupted peace and quiet. These doors provide two layers of protective steel sandwiched with insulation, and they also come with options for steel thickness and insulation thickness, so you can design an ultra-rugged door to meet your needs. Eight factory-finished paint colors offer various classic neutrals, or you can choose a wood-grain finish to give your doors the beautiful, luminous look of real wood.
Commercial and Industrial Hurricane Rated Garage Doors

Banko Overhead Doors also offers a wide selection of commercial hurricane-proof garage doors for West Central Florida business owners. Just as you want to protect your home from the elements, you also want to protect your business — including people, equipment and inventory.
When you choose a hurricane rated garage door for your business, you get a product that can stand up to strong winds, heavy rains and the other weather challenges faced here in West Central Florida. You may find that an impact-resistant garage door for your business helps you obtain more favorable insurance rates, too. Either way, you save when you choose commercial hurricane-proof garage doors from Banko Overhead Doors.

Why Choose Banko for Hurricane Rated Garage Doors in West Central Florida?
When you think of hurricanes and garage doors, think of Banko. Since 1984, Banko has been serving homeowners and businesses from Lakeland to Sarasota to New Port Richey and everywhere in between, including the Greater Orlando Area as well. More than likely, if you have a garage, there is a Banko sticker on the door! When you choose Banko for hurricane rated garage doors and other products and services, you can count on garage doors and accessories from top brands as well as exceptional service. When you're facing the vicious winds of hurricane season, you want products and services you can trust to protect your home. Banko is the company that West Central Florida homeowners and builders have trusted for more than three decades for hurricane protection for garage doors.
For more information on hurricane rated garage doors in West Central Florida or to see our garage door collection, schedule a free estimate today.
Additional Resources on Hurricane Garage Doors:
Reviews
Banko rep was on time and took care of the two issues for me.
Yvonne Ferrario

,

Seffner, FL
Thank you for your kind work David Mixon. Got the job done quickly. I would go back to Banko for further garage door needs.
Teri Chhum

,

Sun City, FL
Our service was excellent. With a broken spring, at mid-day, we were unable to to operate the garage door. Banko Service was able to locate technician Paul in our area and added our work order to his already full schedule. He replaced both springs quickly by the end of the afternoon. We are grateful for the urgent service, as we had an appointment early the following morning.
Robert Frank

,

South Venice, FL
The serviceman called before he arrived and quickly fixed the problem. I appreciate Banko because they are fair in pricing and doesn't take advantage of customers like others I have used.
Linda Evans

,

Tampa, FL
The technician was very knowledgeable and professional. I will recommend Banko to anyone who need garage door services.
Anthony Blaylock

,

Gibsonton, FL
Excellent.
Conrad Milne

,

Wesley Chapel, FL
Kris (KR1) was Excellent!!.. Was on time, very courteous, professional, explained everything thoroughly. Answered all my questions.
Excellent customer service!! Pls give him a pay raise.
William Conguta

,

Oldsmar, FL
In and out in under an hour! Plus the tech explained how everything worked! Great Service.
The garage door opener was installed the next day after my call for service.
Gregory Kornacki

,

Land O'Lakes, FL
Arrived on time… very professional.. very helpful.
Timothy Cassar

,

Tampa, FL
Showed up on time and Paul did a great job installing new torsion springs on my garage door.
Henry Ryber

,

Osprey, FL
Paul arrived on time, spent time explaining how he would identify the problems with the garage door and fix it. He worked quickly, made the necessary adjustments, and returned the door to a functional state. We are very pleased with this experience, and the repair cost was reasonable. We will definitely use Banko in the future.
Dave Trexler

,

Venice, FL
The tech came in on time and finished the installation within an hour. Everything worked fine and he was able to provide some explanations on how to operate the new equipment.
Ray Durand

,

San Antonio, FL