Look What You Can Do With myQ® Smartphone Control
Keep your home or business connected and secure with the advanced Liftmaster myQ® Wi-Fi garage door opener from Banko Overhead Doors. Monitor your garage door status and receive alerts to your smartphone or internet-capable device. Browse our selection of overhead garage door openers to find the perfect device for your home or business today.
By using the sophisticated myQ® app, you can: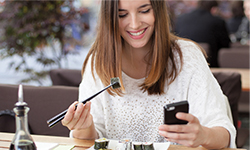 Monitor the status of your door.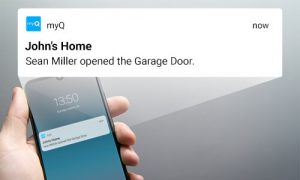 Receive garage door activity alerts.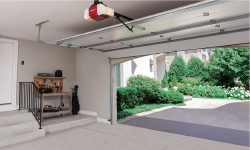 Open or close your garage door from anywhere via your smartphone.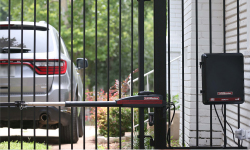 Open or close your gate from anywhere via your smartphone.
myQ® Features for Home
Garage doors are one of the main entryways into your home. Protect your home with smart garage technology. Some features of the garage door opener Liftmaster myQ® app for homeowners include:
Control from everywhere: Did you leave your home in a hurry and can't remember if you closed your garage door? With the myQ® app, you can check if your garage door is open and close it from your smartphone. Users also have the option to preset times for the garage door to open or close.
Guest access: Give your guests limited access to enter your home through the garage within the myQ® app or with a unique pin code.
Unique notifications: Receive real-time information about your garage door with a distinctive sound on the myQ® app.
myQ® Features for Business
As a business owner, your priority is keeping your business and property safe 24/7. By using Liftmaster myQ® garage door opener, you can easily keep your business secure with features such as:
Real-time updates: Receive up-to-date information of door, dock and gate activity to guide daily facility operations.
Expense reports: Learn which doors are efficient and which could use an upgrade.
Safety alerts: Keep your employees safe with real-time status updates of each door and notifications of possible safety concerns.
Track equipment: Receive alerts when your garage door requires maintenance.
myQ® Compatibility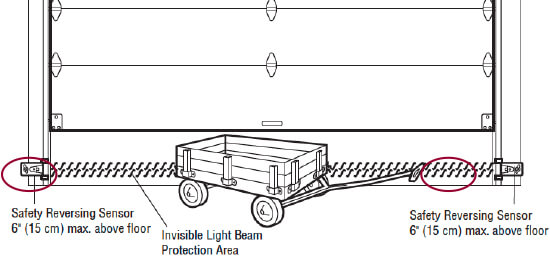 Photo Eyes
To determine if your garage door is compatible, first check to see if your garage door has photo eyes.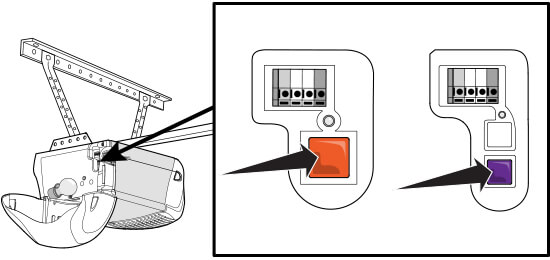 Program Button Color
Next remove the light cover of your opener, and look for the program and color buttons.
myQ® Compatible Garage Door Openers
Most garage door opener brands manufactured after 1993 are compatible with myQ® garage door technology from Liftmaster®. A compatible garage door opener will have safety sensor eyes and can connect to Wi-Fi. Some compatible garage door opener brands include:
Chamberlain®: All models
Liftmaster®: All models
Craftsman®: All models
Raynor®: All models
Genie®: Beltlift, ChainGlide, ChainLift, ChainMax, IntelliG, PowerLift, PowerLift Excelerator, PowerMax, ProMax Stealth, QuietLift, ReliaG, DirectLift, DirectLift Plus, Excelerator and Gpower
Overhead Door®: Destiny, Legacy, Odyssey, Overdrive, Phantom, Python, Signature, SilentMax, Standard
Linear®: All models
Wayne Dalton®: DoorMaster, iDrive, ProDrive,
Access Master®: All Models
BuildMark®: All Models
Do-It®: All models
Master Mechanic®: All models
AssureLink®: All models
True Value®: All models
Garage Access®: All models
Merlin®: Only models with a myQ® logo
Sommer®: Direct Drive
Guardian®: All models
Xtreme Garage®: All models
Performax®: All models
Complete Your Experience by Connecting to myQ® Compatible Devices and Platforms
The Liftmaster garage door myQ® is compatible with many top-rated devices and platforms to help customers customize their myQ® to interact with their favorite devices. Integrate your myQ® with your favorite smart tools to easily monitor your home systems from one location. Some devices and platforms you can integrate and connect with include:
Amazon® Key: Amazon drivers will receive a temporary access code to your garage for secure package delivery.
Google Assistant®: Open your garage door with your voice or ask your google assistant to confirm the real-time status of your garage door.
Alarm.com®: Connect all your security devices on one platform to allow you the peace of mind that your garage and home are safe and secure.
Apple HomeKit®: Open and close your garage door or check its status through voice activation.
Clare Controls®: Conveniently check the status of your garage door and increase the security of your home.
IFTTT®: Create a customized smart garage system through the IFTTT® app.
Resideo®: Use the Resideo® app to access and control all your home automation devices, such as your garage door, in one place.
Ring®: View the status of your garage door and receive push notifications to ensure your garage doors are secure at all times.
Vivint®: Protect and manage your garage door from anywhere with the Vivint app.
My Mitsubishi® Connect: Operate your garage door from anywhere using your car's in-dash touchscreen.
Evolved Vehicle Environments: Tesla® owners can now monitor and control their garage doors through their in-dash touchscreens.
Alpine Electronics®: Stay connected to your garage or monitor your opener with voice control when you pair your myQ® opener with the Alpine Connect® app.
Steer Tech®: Pair your myQ® garage door Liftmaster app with Steer for self-parking in your garage and auto summon capabilities for all your vehicles.
Restrictions:
For myQ® Garage to be installed and the door controlled by the myQ® app, the following restrictions must be met.
The garage door must be a sectional garage door.
If myQ® Garage is installed on a one-piece door, then myQ® Garage can only be used in the "Monitor Only" mode (not programming the Wi-Fi Hub to the door opener).
The garage door opener system must have IR photo eyes properly installed.
Stay Connected With Banko Overhead Doors
Banko Overhead Doors offer an advanced line of garage door openers featuring myQ® Liftmaster garage door opener technology to improve your home's safety and security. With over 30 years of industry experience, our team is a trusted source to help you select and install a new garage door opener in your home or business.
Let Banko Overhead Doors give you peace of mind that your home is well protected with a new myQ® garage door opener today! Complete our online contact form for more information about our services.
Additional myQ – Home and Business Automation Resources