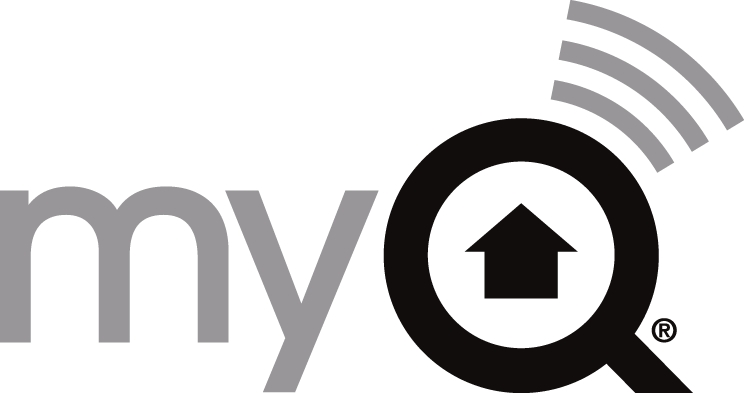 Home and business automation is a sweeping trend that more and more people are taking advantage of. Why? Because automation can make your home safer, more accessible, more convenient and more streamlined as you seek to lead the lifestyle you've always wanted.
The myQ® App is a home automation system that gives you greater control of your garage door. What exactly does the myQ® home control app do for you? Here's a look at the many benefits of the myQ® mobile app as well as additional details on how to get and use it.
What Does the myQ® App Do?
The myQ® garage door opener app puts the power of automation right on your smart device. When you have a myQ®-controlled garage door, you're able to:
Monitor Status: We've all been there. We're at work or out of town and we begin to wonder if we forgot to shut the garage door. It happens. But you no longer need to wonder when using the myQ® home control app. With myQ®, you can monitor the status of your garage door from anywhere in the world that has an internet connection. Traveling overseas? You can still check on the status of your garage door.
Get Alerts: Taking status to a new level, you can also get push alerts when your garage door status changes. When it opens or when it lowers, you get a message pushed to the screen of your smart device, which lets you effortlessly keep tabs on the safety and security of your home.
Provide Access: Leaving keys for others is a thing of the past when you have the myQ® garage door opener app. You can also open and lower your garage door from anywhere in the world that offers an internet connection. This is great for when you have guests coming in from out of town who will arrive home before you do or when you have someone you trust visiting your home to do work (a housekeeper, for example) and you'd prefer not to leave a key.
In short, taking advantage of the myQ® garage door opener app enhances your home in every way, allowing you greater flexibility and security.
How Does myQ® Work?
With myQ®, any homeowner can experience the benefits of the future today with advanced monitoring and safety and security features. myQ® works by connecting your garage door opener to your home's WiFi connection, then communicating with you via the sophisticated myQ® app.
The latest garage door openers from LiftMaster® are manufactured with built-in connectivity, but for homeowners with older units, you can separately purchase a myQ® kit. The kit is made up of two pieces of hardware:
The base station that attaches on the ceiling of your garage next to the garage door opener
A sensor that is fixed to the actual garage door
After you've installed the hardware, you'll download the myQ® app on your smartphone and create a myQ® account. Follow the onscreen prompts to connect your garage door opener and myQ® to your home's internet and associate your machine model to the app. Then, you can begin to control and monitor your garage door from anywhere in the world.
Convenient and Customized Home Automation With These myQ® Compatible Products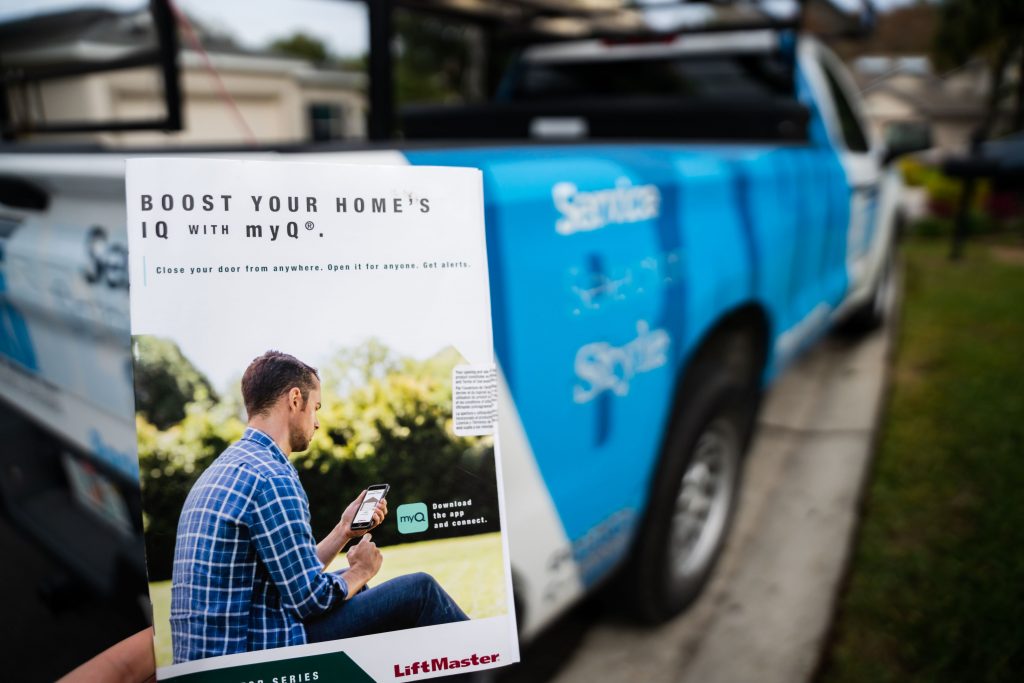 With the hustle and bustle of everyday life, it's becoming more common and trendy for homeowners to install advanced, comprehensive smart home products to allow for ongoing and convenient monitoring and control. For the best and most streamlined user experience, myQ® has paired with several popular, top-rated brands and products, so your smart devices and home security systems can seamlessly interact with each other, and you can control them all in one place.
Several myQ® compatible products include:
Honeywell Total Connect: Through the Honeywell Total Connect 2.0 app, you can add your myQ® account to their monitoring interface and easily control your garage door opener, lights, security system and locks. Through this app, you can even set up helpful alerts.
Nest: In the myQ® app you'll have the option of pairing your myQ® monitoring to your Nest device control, so you can have complete garage door control and the ability to tweak your indoor temperatures, check your smoke and carbon monoxide detector and access your Nest cam.
Alpine Connect: With the advanced Alpine Connect navigation system, you can conveniently have access to the best mapping program available, but you can also pair your myQ® and monitor it from inside your car. By linking your myQ® to Alpine Connect, you can even create a geofencing grid that opens your garage door when you're close to home.
Tesla EVE Connect: If you drive a Tesla Model S or Model X, then you can have the convenience of garage door monitoring and access right from your car's in-dash screen. Simply connect your myQ® profile with Tesla's EVE Connect — by purchasing either a monthly or annual subscription — and you'll have the privilege of garage door and light control, as well as geofencing capabilities.
Google Assistant: Connect your myQ® with your Google Assistant or Google Home device, and you'll have the ease and flexibility of having Google close your garage door as needed, turn on your garage lights and keep you up-to-date on the status of your garage.
myQ® isn't only compatible with the above devices — you can also connect your myQ® to your Apple HomeKit, Wink devices, XFINITY Home and IFTTT.
Pairing Your myQ® Compatible Devices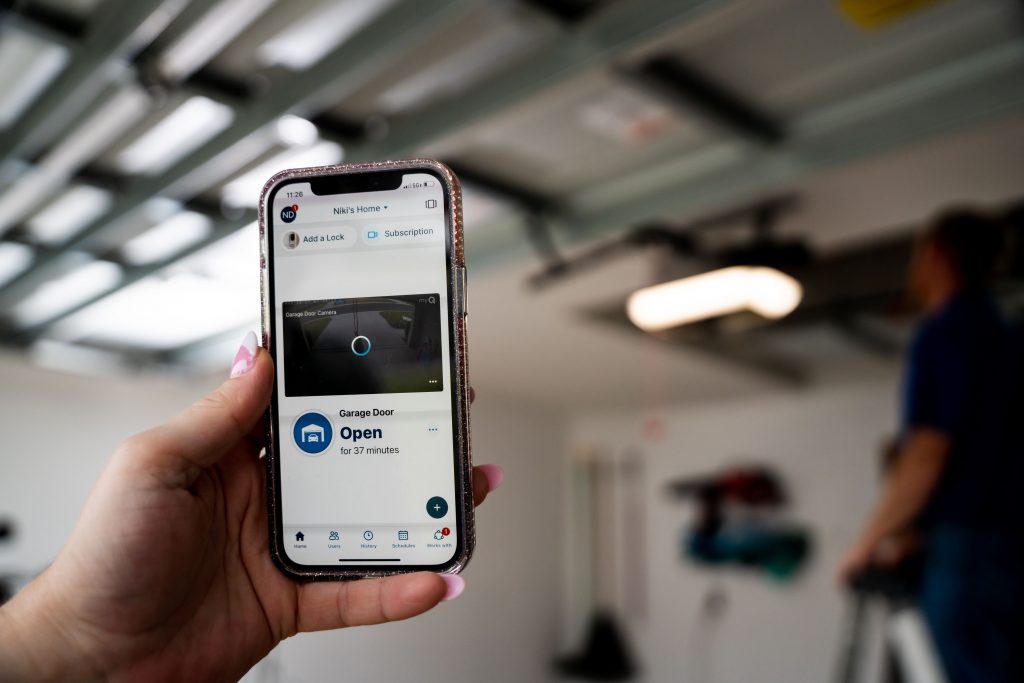 Linking your myQ® to a third-party smart home account is easy. With a few simple steps, you can achieve whole-home connectivity from one convenient app. Each myQ® compatible device is unique, but for most products, you will either link your accounts using the myQ® app or add your myQ® account through the third-party app program.
For Nest thermostats, cameras, smoke detectors and carbon monoxide alarms, pair the two devices and user profiles using the myQ® app. Before beginning the pairing process, make sure you have an active Nest and myQ® account. Then, follow these steps:
Open the myQ® app and find the Account tab
Click on the Account Linking option and locate the Nest or other myQ® capable device you'd like to link
Select the Launch or Link button to complete the account pairing process
Verify the profiles are linked by later locating the device in the Account Linking page and seeing if the Launch and Unlink buttons are your two available action items — if the screen displays Launch and Link buttons, then the two are not successfully paired
If you're hoping to control your myQ® alongside Tesla's EVE Connect, Alpine Connect or Honeywell's Total Connect 2.0, you'll link the programs using the third party program's app and adding myQ®.
Genie, Chamberlain and LiftMaster myQ® App Options — Plus More
Concerned about compatibility with your garage door opener brand? You shouldn't be. myQ® is compatible with almost all major garage door opener products, including those made by Lift Master, Genie, Chamberlain, Craftsman, Linear, Overhead Door, Raynor, Stanley, Wayne Dalton and others.
Check with your provider before you move forward with a purchase, but know that the myQ® mobile app is designed to work with a broad array of different types of garage door openers.
Get the myQ® App at Banko
Do you need help using the Lift Master myQ® app garage door opener or integrating myQ® with a garage door opener of another brand? Let Banko Overhead Doors help. We are your garage door and garage door opener professionals in the Tampa Bay area as well as throughout Hillsborough, Pinellas, Pasco, Hernando, Manatee, Sarasota and Polk Counties.
Contact us today to schedule an appointment for an estimate.
---
Additional Resources on the myQ® App:
---