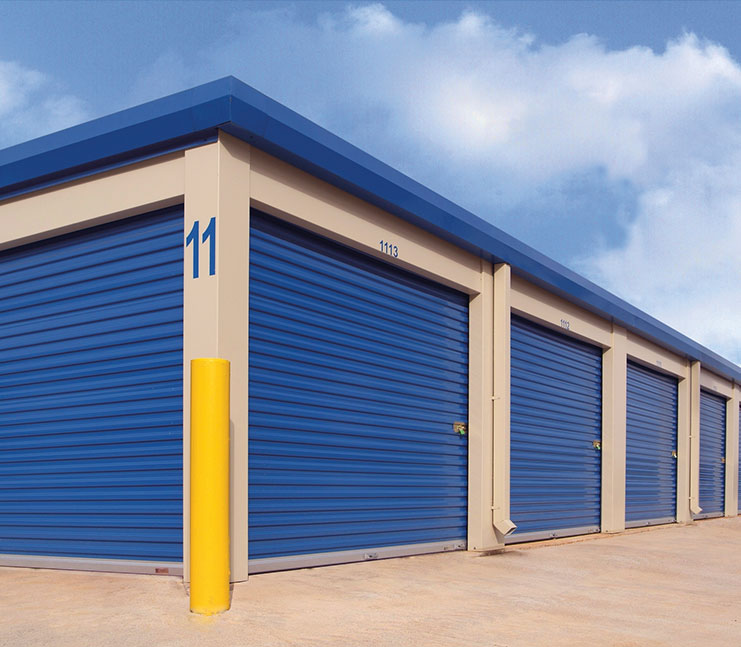 Economical & Durable Roll-Up Sheet Doors
Storage units, loading docks, service buildings and other business facilities rely on roll-up garage doors to seal off specific areas and provide security and protection. An overhead roll-up door is an economical and durable choice, and Banko Overhead Doors has a range of solutions for your needs.
Our Selection of Commercial Roll-Up Doors for Sale
At Banko Overhead Doors, we offer a wide selection of overhead roll-up garage door options, including:
Light-duty sheet doors: For indoor spaces, light-duty sheet doors are a cost-effective solution.
Heavy-duty roll-up garage doors: We have heavy-duty roll-up doors for loading bays and industrial applications as well as any need where durability is important.
Roll-up overhead doors designed for wind: In West Central Florida, high winds are common. Banko Overhead Doors has roll-up doors that can withstand extreme weather to protect your inventory or vehicles.
Self-storage commercial roll-up doors: We can help you find roll-up doors for your self-storage business, including doors for storage units of different sizes.
A wide range of colors: With a variety of color options for roll-up doors, Banko Overhead Doors can help you incorporate your new purchase into your business's existing color scheme or branding guidelines.
Chain hoist or electric operator kit operation: Our team of professionals can help you operate your roll-up doors in the most convenient manner possible.
Insulated commercial roll-up doors: If you have temperature-sensitive inventory or want to offer climate-controlled self-storage units, we have options. Insulated roll-up doors also offer some noise muffling properties.
Uninsulated roll-up doors: If you are not storing anything sensitive and are not concerned about utility costs, uninsulated roll-up doors are an economical choice.
Why Contact Banko Overhead Doors for Roll-Up Sheet Doors?
Banko Overhead Doors has been helping West Central Florida businesses find the right garage doors and sheet doors since 1984. In addition to new doors, we offer installation, repairs, 24/7 emergency repairs, garage door maintenance and other services for commercial garage doors. We're proud to offer rapid response times and no hidden costs.
Reviews
Excellent all around. I am very pleased with the pleasant and professional way your office staff and the technician (who solved the problem ) responded to my garage door repair need. Thank you.
Esther Ohlrich

,

Palmetto, FL
The tech, Mark Stillwell, was terrific. He called 30 min before he arrived and worked very efficiently and masterfully. He answered my questions and tightened the cable as well as replace the springs. We are very pleased with the service!
Christine Recht

,

Davenport, FL
Mike arrived on time and was fast professional and easy to talk to. Installation was smooth and before he left Mike took the time to make sure all my questions were answered and that I was completely satisfied with everything.
I recommend Banko to anyone wanting fast affordable quality work!
William Mollohan

,

Tampa, FL
Thank you!
Bob Chrystie

,

Sun City, FL
Brett was very polite, friendly and explained everything!
Margaret McDonald

,

Trinity, FL
Thank you Banko, you are the best in the business! You called before you arrived, acknowledged the issue, and resolved the issue quickly without hesitation. Plus added another product with and additional remote all under 30 mins. BANKO you are AWESOME! I recommend your services to everybody that can appreciate a company with that level of professional and most importantly good honest service.
Normeatha Malphus

,

Riverview, FL
Customer Service was excellent. They responded promptly and professionally to repair a broken spring.
Terence Bouchard

,

Venice, FL
Mark was terrific he did a great job Hes a real team player
Ellen Lieberman

,

Clermont, FL
From my phone call, to your technician Sefferino's excellent response, diagnosis, and explanation of the problem and needed solution, everything was done in a courteous and professional manner. I'm more than happy to recommend Banko to anyone in need of a professional garage door company. Thank you.
Barry Kubler

,

Plant City, FL
Excellent. On time. Thorough and completed in a timely manner.
John Onufrock

,

Venice, FL
Excellent
Michael Walters

,

Thonotosassa, FL
I am a repeat customer. New tech today who was very thorough and helped me to feel secure about all work done.
patricia trapnell

,

Port Richey, FL