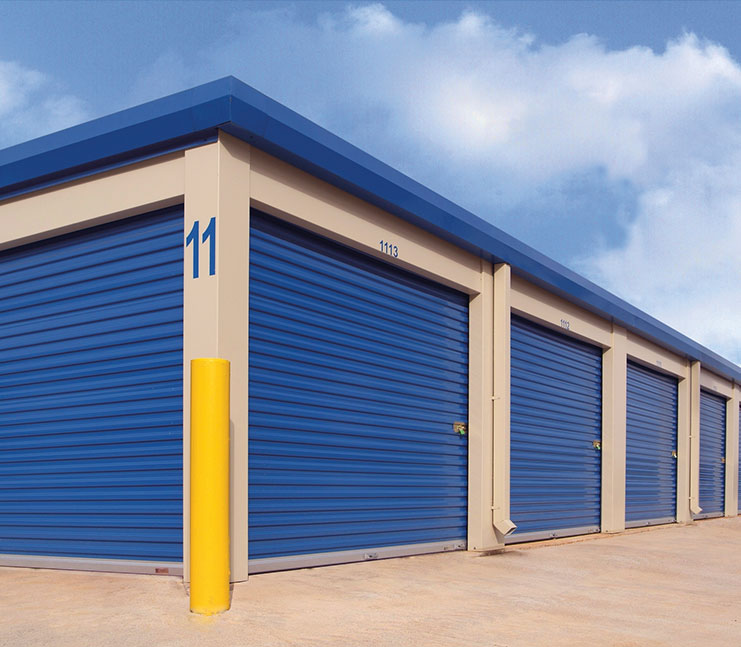 Economical & Durable Roll-Up Sheet Doors
Storage units, loading docks, service buildings and other business facilities rely on roll-up garage doors to seal off specific areas and provide security and protection. An overhead roll-up door is an economical and durable choice, and Banko Overhead Doors has a range of solutions for your needs.
Our Selection of Commercial Roll-Up Doors for Sale
At Banko Overhead Doors, we offer a wide selection of overhead roll-up garage door options, including:
Light-duty sheet doors: For indoor spaces, light-duty sheet doors are a cost-effective solution.
Heavy-duty roll-up garage doors: We have heavy-duty roll-up doors for loading bays and industrial applications as well as any need where durability is important.
Roll-up overhead doors designed for wind: In West Central Florida, high winds are common. Banko Overhead Doors has roll-up doors that can withstand extreme weather to protect your inventory or vehicles.
Self-storage commercial roll-up doors: We can help you find roll-up doors for your self-storage business, including doors for storage units of different sizes.
A wide range of colors: With a variety of color options for roll-up doors, Banko Overhead Doors can help you incorporate your new purchase into your business's existing color scheme or branding guidelines.
Chain hoist or electric operator kit operation: Our team of professionals can help you operate your roll-up doors in the most convenient manner possible.
Insulated commercial roll-up doors: If you have temperature-sensitive inventory or want to offer climate-controlled self-storage units, we have options. Insulated roll-up doors also offer some noise muffling properties.
Uninsulated roll-up doors: If you are not storing anything sensitive and are not concerned about utility costs, uninsulated roll-up doors are an economical choice.
Why Contact Banko Overhead Doors for Roll-Up Sheet Doors?
Banko Overhead Doors has been helping West Central Florida businesses find the right garage doors and sheet doors since 1984. In addition to new doors, we offer installation, repairs, 24/7 emergency repairs, garage door maintenance and other services for commercial garage doors. We're proud to offer rapid response times and no hidden costs.
Reviews
Juan was very professional and explain all my options. After installation, he went over the operation of the new garage opener and answer all my questions.
Bill Lum

,

Tampa, FL
My repairman was EXCELLENT! He got everything working, was polite, and explained what was wrong! Thank you
Cheri De Geere

,

Sun City, FL
My experience with Banko Overhead Doors was excellent. The C/S rep who booked the appointment was pleasant, efficient and professional. Our service technician Paul from the Venice office was also excellent. He was very thorough and explained the proper maintenance for the doors and door opener. Both interactions were a 10 on the scale of 1 to 10.
Joe Noti

,
The Banko technician did a excellent job . I am very grateful for the work he did in my house.
Tina Gil

,

Tampa, FL
Excellent service and tech.
Anthony Delrio

,

Land O'Lakes, FL
Just great Elvis was very Professional and he was very neat in what he did. My wife and I really appreciate the service thank you all again for fixing our garage door.
Autry&leslie Denson

,

Lakeland, FL
Absolutely great service. Very punctual, and even early sometimes. Always called ahead to let us know they were in route. Work was excellent and completed quickly. The tech was patient with us as we were out of town and running a little late for our appointment. Highly recommend for any garage door needs.
Donald Sanchez

,

Brandon, FL
It was great! Technician knew the problem as soon as he looked at it and was able to fix it. Very happy with his service.
Diane Cleveland

,

Safety Harbor, FL
Outstanding service by Johnny Torres, one of Banko service technicians. He was on time, polite, efficient and knowledgeable.
William Martello

,

Tampa, FL
Very positive. Dave was experienced, neat & fast. A pleasure to work with Banko!
Richard Marsiglia

,

Sun City, FL
Juan did a great job. Honest, hard working and did excellent work. Very professional.
Clif Dell

,

Temple Terrace, FL
The tech that came out was very courteous and conscientious about his job. He went to work right away. I really appreciated his explaining everything to me. Thanks
Cindy Dupre

,

Brandon, FL