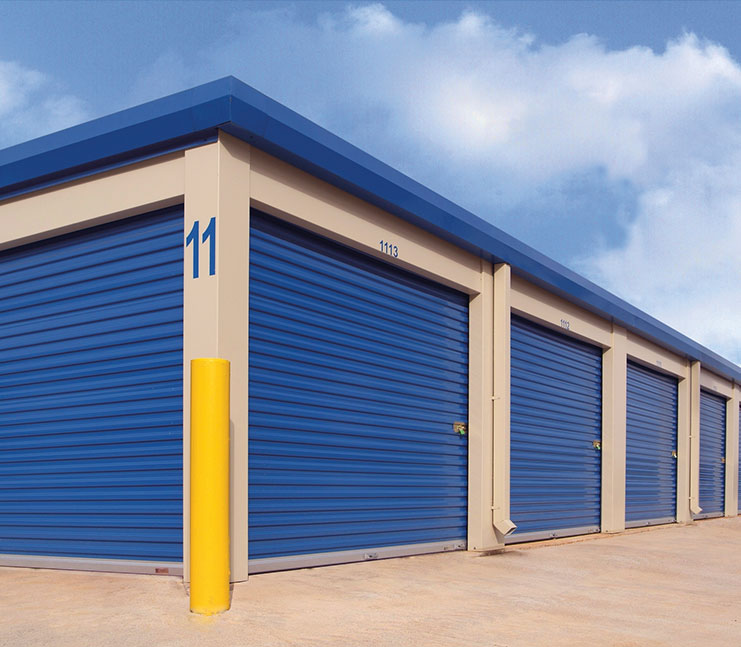 Economical & Durable Roll-Up Sheet Doors
Storage units, loading docks, service buildings and other business facilities rely on roll-up garage doors to seal off specific areas and provide security and protection. An overhead roll-up door is an economical and durable choice, and Banko Overhead Doors has a range of solutions for your needs.
Our Selection of Commercial Roll-Up Doors for Sale
At Banko Overhead Doors, we offer a wide selection of overhead roll-up garage door options, including:
Light-duty sheet doors: For indoor spaces, light-duty sheet doors are a cost-effective solution.
Heavy-duty roll-up garage doors: We have heavy-duty roll-up doors for loading bays and industrial applications as well as any need where durability is important.
Roll-up overhead doors designed for wind: In West Central Florida, high winds are common. Banko Overhead Doors has roll-up doors that can withstand extreme weather to protect your inventory or vehicles.
Self-storage commercial roll-up doors: We can help you find roll-up doors for your self-storage business, including doors for storage units of different sizes.
A wide range of colors: With a variety of color options for roll-up doors, Banko Overhead Doors can help you incorporate your new purchase into your business's existing color scheme or branding guidelines.
Chain hoist or electric operator kit operation: Our team of professionals can help you operate your roll-up doors in the most convenient manner possible.
Insulated commercial roll-up doors: If you have temperature-sensitive inventory or want to offer climate-controlled self-storage units, we have options. Insulated roll-up doors also offer some noise muffling properties.
Uninsulated roll-up doors: If you are not storing anything sensitive and are not concerned about utility costs, uninsulated roll-up doors are an economical choice.
Why Contact Banko Overhead Doors for Roll-Up Sheet Doors?
Banko Overhead Doors has been helping West Central Florida businesses find the right garage doors and sheet doors since 1984. In addition to new doors, we offer installation, repairs, 24/7 emergency repairs, garage door maintenance and other services for commercial garage doors. We're proud to offer rapid response times and no hidden costs.
Additional Resources on Commercial Garage Doors:
Reviews
Excellent service. Quick and professional. I was given a window for the day and then told they would call 30 minutes prior to arrival. That allowed me to run errands while waiting for the call. I couldn't expect a service call to go any better. Thank you and I would recommend 10 out of 10 times.
Shaun Sugrue

,

Nokomis, FL
Very professional installer and very quick had the old one down and the new opener installed in less than an hour.
Gloria J & Robert K Harmony

,

Tampa, FL
Excellent, the tech Mike is awesome.
Robert Cano

,

Carrollwood, FL
Excellent. Robert was extremely efficient and went the extra mile to resolve our problem. Price for repairs was very competitive.
Eric Feder

,

St. Petersburg, FL
I had a great experience working with Banko to repair a malfunctioning garage door. This was the second time they\'ve come out to assist (not their fault, I\'ll look to my builder and installer on that) and I\'ve had the pleasure of working with Chris (I hope I spelled his name correctly). He was prompt, courteous, and very knowledgeable. He took extra time to answer my questions and walk me through the issues my garage door was encountering and how he was going to fix it. He even gave me maintenance tips on how to keep my garage door in the best shape.
Andy D

,

Riverview, FL
Mike was timely, professional, and proficient. It was a pleasure.
Jacquelyn James

,

Tampa, FL
Knowledge technician!! Great customer service.
Tommy George

,

Riverview, FL
Great from start to finish. The young lady in customer service was polite and knowledgeable and got me on the schedule next day. The gentleman that did the work called 30 minutes ahead, showed up on time, explained it all to me and reviewed pricing before starting. He was in and out in under 30 minutes and my door is working perfectly. Great experience, well done all around!
Pat O'Donnell

,

Trinity, FL
A few months ago your tech "tuned up" our 2 year old 2-car door which started to act erratically
He was the most professional, knowledgeable, experienced and courteous tech I have ever dealt with. Very thorough. Door now very smooth.
Ron Simpson

,

Land O'Lakes, FL
Outstanding. Gene and Tom were professional, timely and did a great job—Thank You. My location is Wimauma, FL., but your system would not let me put that in, so I just picked one that worked
Dennis Lombardi

,

Ridge Manor, FL
Had a broken cable and springs replaced. Paul arrived in the service window and got right to work. Finished the job quickly and provided some maintenance tips to keep my door moving smoothly!
Excellent service Paul! Thank you.
Mike Caldwell

,

Venice, FL
The tech was great, very efficient and professional.
Mo sallout

,

Tampa, FL