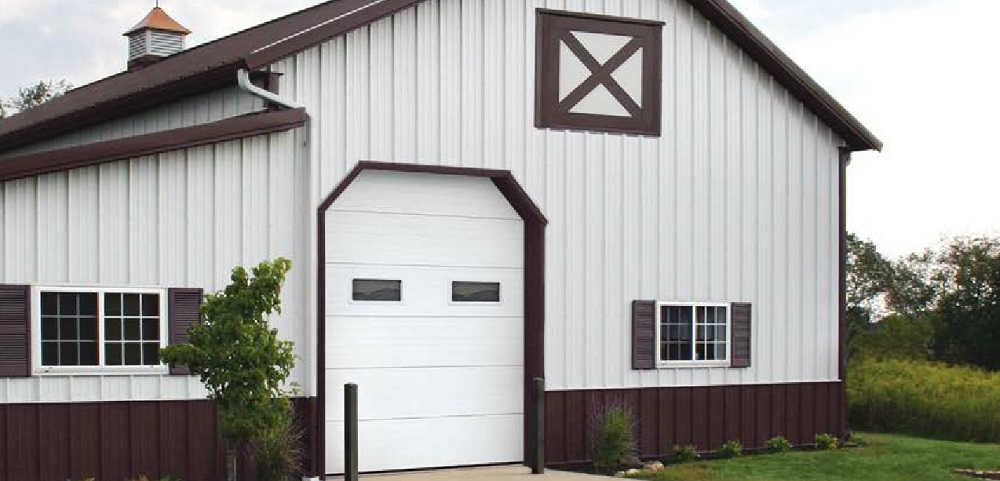 When choosing a garage door for your home or business, you have two main options. Many people looking for a residential garage door opt for a traditional sectional garage door. This style pulls the door into the garage on horizontal runners, resting the open door near the garage ceiling.
However, roll-up garage doors, or rolling steel garage doors, also provide unique benefits. These doors are most often used for commercial and industrial purposes, but they can also be ideal for homes, sheds and garages.
What Is a Roll-Up Garage Door?
While the name roll-up garage door might sound unfamiliar to you, you've probably seen them many times at rental centers, distribution centers and government buildings. Roll-up garage doors are made of horizontal sheets of steel, and they don't run on a horizontal track system. Instead, when the door is opened, the steel sheets coil up in a roll at the top of the inside of the garage.
Types of Roll-Up Garage Doors
There are two main types of roll-up garage doors:
Roll-up sheet doors: These are mostly found in backyard sheds, mini-warehouses, storage facilities and loading docks, as well as other commercial operations. Sheet doors are made of one large piece of steel. These doors are best used in light commercial application and are the most inexpensive type of roll-up garage door.
Rolling steel doors: These doors might look the same as a sheet door, but they don't work exactly the same. The rolling steel door is made of metal slats rather than one large steel sheet. These doors are primarily used in industrial and high-security areas such as pharmacy counter windows, factories and transit centers.
Benefits of Roll-Up Garage Doors
Choosing a roll-up garage door has many advantages over a traditional sectional garage door. Some of these include:
Heightened security: The material in roll-up doors provides more security than a sectional door. The strength of the steel ensures intruders are kept out, and your valuables are locked in. These doors also provide fire resistance and are less susceptible to vandalism.
Durability: Steel easily resists both harsh weather conditions and everyday wear and tear to ensure your roll-up garage door lasts far longer than traditional garage door materials.
Ability to save space: Rather than opening along tracks, roll-up doors are folded into a roll. While sectional garage doors are stored inward where space has to be allotted for them, both commercial and industrial roll-up garage doors are rolled into a small space, taking up very little overhead room.
Ordering Your Roll-Up Garage Door
At Banko Overhead Doors, we have been providing top quality products and customer service to West Central Florida for over 30 years. We offer both commercial roll-up sheet doors and industrial rolling steel service doors. Whether you need a roll-up garage door or any other type of garage service, our full-time employees are trained to take care of your garage door needs. Schedule an appointment with us today for your free garage door installation estimate.