To achieve the perfect blend of contemporary features, improved efficiency, added curb appeal and increased value, you may consider modernizing your home's exterior to today's design aesthetics and finishes. When deciding which home improvement project to prioritize, it's crucial to consider your return on investment. A new garage door is one of the fastest, most affordable and lucrative redesign projects you can embark on.
How Much Value Does a Garage Door Add to Your Home?
Many homeowners use their garage doors as their primary entrance, and a new garage door can add convenience and smoother operations. A new garage door is also a valuable asset to your home because they typically offer the following benefits.
Improved energy efficiency: Many garage door manufacturers use high-quality, customizable materials, including an added insulation layer. With these improvements, modern garage door designs are much more energy-efficient than their predecessors. With better air transference control, your indoor environments can remain more consistent. Your HVAC system won't have to work as hard or run as frequently, and you'll save money on annual heating and cooling costs.
Better security: Many older garage doors have flaws that intruders can exploit to enter your home. For example, they don't lock as securely and have poor opener motors, making them easier to lift from the outside. They also lack rolling door code technology, which makes it possible for someone to duplicate your opener frequency. Newer garage doors feature better, more secure locking systems and come with openers that create unique codes every time you use them, making them impossible to duplicate.
Less maintenance and repair: Well-maintained garage doors have an approximate 30-year life span. Over the years, your garage door will deteriorate due to constant exposure to the elements and general wear and tear. You may need to replace parts like springs, rollers and bearings or lubricate them to ensure they stay in good working condition. A brand-new garage door will be maintenance-free for a long time.
Improves practicality: Garages are versatile spaces that can safely house your vehicles or serve as a workshop or storage unit. Installing a new garage door adds value to your home by protecting your items from moisture and humidity during extreme temperatures. A garage door with the appropriate R-value insulation regulates the temperature inside your garage based on the seasons, so you can rest assured your belongings won't suffer any damage.
Modern safety features: Along with better security systems, new garage doors also feature the latest safety improvements, like photo eye sensors and automatic reverse systems, so the door cannot close on a person or object. They make less noise than old, squeaky garage doors and open and close faster. The auto-reverse feature is an excellent option to consider when you're shopping around for a new garage door. It kicks in if the photo eye sensors are faulty and automatically reverses when it touches an object, preventing harm or damage.
Enhanced aesthetic appeal: A new garage door adds value to your home by showing visitors you care about its condition and appearance. Modern garage door styles are an excellent way to give your exterior a facelift or completely revamp its beauty.
Increased home value: Curb appeal is a significant selling point when you put your house on the market. Most contemporary garage door designs can accentuate your home's architecture and natural charm. This boost in visual interest, alongside improved garage door functionality and efficiency, appeals to potential buyers.
Return on Investment on Upgrading Your Garage Door

Do upgraded garage doors increase a home's value? We believe so. Installing a new garage door can offer one of the best home improvement ROIs —  homeowners can expect to receive an average of 85%, but you may recoup even more.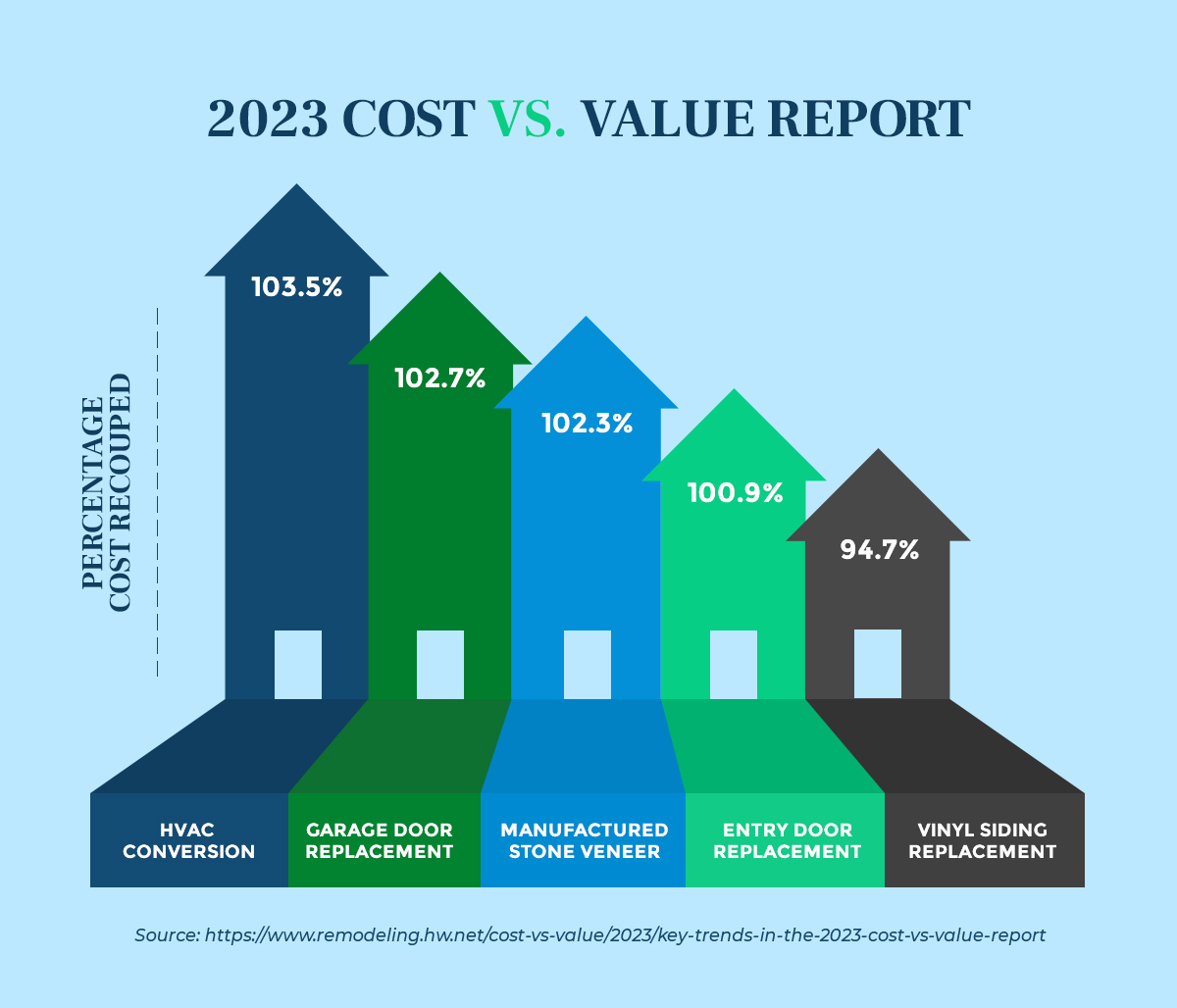 The 2023 cost vs. value report ranks garage door replacements high on the list for exterior renovations. The top five exterior remodeling ROI percentages are as follows.
HVAC conversion: 103.5%
Garage door replacement: 102.7%
Manufactured stone veneer: 102.3%
Entry door replacement: 100.9%
Vinyl siding replacement: 94.7%
While you may believe interior upgrades will deliver the most bang for your buck, this report reveals more value in focusing on the exterior. After all, a property's curb appeal is a prospective buyer's first impression. If the outside is attractive, they will naturally associate it with an interior that matches. A home exterior that looks dingy or outdated may deter buyers, so adding a new garage door will increase your selling price.
Reimagine Your Home With Banko Overhead Doors

How does a new garage door increase home value? Find out by browsing the greater Tampa area's largest selection of high-quality, beautiful residential garage doors. At Banko Overhead Doors, our skilled and creative team can work closely with you to find products and finishes that best accentuate your home's exterior, suit your tastes and fit your budget.
We hope this article answers all your questions about how a new garage door can increase your home's value. For assistance with selecting and designing a new garage door, consult with our professionals today by calling 813-737-0675 or completing our online contact form to request an estimate.
---
Additional Resources on Garage Door Tips and Tricks:
---