Table of Contents
---
Whether you're designing a new home or are looking for ways to improve your current home now, don't overlook the significance of your garage door. If you find yourself needing to replace an old garage door, it's best to consider all your options rather than immediately assuming the right choice is something similar to what you had before.
When it comes to choosing garage doors, you could opt for a typical metal garage door in white or beige and have your garage look the same as most other garages you will see in an average suburban neighborhood. There is nothing wrong with these materials. However, some homeowners or architects want their garages to stand out or to match the uniqueness of the home more accurately.
If you're in search of a way to add uniqueness or simple, timeless elegance to your home, consider a wood garage door. These doors can improve a home's curb appeal dramatically and can help your garage look more like a part of your home rather than a purely practical construction.
Whether you are just starting to learn about wood garage doors for your home or are confident you want to have them installed, this wood garage door guide is for you. We will look at the advantages of wood garage doors, different types you can choose from and the best types of timber for your wood garage doors. We will also cover the option of faux wood garage doors as well as how to maintain wood garage doors.
Advantages of Wood Garage Doors

If you are considering having wood garage doors installed at your home, you want to make sure you understand the advantages of wood garage doors. There are many reasons why a wood garage door can be the best choice for your home. The pros of wood include its sustainability as a material, its timeless beauty, the way it can be customized and its strength.
1. Eco-Friendly Material
Many homeowners care deeply about being environmentally responsible. Your home's building materials and your use of energy are both critical to your home's overall environmental impact. Since wood is a renewable resource, it is considered a sustainable material. It also lasts a long time if you maintain it properly. This long life cycle makes wood doors even more eco-friendly. Some garage door manufacturers even commit to sustainable practices in their wood sourcing and other aspects of their manufacturing.
While wood may be the most eco-friendly garage door material, that doesn't mean other materials are environmentally irresponsible choices. For example, if you opt for a metal garage door, you may be able to recycle this material.

2. Curb Appeal
The primary reason many homeowners consider wood garage doors is because of their timeless beauty. They have an elegance about them that is difficult to match with a steel or aluminum garage door. Installing a wood garage door on your home can boost your curb appeal significantly. Even if your garage is detached, if people can see it from the road, your garage's exterior can still have a real impact on the overall look and value of your property and may be one of the first things people see when driving or walking past your home.
The return on investment in the South Atlantic region of the U.S. for garage door replacements is anywhere from over 93 to over 97 percent. Now, consider the return on your investment if you choose a new garage door that significantly improves your home's curb appeal. No matter the design, a wood garage door exudes craftsmanship and timeless charm that will enchant visitors to your home and potential buyers if you are looking to sell.

3. Customized Design
While all wood garage doors tend to improve a home's overall aesthetic, some will coordinate with your home better than others. The ability to tie your garage's appearance in with the design of the rest of your home is one of the major advantages that wood garage doors offer. With so many models available to choose from, you can select one that fits in with the rest of your home's aesthetic, whether it be a rustic farmhouse, stately manor or any other look.
After choosing a basic design, there are numerous opportunities for customization, including the type of wood, the stain or paint color, the type of hardware, windows and other accents.

4. Resistance to Dents
In addition to being a sustainable and attractive material, wood is also a naturally durable material. Because of its strong surface, wood is not as vulnerable to denting as metal is. So, for instance, if someone kicks a soccer ball that hits your steel or aluminum garage door, it could leave a sizable dent. The same impact may leave a slight mark on a wood surface, but if it does, it won't be significant. Such an impact might not leave any mark at all.
If you maintain your wood garage door properly and make sure that it doesn't become weakened from moisture, pests or other sources of damage, it should remain strong for many years and is unlikely to suffer from chips or dents.
Different Types of Wood Garage Doors
Wood garage doors come in a variety of types. They can appear plain or ornate on the surface and can be constructed in several different ways. Some wood garage doors are relatively minimal or simplistic in their design while others have multiple layers that can be equipped with steel frames, insulation or other elements that improve the door's durability and function. The type of garage door opener you use can also have an impact on how your wood garage door functions.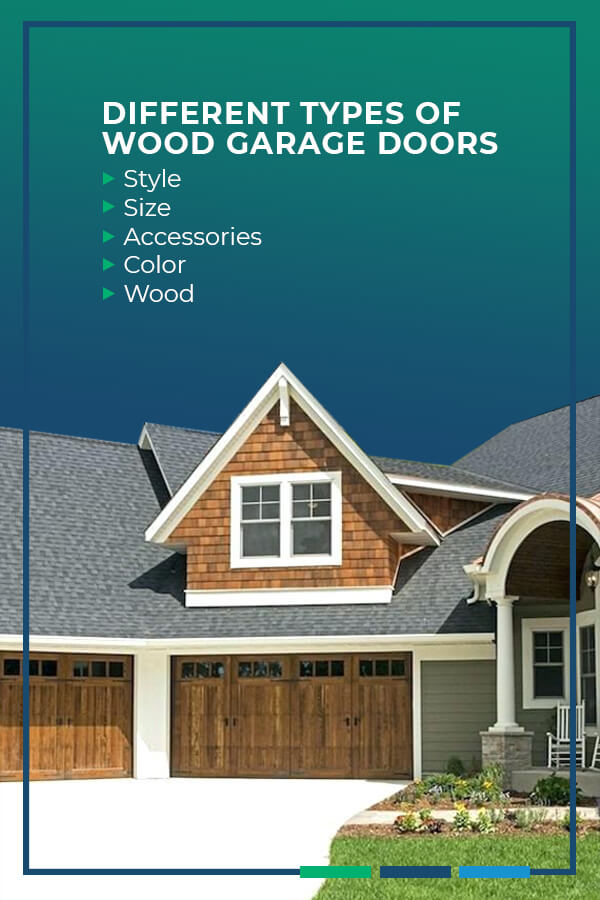 As for what you will see on the outside of your wood garage door, you can choose from different styles, sizes, decorative accessories, stain or paint colors and types of wood.
1. Style
The two main styles to choose from are carriage house doors and classic raised-panel doors. Carriage house doors are reminiscent of older doors from the days before automobiles and look like they swing out on hinges while still moving up and down like any other modern garage door. They typically include windows across the top of the door and decorative ironwork. As the name suggests, classic raised-panel doors feature a series of rectangular raised panels. This is likely the style that comes to mind when you first think of garage doors. These doors tend to be less ornate compared to carriage house doors, but they can still feature windows and other decorative elements.
2. Size
Wood garage doors, like all garage doors, also come in different sizes. Standard garage doors are 7 feet tall and can be anywhere from 8 to 16 feet wide. A single bay door is made to accommodate the width of one car. On a two-car garage, you can install two single bay doors or one double door depending on the look you prefer. Larger garages may even have a series of three or more single bay garage doors or multiple double doors.
3. Accessories
Windows and decorative hardware can help you achieve the exact look you desire. You can decide to forgo the addition of windows altogether or select or customize a design that includes the number and type of windows you like. For example, you could choose one long window that spans the top of the door, a series of small windows across the top, arched windows or one of many other designs. For an especially ornate look, consider including scrolling ironwork on the door.
4. Color
You can stain or paint wood, which opens up limitless possibilities for customization when it comes to color. If you want your doors to blend with the rest of your house, you may want to paint your garage door to match your home's exterior color. If you want the natural wood finish to shine through, a stain is a better choice. You can opt for stains that are incredibly light or dark as well as everything in between. Whatever look you want to create with your property, the color of your garage door can help you achieve it.
5. Wood
Another factor that sets wood garage doors apart from one another is the type of wood they are constructed with. The type of wood used also influences the cost of the door as some woods are worth more than others. There are many types of wood you can choose from, making it possible to find a wood that delivers the durability and look you want at a price you can afford.
Best Wood for Garage Doors

There is no simple answer when it comes to the question of which wood is best for your wood garage doors. It really depends on your budget and the aesthetic you desire. Plywood is the cheapest option and can be covered in a hardwood skin so that it looks like solid wood. If you want your door to be solid wood, here are some great options to consider:
Cedar
Redwood
Oak
Walnut
Maple
All of these woods are naturally dense which gives them a durability that comes in handy when they are exposed to the elements. Some of these woods are more dense, durable and expensive than others, and some may work better depending on the stain or finish you have in mind.
Whatever type of wood you choose, make sure it is kiln-dried. This controlled drying process removes moisture from the wood, helping it resist cracking, warping and decay. You can count on a wood that is strong and kiln-dried to maintain its beauty and durability for many years.
Faux Wood Garage Doors
We have talked a lot about the beauty of wood garage doors, but what if you could achieve the same aesthetic without having to pay for real wood? Because wood is a relatively costly material, cheaper alternatives are available. For example, some homeowners choose to install wood laminate flooring in their homes. This flooring imitates the look of real hardwoods but comes with a much lower price tag. The same idea applies to wood garage doors.
Faux wood garage doors are typically made from steel and composite but look much like natural wood garage doors, complete with wood grain and all. In some cases, only a trained eye would be able to detect that they are not real wood. The benefits of faux wood garage doors include getting that luxe wood look at a much lower price point. Faux wood garage doors can be more affordable for the average homeowner than real wood doors. They are less expensive up-front and need less maintenance. Faux wood or wood composite doors can also have better insulation than wood doors, making them more efficient at keeping your garage warm in the winter and cool in the summer.
No garage door, be it wood, metal or steel, is entirely maintenance-free. Faux wood, however, requires very little maintenance after it has been installed. It also isn't susceptible to rot, termites, warping or other types of damage that can affect real wood. They also won't rust like metal garage doors can. Furthermore, faux wood doors do not require the ongoing weatherproofing that wood does. Choose a prefinished model you like, and never worry about staining your garage door.
There are plenty of faux wood garage door benefits, but that doesn't mean they are perfect. While they are reasonably durable, they can crack with age. As for the cost, while they are more affordable than real wood doors, they are still more expensive than other options. Faux wood can be the perfect compromise for homeowners who would like a garage door that is aesthetically a cut above typical metal doors but want to avoid the high cost and need for ongoing maintenance natural wood brings.
How to Maintain Wood Garage Doors

If you choose to have real wood garage doors installed, it is essential that you take proper care of them so they maintain their natural beauty and strength. Fortunately, wood garage door maintenance is relatively simple. About every two years, you will need to restain the wood to keep the color vibrant. Once every year, you will likely want to apply a fresh coat of sealant. You will also want to inspect your door at least once a year. When you perform this inspection, look for:
Signs of rot: Check for any spots on your door that look or feel moist or weakened. Especially check along the bottom of your door and along the trim. If you find any parts of your garage door need to be repaired or replaced, call a professional garage door technician to restore your door. If the damage is limited to one area, they may be able to replace just that one panel.
Insects: Also check for insects that could be causing damage to your wood garage door. This especially includes termites and boring beetles since they actively consume wood. Snails and slugs can also cause wood to decompose. If you think you may see evidence of pests, call a pest control expert to evaluate the situation. The sooner you can stop a pest problem, the greater chance you have of keeping your door intact.
Damaged hardware: While wood won't rust, your hardware could, so you should make a point to check all hardware, whether functional or decorative, to see whether you need to add some lubrication or even replace some parts. You may also need to tighten screws and connection points. Roll your door up and down and observe whether it makes any scraping noises as this likely indicates a potential problem.
Worn seals: Also called weatherstripping, seals have the critical job of keeping insects, moisture and cold air from getting into your garage. On the inside of the garage, with the door shut, check the seals and see if any light is peeking through. This indicates a seal is not doing its job and needs to be replaced.
While checking for rot and insects is particular to wood garage doors, these last two items apply to any garage door no matter what material. Regardless of what kind of garage door you have, you always want to check it periodically to make sure it is still in good working order and doesn't require any repairs or replacement parts.
If you find you do need some maintenance work on your garage door, contact a professional garage door service and repair company. Garage doors are large, heavy and under tension. Attempting to repair one yourself, especially if the spring is broken, can be extremely dangerous.
Wood Garage Doors From Banko Overhead Doors
For garage doors in West Central Florida, consider Banko Overhead Doors. Our design consultants, who are all employed by us full-time, have the expertise to help you choose and customize the perfect garage door to match your vision and your budget. Our design consultations and estimates are free, so there is no reason to wait to learn more about how you could add a beautiful wood garage door to your property.

Our wood garage doors from The Carriage House® Wood Collection come in a variety of styles and price points and are all excellent options to consider. For inspiration and to learn more, browse through our collection of wood garage doors. We also offer two lines of carriage house-style composite faux wood doors, which provides the realistic look of wood without the cost or maintenance. In addition to wood garage doors, we have an extensive collection of garage doors in other materials.
For more than three decades, across the Tampa Bay area including Hillsborough, Pinellas, Manatee, Sarasota, Pasco, Polk and Hernando Counties, we have established ourselves as a company you can trust for quality garage doors, expertly installed and repaired. With Banko Overhead Doors, you never have to worry about any hidden costs. Contact us today if you have any questions or to schedule your free estimate on a new or replacement garage door for your home!