Table of Contents
---
What is it like to live in Tampa, Florida? Tampa so much more than just the ultimate vacation destination. People settle permanently in the Sunshine State for a variety of reasons. This ocean-side city is one of the most popular places to live in the state. Tampa offers temperate weather, beautiful scenery, a lively culinary scene, endless entertainment options and more.
If you are considering moving here, you'll want a comprehensive overview of what you can expect from life in the city. We have put together a guide to everything you need to know, from the cost of living to the city's nightlife and beyond.
Demographics
Tampa is one of Florida's most popular places to live. The city's population density is 778 percent higher than the overall population density of the state — 348,934 of Florida's 19,361,792 people live in Tampa.
The number of men and women living in the city is fairly even, with women accounting for 52.4 percent of the population and men accounting for 47.6 percent.

Here are few other key demographic statistics to keep in mind when thinking about Tampa, Florida living:
The median age of people living in Tampa is around 35.
Most of the population, 74 percent, speaks English while 18 percent speak Spanish.
Forty-three percent of the population is married.
Climate
Florida's weather is one of its most attractive qualities, particularly for anyone who dreams of escaping long, dreary winters. Residents of Tampa enjoy an annual high temperature of 81.7 degrees Fahrenheit and an annual low temperature of 65 degrees Fahrenheit.
Living in Tampa, you can expect:
January to be the coldest month of the year, with an average high of 70 degrees Fahrenheit and an average low of 52 degrees Fahrenheit.
August to be the hottest month of the year, with an average high of 90 degrees Fahrenheit and an average low of 76 degrees Fahrenheit.
August to be the wettest month of the year, with an average of 7.76 inches of rainfall, but rain is dispersed throughout the seasons, with 46.31 inches of rain per year.
The temperate climate allows Tampa residents to enjoy the outdoors all year long.
Employment Outlook
Whether you're moving to Tampa for a job or planning to search for one once you are settled, the city's job market is one of the most important issues to research and understand ahead of time. As of January, the Tampa area's unemployment rate is 5.1, on par with the country's overall unemployment rate.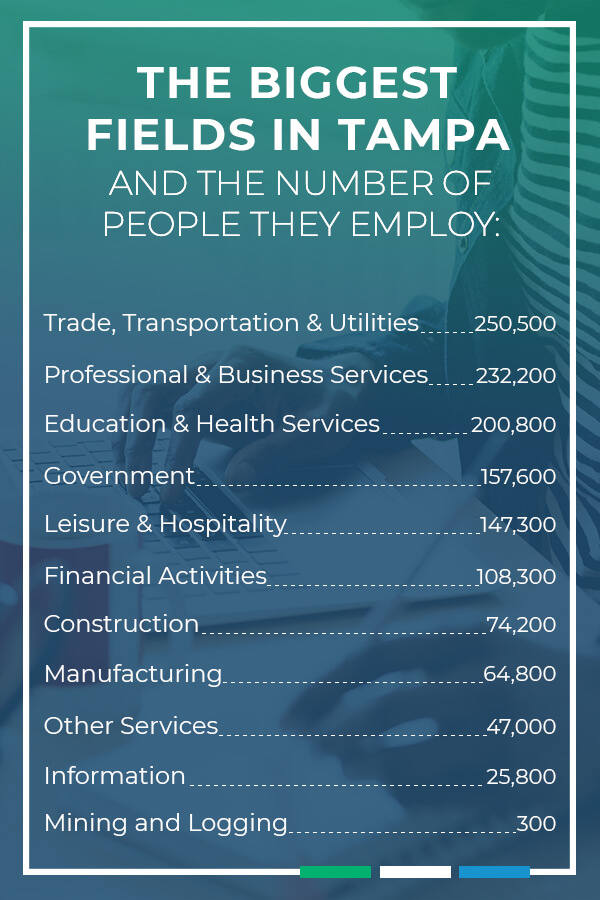 The Bureau of Labor Statistics also breaks down the top industries, excluding the farming industry, by the number of people employed. The biggest fields in the Tampa area and the number of people each employ are:
Trade, transportation and utilities: 250,500
Professional and business services: 232,200
Education and health services: 200,800
Government: 157,600
Leisure and hospitality: 147,300
Financial activities: 108,300
Construction: 74,200
Manufacturing: 64,800
Other services: 47,000
Information: 25,800
Mining and logging: 300
Last year, the Tampa Bay area added 42,800 private sector jobs in March alone, putting the area second for job growth in Florida, according to the Tampa Bay Business Journal. The same report found professional and business services and education and health services had the largest growth in new jobs.
In 2015, the median household income in Tampa was $44,185. City-Data.com breaks down the yearly earnings distribution in Tampa by the following income brackets:
11 percent earn less than $10,000
12 percent earn $10,000 to $20,000
12 percent earn $20,000 to $30,000
10 percent earn $30,000 to $40,000
8 percent earn $40,000 to $50,000
8 percent earn $60,000 to $75,000
11 percent earn $75,000 to $100,000
7 percent earn $200,000
Cost of Living
Cost of living is another key deciding factor when seeking to settle in a new city. The overall cost of living in Tampa, Florida is 9 percent less than the national average. Nearly all the major expenses are less than the national average in Tampa, except for utilities. Consider this breakdown of expenses compared to the national average:
Utilities: 8 percent higher.
Groceries: 3 percent less.
Housing: 24 percent less.
Transportation: 1 percent less.
Healthcare: 6 percent less.
As with most cities, housing is more expensive in the city center. The average rent for a one-bedroom apartment in Tampa's city center is $1,245. Outside of the city center, rent for a one-bedroom apartment drops to $939.42. If you are looking for a bigger living space, rent for a three-bedroom apartment in the city center averages $2,346, while rent drops to $1,560 for an apartment of the same size outside of the city center.

The value of homes in Tampa has increased by 14.6 percent within the last year, according to Zillow. The median value of homes in Tampa is $181,100, while the median price of homes on the market now is $275,000. The median price per square foot of home in Tampa breaks down to $167.
Education
The majority of people over the age of 25 living in Tampa — about 86.6 percent — have graduated from high school while 34.8 percent of people over the age of 25 have completed a bachelor's degree or higher.
Whether you are moving to Tampa with children or you are planning to start your family there, you will want to know your education options. Hillsborough is the largest public school district in Tampa, but there several districts near the city including:
Citrus
Hardee
Hernando
Manatee
Pasco
Pinellas
Polk
Sarasota
Sumter
The Hillsborough County Public Schools system, the eighth largest system in the country, has approximately 206,841 students enrolled in 250 schools, according to the U.S. Department of Education. The school system has a graduation rate of 82.2 percent. The system employs more than 15,000 certified teachers.
In 2009, the school system received a $100 million Gates Foundation Empowering Effective Teachers Grant. The grant his helping fund the school system's pay-for-performance initiative and its student outcome initiative, which aims to have 90 percent or more of its students prepared for college or career after graduating from a Hillsborough school.
Some parents may prefer their children to have a private education. Tampa has 99 private schools attended by 17,620 students, according to Private School Review. Of these private schools, 66 are preschools, 87 are elementary schools and 33 are high schools. The average tuition for a private elementary school in Florida is $6,772 while the average private high school tuition is $8,981.
When it comes to higher education, Tampa has a variety of choices. Hillsborough County alone has five different post-high school options including:
Florida College
Hillsborough Community College
Tampa College
University of South Florida
University of Tampa

The average cost of tuition for an in-state student at Florida colleges is $3,886, according to the College Tuition Compare.
Transportation
How do you people get around when living in Tampa Bay? The city has an airport, Tampa International, as well as options to take public transportation or drive your own car.
The city's public transportation system includes buses, railways and the TECO Streetcar and Trolley. The Hillsborough Area Regional Transit Authority has more than 200 buses that help passengers travel throughout the Tampa Bay Area. Travelers can take an Amtrak train from Tampa Union Station, which has lines that run to other Florida cities and throughout the nation.
During the week, people can take the TECO Streetcar and Trolley, a convenient way to move around the city's downtown area. If you prefer to drive your own car, the city offers plenty of street parking, which is generally subject to meters. You can use a number of different city-operating parking garages and lots.

One of the most important transportation issues to consider is your commute to work. The mean commute time for Tampa workers is 23.3 minutes.
Neighborhoods
Each city has its own distinct atmosphere created by a collection of different neighborhoods. Your experience living in Tampa could be entirely different depending on what neighborhood you decide to settle in. Tampa has more than 70 different neighborhoods. Here's a sampling of some of the city's biggest and most popular districts.
Channelside
Channelside is a residential neighborhood not too far from Tampa's downtown area. This neighborhood has plenty of high-rise buildings offering condos and lofts, as well as a wide variety of restaurants and retail options. Denizens of this neighborhood can enjoy the many events regularly held at the Channelside Bay Plaza. Channelside is one of Tampa's more expensive neighborhoods.
Channelside's cost of living is 18 percent higher than the city's overall cost of living. Crime is lower and household income is higher in this neighborhood when compared to Tampa as a whole.
Downtown Tampa
Downtown Tampa is a compact but bustling area. Residents live near plenty of dining and entertainment options. The downtown area is the city's business district. The cost of living in the downtown area is just 3 percent higher than Florida's overall cost of living, which is surprisingly affordable for a city of its size. The median household income and home value in downtown Tampa are a little lower than the city average.
Golf View
Golf View is a small neighborhood with 2,905 residents. This area is highly rated for its access to amenities, low crime rate, high graduation rate and home values. This combination of attractive values makes Golf View a more expensive neighborhood. The cost of living here is 58 percent higher than Tampa.
Harbour Island
Drive from downtown across the Harbour Island Bridge and you'll find yourself in this idyllic neighborhood. The TECO Trolley operates in the neighborhood, and residents can arrive by water taxi. Harbour Island has plenty of housing options. The south side of the neighborhood is dominated by residential space while the north side of Harbour Island has a balance of housing and businesses.
Home values are high and crime rates are low in Harbour Island. The cost of living in this neighborhood is 28 percent higher than Tampa overall.
New Tampa
New Tampa, as the name suggests, is a relatively young neighborhood. The area encompasses space in both Hillsborough County and Pasco County. New Tampa's cost of living is just 4 percent higher than overall cost of living Tampa. The neighborhood has a young group of residents. The average age of the people living in New Tampa is 34 years old.
One of the best places to live in Tampa for families, this neighborhood has a large collection of family-friendly homes and condominiums.
Seminole Heights
Seminole Heights is one of Tampa's most artsy neighborhoods. Seminole is well known for the Phoenix Glass Studio and Gallery, as well as its antique stores. Residents enjoy the neighborhood's robust culinary scene. Seminole Heights is a less expensive place to settle with the cost of living 2 percent lower than Tampa overall.
Temple Crest
Temple Crest has plenty of opportunities for people looking to rent. More than half of residents, 69 percent, rent in Temple Crest, while 31 percent of residents are homeowners. The neighborhood's cost of living is 9 percent less than Tampa overall. Residents have access to a wide array of amenities, but crime is higher and home values are lower when compared to Tampa as a whole.
Ybor City
Ybor City, just a mile from downtown, is Tampa's Latin Quarter. The neighborhood is designated a National Historic Landmark District. Seventh Avenue is a big entertainment spot, drawing people from across the city with its nightclubs, bars and restaurants. The cost of living in Ybor City is 10 percent lower than Tampa overall. Median household income and home values are lower here compared to the city as a whole.
Arts and Culture

A city's arts and culture offerings are a major draw for visitors and residents alike, and Tampa has plenty to offer. Some of the city's major museums include:
The Dali Museum
If you are fan of Salvador Dali's art or surrealism in general, the Dali Museum is a must-see. The building itself is beautiful, and it houses one of the largest collections of Dali's work.
Glazer Children's Museum
Families with children will love the Glazer Children's Museum's educational and fun exhibits. Ranging from toddler time to tech programs, this place has something for kids of all ages.
Henry B. Plant Museum
Located on the University of Tampa campus, history buffs and engineers alike will love the Henry B. Plant Museum, which showcases antiques from the 1800s.
Museum of Science and Industry
Tampa's Museum of Science and Industry has hundreds of different interactive exhibits. Museum visitors can explore the planetarium, butterfly garden and more.
Tampa Bay History Center
The city's history center is dedicated to displaying and exploring Tampa's roots and development. The museum has a well-loved Spanish restaurant, the Columbia Café.
Tampa Museum of Art
The Tampa Museum of Art has a large collection of modern and contemporary art. From modern to classic, art enthusiasts can spend hours here.
If you are a fan of the performing arts, Tampa's Starz Center for the Performing Arts hosts Broadway shows, classical music and concerts.
 Entertainment and Nightlife
Tampa has a lively entertainment scene including multiple annual festivals. Get your party on during the Tampa Bay Margarita Festival or dance the day away with Tampapolooza. Tampa Bay residents also enjoy the annual Gasparilla Pirate Fest.
Some top attractions include the Bok Tower Gardens and Tampa Riverwalk. Stroll through manicured lawns and a gorgeous 1930's mansion at the gardens, and take in an incredible view of the city from the aerial river walk. Children and adults alike will love Busch Gardens Tampa, the Florida Aquarium, Clearwater Marine Aquarium, Lowry Park Zoo and more.

When it comes to Tampa's nightlife, there are plenty of bars, clubs and nighttime haunts to explore. Catch a movie at the lavish Tampa Theatre, listen to live music at Skipper's Smokehouse or laugh yourself silly at a comedy show hosted at Amalie Arena.
Cuisine
Tampa has endless dining options. You can find traditional American fare, Asian cuisine, Cuban food, French cuisine, Italian, Mexican, fresh seafood, Spanish plates, steakhouses and more. Sit down at an upscale restaurant, grab lunch at a food truck or enjoy farm-to-table meals.
Tampa is also known for its breweries and wineries. Try Cigar City Brewing for local libations, or stop in the Wine Exchange Bistro & Wine Bar for an extensive wine list.
Outdoor Recreation
Tampa's warm weather makes it perfect for outdoor activities all year long. Some outdoor Tampa, Florida attractions range from live sporting events to miles of beaches. The city's home teams include Major League Baseball's Tampa Bay Rays, the National Football League's Tampa Bay Buccaneers and the National Hockey League's Tampa Bay Lightning. The Tampa Bay Rays play at Tropicana Field. The Buccaneers play at Raymond James Stadium and the Lightning plays at Amalie Arena.

For some fun in the sun, you can swim and lounge at the city's beautiful beaches. Some of the city's most popular waterside stretches include Caladesi Island State Park, Clearwater Beach and Fort De Soto Park.
As a seaside city, many of Tampa's outdoor activities are water-based. You can try your hand at paddle boarding, jet skiing or surfing. Tampa offers plenty of opportunities to fish, hike and explore nature. Families will love the Adventure Island waterpark, which features 30 acres of rides and pools.
If Florida is beckoning and the Tampa area will be your new home city, you have probably already started thinking about your dream home. What will it look like? What neighborhood will you pick? Once you become a homeowner, you'll need to think about everything from home maintenance to the right garage door.
With over 30 years in the Greater Tampa Area, Banko Overhead Doors prides itself on being part of this vibrant community and in assisting new homeowners and companies alike with garage door maintenance, replacement or design questions. Contact us today if you are in need of a new garage door or a 24/7 garage door repair!
---
Additional Resources on Garage Doors in Florida:
---