Home ownership can be a dream come true, but you have to remember that having the keys to your very own home comes with a lot of responsibility. You are in charge of maintaining the interior and exterior of your home so it looks its best and stays in working order. The average cost of maintaining a home in the United States is $16,000, but this can vary widely depending on the size, type and location of the home. The average cost of maintaining a home in Florida ($16,097) is on par with the national average.
As anyone who lives in Florida knows, heat, humidity and pests are all common concerns. How does this affect home maintenance? What other regular home maintenance tasks should you be doing? What kind of maintenance schedule should you keep if you have a summer home in Florida? Use this helpful checklist of home maintenance tips to keep your Sunshine State abode clean and happy.
Table of Contents
Inside
Keeping a clean and up-to-date interior makes for a happy household. Check these tasks off your to-do list whether you live in Florida all year or you only stay for the summer months.

1. Check for Any Leaks
Even a small leak can lead to big problems in your home. Water damage can lead to stains, mold and mildew, as well as potential damage to your walls and flooring. Water damage remediation and restoration can be a costly process, so the sooner you spot any leaks, the better. Common culprits for leaks in the home include the water heater, faucets, sump pump, the attic and the basement. Set a regular schedule for inspecting these areas of the home. For example, make this an end-of-summer maintenance tip for your home.
Visual signs of a leak include water spots or mold and mildew stains on the walls or ceiling. If the leak is affecting the floor, you may notice warping of your wood or tiles. A leak may also be accompanied by an unpleasant odor.
2. Get Your Water Heater Serviced

Water heaters have a life expectancy of about 15 years. Regularly servicing yours can help ensure it does its job and lasts for as long as possible. In addition to checking the pressure valve for possible leaks, the water tank will need to be drained at least a couple of times per year. Draining the tank helps clear it of any debris. Checking the anode rod is another essential part of water heater maintenance. To be safe with repairs call a professional. The last thing you want is a broken water heater when you are trying to bathe, wash dishes and run a load of laundry. No hot water and a household can come to a screeching halt.
3. Ensure All Plumbing Is Working
A home's plumbing is another potential source for leaks. Take the time a few times a year, or right before you leave at the end of the summer, to check for dripping faucets or leaks at the base of any toilets in the house. These leaks can drive up your water bill and cause damage to your home.
A dripping faucet is likely a minor issue with a quick fix, but there are other larger plumbing issues to be aware of as a homeowner. For example, consistently plugged drains may indicate a blockage that requires professional attention. Or, leaky pipes can mean that long-term corrosion is affecting your home's plumbing.
If you have a septic tank, it is critical to have it professionally drained every few years.
4. Check Your Heating and Cooling Systems

Your home's HVAC system is in charge of heating and cooling. You want to know that the air conditioning is going to work in the summer and the heat is going to keep you nice and toasty in the cooler months. Regular maintenance helps to keep your HVAC system in working order and the temperature of your home where you want it. The basics of HVAC upkeep include regularly changing your air filters, usually every month or so. You can also engage a professional on an annual basis to inspect your heating and cooling system and ensure it is working correctly.
Cleaning your home's ducts is a less frequent but still important maintenance task. Engaging a professional to clean out the ducts every one to five years makes your home more energy efficient.
5. Clean Your Air Vents and Dryer Vent
Cleaning your home's air vents is another end-of-summer home maintenance tip to keep in mind. The dirt, dust and debris that gather in air vents can make your HVAC system less efficient and ultimately drive up the cost of heating and cooling your home. Before leaving your home for the summer, turn off the power source for your HVAC system. Unscrew your vents from the walls and use a vacuum to clear the dust and other allergens that have gathered in the vents.
In addition to air vents, your dryer vent is another important item to check off your cleaning list. If you allow too much lint to build up in this vent, your dryer will become less efficient and potentially a fire risk. You can clean the lint filter after each load of wash you dry. You can also hire a professional to clean inside the lint trap and the dryer duct.
6. Look for Any Possible Entryways for Pests

Keeping pests out is one of the most critical end-of-summer home maintenance tips. In addition to being unpleasant, pests can do severe damage to your home and even be a health hazard. Common Florida pests include rodents, cockroaches, carpenter ants and mosquitos. While you can keep your home free of the food debris that can attract pests, they can still take advantage of even the smallest entryways. While you are indoors, look for any cracks in your doors, baseboards and window frames. If you find any cracks, seal them carefully. Also be sure to check the places you go less often, such as the basement or attic. Any water damage in these areas can also be an invitation for pests to come in and make themselves at home.
7. Double Check Safety Devices
Each year, you should do a thorough check of your home's safety devices. Does your house have a functional fire extinguisher? Are there fresh batteries in the smoke detectors and carbon monoxide detectors?
Make sure the fire extinguisher is within easy reach. For example, keep it under the sink in the kitchen or hung on the wall in your pantry. In case of emergency, you do not want to be scrambling to find it. When it comes to battery-operated devices, such as smoke detectors and carbon monoxide detectors, you can likely use a test button easily found on the device. Consider testing the device monthly and replacing batteries at least annually. If you have any other home security devices, such as cameras or alarm systems, check manufacturer recommendations for testing.
If you live in an area of Florida vulnerable to hurricanes, do a yearly check to ensure your home is equipped with safety provisions.
8. Wipe Down All of Your Appliances
Household appliances make day-to-day life easier, but those appliances still need occasional TLC. Before leaving your home for the summer or at the end of the season, set aside time to clean all of your appliances. The biggest area of focus? The kitchen.
Kitchen appliances that need to be wiped down include:
Refrigerator: Cleaning the exterior of your fridge is a simple job. Simply take down all of your magnets and anything else hanging on the fridge, then use a clean, damp cloth to wipe it down. A mix of water and vinegar can help cut through any dirt that has accumulated. Cleaning the interior of the fridge is a little trickier. Empty out all the food. Next, remove the drawers and shelves for washing in the sink, and wipe down the inside of the refrigerator. The water and vinegar mix will help eliminate odors, so you can use that to clean inside the fridge too.
Dishwasher: Dishwashers may seem self-cleaning, but you actually need to give this appliance some cleaning of its own. You can wipe down the exterior just as easily as you wipe down the outside of your fridge. For cleaning the inside of the dishwasher, you can put a cup of vinegar on the top rack and run the appliance on its hottest setting. Afterward, remove any soap scum that has come loose.
Microwave: Microwaves can easily become crusted with food debris. You might not even notice how much has gotten stuck to the top of the appliance. You can make cleaning the microwave easier by heating a bowl of water, which will loosen the gunk stuck to the top, bottom and sides of the appliance.
Oven and stovetop: As with the microwave, your oven and stove are bound to wind up with some grease and food bits. You can use household cleaners to wipe down the stovetop, and the same water trick you can use for the microwave also works for the oven.
Toaster: Toasters naturally accumulate crumbs. You can easily remove most of those by taking out the crumb tray. You can also wipe down the exterior with a damp cloth. Just remember to unplug the toaster while you clean.
Coffeemaker: Warm water with soap is enough to do the trick for cleaning your coffee pot and its filter. The rest of the appliance can be wiped down by hand.
Blender: Washing your blender is similar to washing your coffeemaker, except you will need to make sure to wipe down the individual blades carefully.
Outside

Maintaining the exterior of your home does contribute to how it looks, but these chores are about more than just appearances. This home maintenance checklist for Florida homeowners will help you keep your home safe and dry.
1. Replace Outdoor Light Bulbs
At the end of the summer season, check your the light bulbs on the exterior of your home. If any are dead, replace them. Proper lighting outside is an important safety feature. When you change your bulbs, you can look for options that will last in the Florida weather and help repel those pesky mosquitos. Energy efficiency is another helpful feature to consider.
2. Clean Your Home's Gutters

The rain gutters on any home will inevitably become clogged with leaves and debris. If left there, the gutters cannot do their job. Instead, you risk water damage to your landscaping and even the foundation of your home. At least once a year, set aside time to clean out those gutters. A professional service will come with a sturdy ladder, a pair of work gloves and the necessary tools to scoop out whatever is clogging the gutters.
3. Clean up Your Yard
Landscaping is one of the more obvious summertime home maintenance tips, but it is important to spend the time it takes. While a tidy lawn is visually appealing, it also deters pests and helps protect your home. Regular maintenance includes mowing your lawn, weeding and pruning any bushes in the yard. Regular watering in the heat of summer can help keep the grass you so carefully tend green.
In addition to tending to the lawn and any smaller plants in your garden, you can do a yearly check on the trees in your yard. Are they healthy? Are any limbs dangerously close to your home? If you think you have a sick tree or one that needs to have its boughs trimmed back, call a professional service. Properly caring for the trees on your property contributes to home value and helps to prevent any potential damage caused by low-hanging limbs.
4. Inspect Your Roof, Windows and Doors for Leaks
Not all signs of potential leaks can be found indoors. Homeowners also need to have the exterior of the home checked. Areas to inspect include outside water faucets including your garden hose and your roof, as well as the exterior frames of your doors and windows. Watch for telltale signs such as water stains, mold and mildew. If you are going to look for leaks in your roof, keep safety in mind and engage a professional.
5. Check Your Home's Foundation
Foundation issues can be costly to repair, so an annual inspection can help you catch any problems early on. Here are a couple of things to consider when checking on your home's foundation:
Water damage: Water damage is a major cause of foundation issues. Look for any signs of water damage along the exterior of your home. It is also helpful to look for water damage in your basement. If you notice a musty smell in your basement or the presence of mold, you will need to find the source to ensure your foundation hasn't already been affected.
Visible damage: As you walk around the exterior of your home, can you see any visible damage? Look for cracks or chips in the concrete. Discoloration can also be indicative of a problem with the foundation. Additionally, cracks in your home's floors or walls can be a red flag that something is going on with your home's foundation.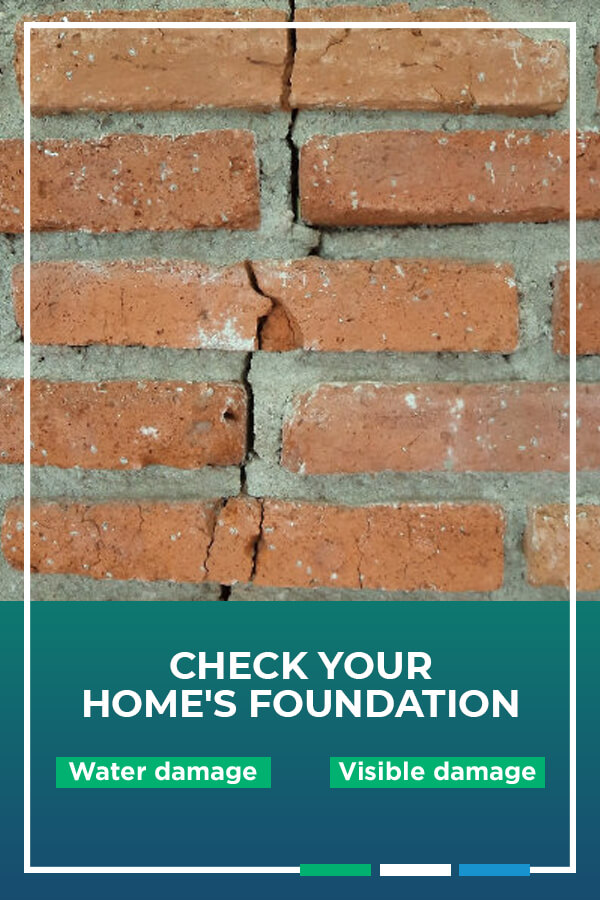 Maintaining a proper drainage system is one of the best ways to protect your foundation from damage. If you suspect damage to your home's foundation, reach out to a professional and schedule an inspection.
6. Powerwash the Exterior of Your Home
The exterior of your home is constantly exposed to the elements. Powerwashing can help remove the natural build up of grit and grime, which can breathe new life into your home's appearance and curb appeal. You can rent or buy a power washer. Whichever option you choose, make sure you follow the instructions carefully. Check for any damage to your home's siding before you begin. If you powerwash a damaged area, you will likely make it worse. While you are using the power washer, wear gloves and safety goggles. You can wash down the siding of your home, as well as your sidewalks, porch and deck.
7. Take Care of Your Pool
Not every home in Florida has a pool, but many people love having this feature to help them through the sweltering heat of summer. If your house has a pool, you will want to maintain it so it is just as pleasant to swim in year after year.
The basics of pool maintenance include keeping the water clear of debris, keeping the filter up-to-date and checking to ensure the water has the proper level of chemicals. If you use your Florida home as a summer vacation spot, you will want to prepare your pool for winter. If you don't have anyone to check on the pool while you are away, it may make the most sense to drain it completely. Otherwise, you will want to watch the pool's water levels to ensure rain does not cause overflow and evaporation does not cause the water level to sink too low. Before you leave for the season, make sure the cover is tightly fitted across the pool to keep out pests, such as mosquitos, and discourage the growth of algae. A professional service can help keep your pool clean and safe throughout the year.
8. Make Sure Your Garage Door Works
The garage door is a big part of a home's appearance and curb appeal as well as an important item to consider when checking off items on your summer maintenance tips for your home list. Important elements of a functional garage door include balance, its contact sensor, its tension springs and its tracks.
A garage door is prone to break down from time to time — just think of the number of times you open and close it each year. The best way to prevent emergency situations and to extend the usable life of your door is to schedule proactive and regular overhead door maintenance. Regular maintenance appointments help extend the life of your garage door, while also avoiding costly and often inconvenient emergency repair appointments – not to mention improved garage door safety.
For Professional Garage Door Maintenance, Contact Banko Overhead Doors

If you notice your garage door is a little squeaky or struggling to function, it may be time for professional help. Banko Overhead Doors has been serving Florida since 1984, providing residential and commercial garage door installation and repair to customers. We offer a rapid response with no hidden costs. Reach out online to schedule a repair or regular maintenance appointment quickly and easily.
---
Additional Resources on Living in Florida:
---