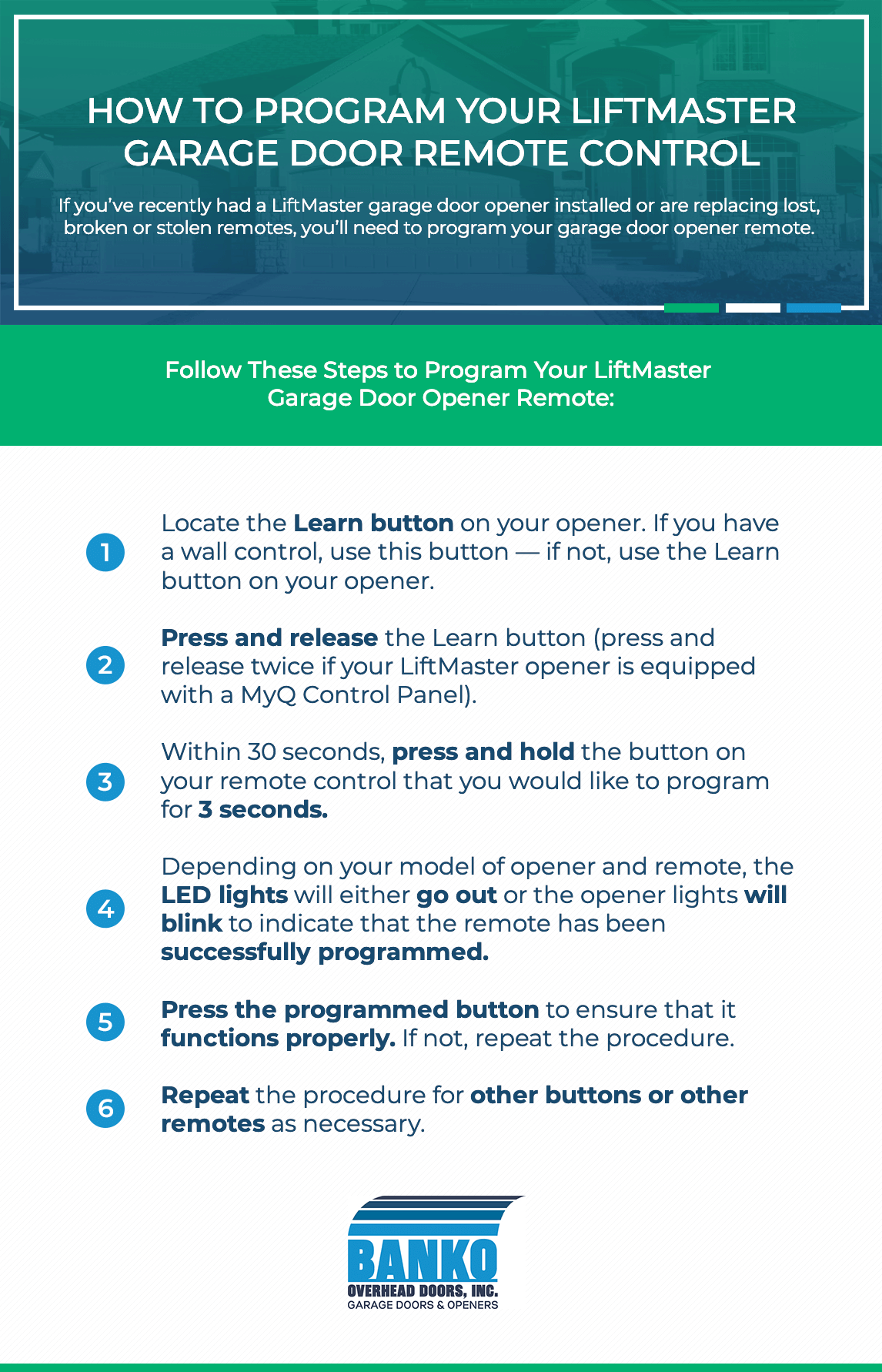 If you've recently had a LiftMaster garage door opener installed and would like to program your remotes or are replacing lost, broken or stolen remotes, you've come to the right place.
Here at Banko Overhead Doors, we have three decades of experience as a Florida leader in garage door installation and service. Our team of professionals put together this handy guide to help you program your LiftMaster garage opener remotes. Simply follow these easy steps:
Step 1: Locate the Learn button on your opener. If you have a wall control, use this button — if not, use the Learn button on your opener. You will need a ladder to access this, so take care when climbing.
Step 2: Press and release the Learn button (press and release twice if your LiftMaster opener is equipped with a MyQ Control Panel).
Step 3: Within 30 seconds, press and hold the button on your remote control that you would like to program for three seconds.
Step 4: Depending on your model of opener and remote, the LED lights will either go out or the opener lights will blink to indicate that the remote has been successfully programmed.
Step 5: Press the programmed button to ensure that it functions properly. If not, repeat the procedure.
Step 6: Repeat the procedure for other buttons or other remotes as necessary.
Programming a remote control is easy with LiftMaster. This high-quality brand of overhead door remote openers is designed for easy and reliable use. If you have trouble programming your remotes, you may have a problem with your remotes or the opener itself.
Our team here at Banko Overhead Doors is always available to inspect and service your garage door and opener, so contact us to schedule a service visit or repair.
---
Additional Resources on LiftMaster® Garage Door Openers:
---