The keyless pad on your LiftMaster garage door opener is a secure method to gain access to your garage when you don't have a remote control handy. You can give the access code to family members who don't need to carry a remote control around with them. The code is handy for your children so they can access their bikes, for example, or to quickly open and close the door to remove garbage cans or gear when you don't have your remote control on you.
It can be useful to Add, Change or Program your PIN in many situations:
If you move into a new home
If you have an old tenant move away
If you suspect someone has learned your code and is entering your garage without authorization
If you have difficulty remembering your old code
Simple Steps to Programming Your Keyless Entry PIN
Follow these simple steps if you would like to add, program or change the code of your LiftMaster keyless entry:
Step 1: Locate the Learn button on your opener. If you have a wall control, use this button. If you don't, use the Learn button on your opener. You will need a ladder to access this.
Step 2: Press and release the Learn button. You'll have to press and release twice if your LiftMaster opener is equipped with a MyQ Control Panel.
Step 3: Within 30 seconds, enter a new four-digit code on the keypad and press ENTER.
Step 4: Depending on your model of opener, the LED lights will either go out or the opener lights will blink to indicate the keypad PIN has been successfully set.
Step 5: Wait approximately 10 seconds and then try out your PIN.
We suggest choosing a PIN that's easy for you and your family to remember but not obvious for strangers. Avoid codes that include your street address, postal code or phone number, for example. If you ever suspect an unauthorized person has somehow learned the code to your garage door opener keyless entry pad, be sure to change it right away and notify your family of the new code.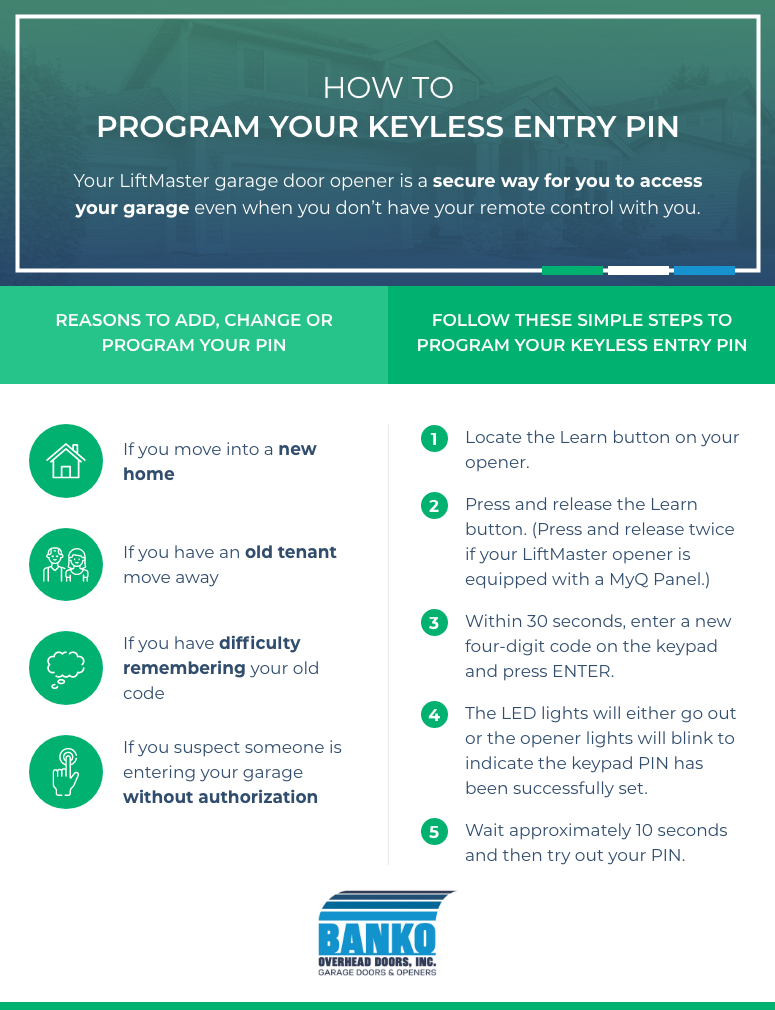 Here at Banko Overhead Doors, we've spent more than three decades becoming a trusted name in Florida for garage door installation and service. Our customers in the Tampa Bay area and the surrounding region trust our experience and knowledge, so contact us if you would like more information on how to program your LiftMaster garage door keyless entry pin or have any problems with your garage door and opener.
You can schedule a repair when it's convenient for you and get back to enjoying your reliable and practical automatic garage door.