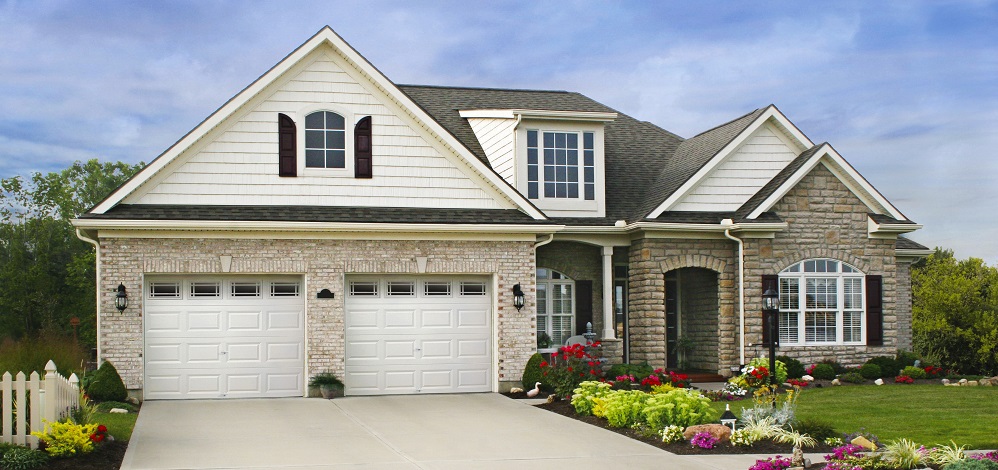 Are you looking to build a home and wondering what size garage door you might need? Maybe you're looking to replace an old, worn-out door, or perhaps you even just need a change of scenery. Whatever your reason, you may be impressed and a little overwhelmed by the number of garage door options available.
Naturally, you don't want to spend hours looking at all your garage door options. With just a few steps, you'll be on your way to finding the perfect fit for your garage door.
Single vs. Double Door
Single garage doors come standard on single-car garages and on multiple-car garages that have a vertical beam separating the two halves of a double garage. Single garage doors come in many options, typically based on the age of your home. Older homes were often built with doors eight feet wide. However, with the rise in popularity of larger vehicles like SUVs and pickup trucks, newer homes might use nine-foot doors instead. Some modern single garage doors are even ten feet wide, but the standard single garage door is still eight to nine feet.
Double garage doors are exactly as they sound — double the size of a single door. They're designed to hold multiple vehicles, as well as large vehicles such as RVs. While double garage doors range in size from 12 to 20 feet, the most common double garage door size is 16 feet.
Standard Garage Door Heights
As with width, older homes typically have shorter garage doors because cars were smaller. Older garages have a standard height of seven feet. Newer homes have a standard height of between seven and eight feet. Depending on your needs, your garage door could range up to ten feet in height, although this is not as common.
If you are looking to have a new garage built, be sure to talk to your architect about your garage door needs. Larger and commercial vehicles need more personalized accommodations, so communication is key to finding the right height and width that will fit your everyday requirements.
Choosing Banko Overhead Doors
Not sure what size you'll need for your new door? That's okay! Banko Overhead Doors is here to help.
We believe you deserve risk-free customer care, even before you make a purchase. We provide free installation estimates to your home in the West Central Florida area, where we have proudly been serving customers since 1984. We send full-time employees to your door — never subcontractors — because we want to fully train them to provide the best possible service to your home.
If you're interested in learning more about our full range of products and services, visit us online to view our selection of residential garage doors. We look forward to hearing from you and making your new garage door a beautiful part of your home.