The garage door is one of those things homeowners take for granted. For today's modern household, the garage has become the major hub of activity. It's often the primary point of entry for the entire family. It's also an important storage facility; holding everything from bikes to balls to lawnmowers to, well, just about everything. And, while the kids are home for school, the garage can even serve as a staging area of neighborhood activities, the place where bats, balls and baseball mitts are collected for the afternoon's big game. So, it won't surprise you to know that, on average, a typical garage door will be opened and closed several thousand times each year. That's a lot of activity for what most people don't realize is the heaviest moving object in your home.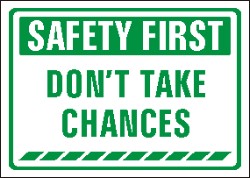 But here's the thing: only one out of 15 garage doors in American operate with the latest safety features! Back in 1983, the U.S. government adopted guidelines requiring garage door manufacturers to ensure that all openers and doors come with new safety features such as infrared sensors, or "safety eyes." So, while all new garage doors since then are equipped with the necessary safety features, there are still millions of older doors (1 out of 15 to be exact) that are not. As a result, there is a hidden threat in millions of households, and that is the potential for garage door malfunction. Again, keep in mind that the garage door is the heaviest moving object in your home. So, it's important that you make sure it is always working and, most importantly, is equipped with the essential safety features. Liftmaster®, the country's leading manufacturer of garage door openers has announced a national program called the "Don't Chance It, Check It Garage Safety Initiative.
"Millions of garages lack the latest safety features, like photo-eyes or may not be operating properly," said Bob Markwart, President, LiftMaster, Americas. "We believe it is our industry's responsibility to do our best to ensure everyone is educated on what makes a garage truly safe. LiftMaster's 'Don't Chance It. Check It.' initiative helps families ensure everything is in working order with the largest moving object in the home by providing three easy-to-follow safety tests that use everyday household items and only two minutes of time."
The program, currently rolling out to a national audience, is designed to help homeowners and families understand how to check their door and make sure they have the safest garage door opener system in place. Follow these three easy steps to ensure safe functionality of any automatic garage door openers installed after 1993 or retrofitted with safety eyes:
1. Check the sides of the garage door for properly installed photo-eyes (black sensors), mounted no higher than six inches off the floor.
2. Block the photo-eye with an object over six inches tall and press the close button on the garage door opener. The door should not close.
3. Lay an object that is at least 1.5 inches in height flat on the ground in the door's path and press the close button. Household objects this size might be a bar of soap, stack of index cards, or a hardcover book. The door should reverse off this object. If it makes contact and does not reverse, the door is not operating correctly. After recording the results, homeowners are encouraged to contact a LiftMaster Certified Safety Check Dealer to seek guidance on how to keep this high traffic area safe and secure. For further assistance or to learn how to upgrade a garage door opener, homeowners can visit LiftMaster.com/GarageSafety or call 855-GRG-SAFE to locate a dealer .
This is a great name for the program! It won't take more than a few minutes for you to check if you're garage door is working the way it should. And, if you sense something might not be working properly OR that you might have outdated safety features, you can take care of it ahead of it turning into a bigger problem. So, because it's the heavies moving object in your home and because it's the hub of activity for your family, Don't Chance It, Check It to ensure it's working properly.