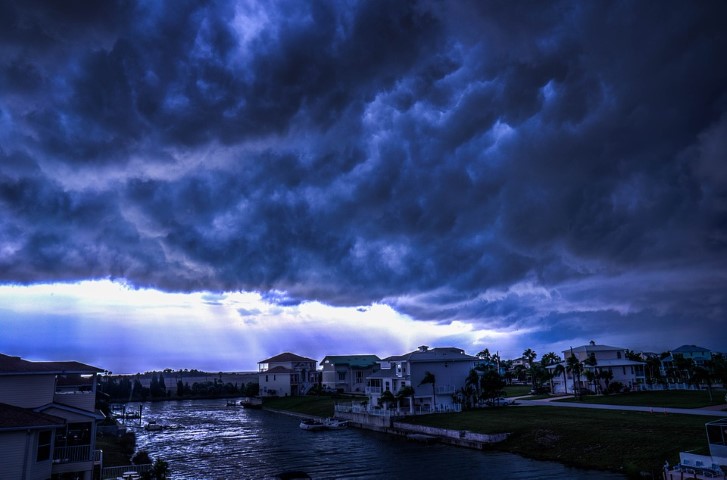 Life in Florida means coastal and tropical living at its best. When you own a home in this area, you're surrounded by beaches and nature and the type of living that draws visitors from around the world. But it also means taking some extra precautions to protect your home in the case of a hurricane or tropical storm.  Most people don't realize just how important a garage door is to protecting their entire home. If a garage door fails during a major storm, it can result in a domino effect of other structural failings including roof damage and broken windows.
Why is this so important? Because 80 percent of damage to Florida homes during hurricanes is due to garage door failures. The Federal Emergency Management Agency (FEMA) has named garage door loss as one of the biggest factors in home damage during hurricanes and other serious storms. Even a little bit of water can destroy your home and prove costly — just an inch that seeps in through a faulty garage door can cause more than $7,000 in damage. And that number takes into account the home only, and not your vehicles and other belongings that could be damaged if a reinforced or retrofitted garage door fails.
When researching ways to protect your home from a tropical storm or hurricane, you may find some providers recommend retrofitting an existing garage door with hurricane hinges, hurricane braces or reinforced panels. These types of options are usually offered as a quick fix, but are not proven to withstand powerful hurricanes and storms, and most of the time are not properly installed. In cases of older garage doors, the new hardware is unable to provide the structural support needed for new building codes.
Protection You Can Count On
The best way to protect your garage and your home is to install a hurricane rated garage door. A hurricane rated garage door helps to protect your home from structural damage, as well as protecting your valuables and lessening your chances of home damage. This type of investment will save you money in the long run while providing piece of mind.
In addition, insurance companies sometimes provide discounts for garage doors that exceed the local building code, so check with your insurance agent to see if you can reduce your insurance premiums by installing a hurricane rated garage door.
We are proud to offer Clopay® hurricane rated garage doors that are fully compliant with Florida regulations. These doors are designed and proven to withstand the powerful winds, flying debris and heavy rains that accompany hurricanes. You can also have safety in style since these garage doors are even available in code-compliant carriage-house and other styles to compliment your home while offering the utmost in protection.
Be wary of cheap or quick fix hurricane garage door reinforcement tactics that won't perform when serious weather strikes, and invest in a hurricane rated garage door that you can depend on.
Florida's Source for Hurricane Rated Garage Doors
Our staff is professional, knowledgeable and efficient, which means your new garage door can be installed quickly and economically. Banko stands behind our products and we offer service plans and warranties to protect your investment in a hurricane-proof garage door. We also take the hassle out of getting permits and negotiating tax implications, so the homeowner only needs to pick out their favorite door and let the Banko staff do the rest.
Contact Banko Overhead Doors to get a free estimate or consultation on hurricane and WindCode rated garage doors in Florida today.