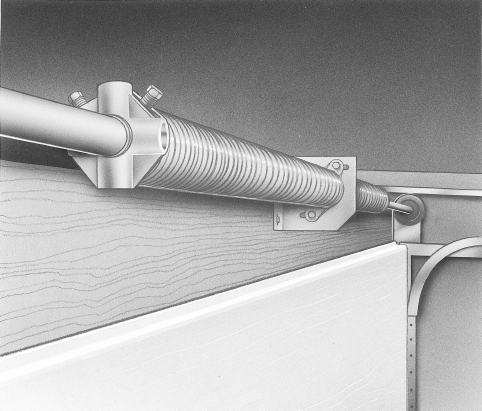 Your garage door's springs are its most important parts. If you've ever wondered what makes such a heavy piece of equipment go up and down so smoothly, easily and quietly, it's because of the power of these springs.
Given the amount of heavy lifting these springs do, it shouldn't be a surprise that they are the number one part that often breaks down in a garage door. If your garage door isn't opening, or is only opening part way, check your torsion spring or springs first. The springs are often located just a few feet above the top of a closed door. They look like long tubes made of coils, and are placed horizontally.
One of the telltale signs of a broken torsion spring is full separation between a large portion of the coils and a few coils on the end. This won't always be a visible sign, but it's a common symptom of broken springs.
Can I Fix It?
Many homeowners love taking on do-it-yourself projects. This is a great way to get to know your home and save a little money. While there are many garage door maintenance tasks that are great for the do-it-yourself enthusiast, repairing broken torsion springs is not one of them.
The first issue is safety. That weight and tension of a garage door can easily pose a danger to the novice repair person. The second issue is quality. Given how important torsion springs are to the operation of your garage door, they need to be installed with the utmost care and confidence to ensure they deliver long-term performance you can count on.
24-7 Emergency Broken Spring Service
At Banko Overhead Doors, we offer around-the-clock garage door service and repair, including emergency service for broken springs. We know that a broken spring represents a significant slowdown in your life, which is why we respond with urgency to get your garage door back up and running again. Our licensed technicians can quickly identify the problems you're experiencing and make expert recommendations about the best course of action.
We offer replacement torsion springs and other repair parts of the highest quality. At Banko Overhead Doors, we do everything possible to make sure you get the dependable performance you want and need.
30-Plus Years Serving West Central Florida
Since 1984, Banko Overhead Doors has been Florida's source for high-quality garage door products and fast, effective garage door service. When you need help with a broken torsion spring, we're only a phone call away.
Contact us today for 24-7 garage door broken spring service in Florida.