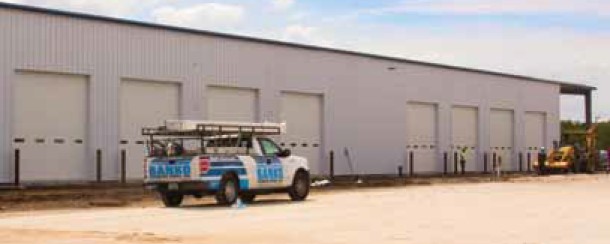 When you need commercial garage door service, you need a source of quality, durable overhead door products — garage doors you can count on to perform over the long-term. But equally as important as a quality, durable product is the speed with which your provider can install the overhead doors especially when you need to get operations up and running quickly; because when your commercial garage door is broken, your business isn't operating properly.
At Banko Overhead Doors, we strive to provide the perfect blend of high-quality products and fast, effective garage door installation, replacement, repair and maintenance services. That's why we supply a huge selection of commercial garage doors made by leading industry brands, and why we offer experienced technicians who are able to handle all sizes of commercial garage door installation projects, as well as service and repair.
A project for Construction Services Inc. in Riverview, FL required 26 commercial insulated garage doors installed as quickly as possible. While some garage door providers might have seen this as too quick of a timeline, we took it on as an opportunity to demonstrate our capabilities.
This project featured 20-14×14 and 1-18×4 high-quality Clopay® Industrial Garage Doors, specifically their Energy Series with Intellicore Insulation Technology (Model 3730), to ensure excellent temperature control, energy efficiency and reliable service – ideal for warehouse locations. In order to keep the project on track, our team stacked the doors so each could be seamlessly installed one after the next. We secured the commercial garage doors to the client's specifications, and performed the installation of all 21 doors in just six days — ahead of schedule!
There's no job too big or too small for our team at Banko Overhead Doors. When it comes to serving our commercial customers, we know that you're on a schedule and that you depend on high-functioning overhead doors to provide your own products and services. We work quickly to get the job done, and get the job done right the first time for your company.
If you have a business in Florida that depends on commercial garage doors, contact us today for quality results.