You've finally taken the plunge to replace your outdated garage door opener with a model that features the latest advancements in technology — Wi-Fi connectivity with myQ® capabilities — so you can monitor and control your garage door from anywhere using your smartphone. But now that you've installed a new garage door opener, how can you quickly connect the machine to your home's internet?
Connecting Your LiftMaster® Garage Door Opener to the Internet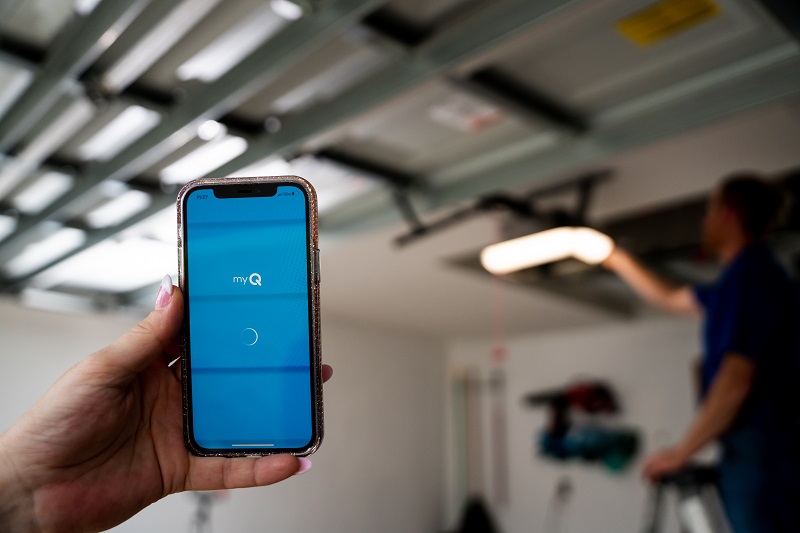 To begin, you'll want to make sure your home's Wi-Fi signal reaches your garage and opener. To check the range of your home's internet, stand in your garage beneath your garage door opener and try browsing the internet. If your phone can successfully connect, then your internet connection is strong. If your internet connection doesn't quite reach the garage, purchase and install a Wi-Fi extender or newer mesh router.
Once your internet connection has been established and tested, follow these steps to complete connecting your LiftMaster garage door opener to the internet:
For openers with a smart control panel, first select "Menu" then "Program" and finally scroll down to "Wi-Fi Setup." Your garage door opener will beep once and the mounted panel will indicate the Wi-Fi setup has begun.
If you have a multi-function control panel, begin by pressing the panel's learn button. A light will begin flashing and the garage door opener will beep once.
Take out your smartphone and navigate to "Settings" then "Wi-Fi." Select the myQ® connection option, then open your phone's internet browser and visit setup.myqdevice.com.
Tap the start button. You'll be prompted to enter your garage door opener information and connect to your home's internet network. Note the myQ® serial number that's generated after the setup process is complete.
Download the myQ® app and follow the instructions within the app to complete your profile. At this time, you'll enter the myQ® serial number you noted, or you can find this number on the back of your garage door opener.
After completing the following steps, test that you can operate your garage door by using the controls on your phone or mobile device. If your garage door responds to commands, you can quickly and simply control your garage door from anywhere by simply using your phone — giving you peace of mind that your home is secure no matter where you are.
Add Convenience With a New Garage Door Opener From Banko Overhead Doors
If you need assistance setting up your garage door opener's internet connection or want to explore the variety of Wi-Fi-accessible openers available today, reach out to the experts at Banko Overhead Doors. We have a wide variety of smart and accessible garage door openers from LiftMaster, including the advanced and convenient Elite and Premium Series.
Since 1984, Banko Overhead Doors has been happily providing garage door services to all residents throughout Tampa and its surrounding areas, including Hillsborough, Hernando and Polk Counties. We offer free estimates on installation projects and rapid service response times.
Look through our selection of LiftMaster Wi-Fi garage door openers today, or you can learn more by completing our online contact form or calling 813.737.0675 to speak to a specialist.